Women Strong: Brooke Erickson Q&A
Despite industry pressures, this IFBB Figure Pro stays true to herself and her message, serving as an authentic role model for her tribe.
Heading out the door? Read this article on the new Outside+ app available now on iOS devices for members! Download the app.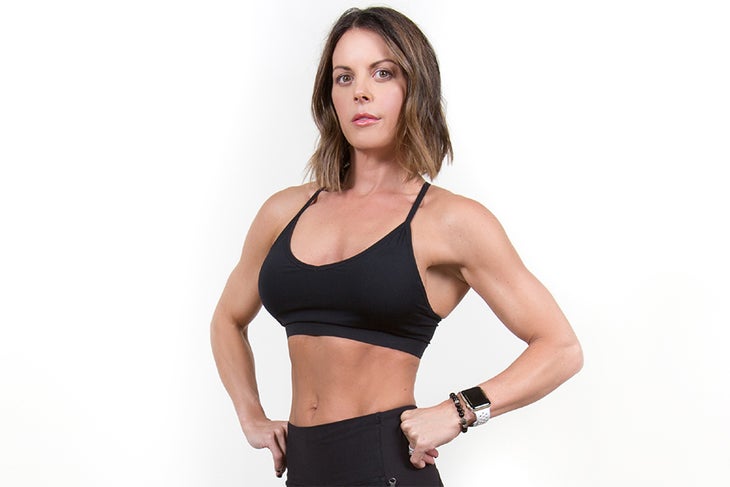 BIO
Name: Brooke Erickson
Hometown: Overland Park, Kansas
Current residence: Boise, Idaho
Birth date: March 29, 1979
Height: 5'3"
Weight: 116-118
Instagram: @brookeericksonfitness
Facebook: @BrookeEricksonbeFIT
Website: brookeericksonfitness.com
Competitive status/division: IFBB Figure pro
Oxygen: What message do you hope this Women Strong movement will convey?
Brooke Erickson: For years, women have tried to squeeze themselves into a mold that someone, somewhere, created. From curvaceous hips to toned arms and rock-hard abs, there is an unspoken ideal "look" in the female culture that has created the matrix of fad diets, tiny-waist trainers and skin-firming body creams. Women all over the world have tried to overexercise and undernourish their way into this mold, only to deny themselves the imperfect beauty of their own reflection and unbeatable strength that lies within.
Oxygen: Have you ever encountered any road blocks during your career related to gender?
BE: My biggest roadblock has been my unwillingness to overexpose my body or use it in a sexual way. As a female athlete, there have been several times when I found myself at a crossroads with one path leading to more opportunity, notoriety and higher placings at the expense of sexualizing my body, and the other path staying true to the core of who I am at the expense of more opportunity, notoriety and higher placings. I don't feel this same kind of sexual expectation is placed on the male athletes.
Oxygen: How did you overcome that and persist?
BE: I have always chosen to stay true to who I am, and this has allowed for my message and my platform to be aligned in a positive and more meaningful way. I persist by choosing to serve my tribe by valuing transparency over popularity.
Oxygen: How did you get into fitness and working out?
BE: I have always been into sports, and I was a competitive athlete growing up. At 19, I developed anorexia. For a little over a decade, I starved and binged my way from a healthy 115 pounds down to as low as 83 pounds and as high as 185 pounds. In 2008, I hit a breaking point. I had three daughters ranging from 12 weeks to 5 years old. I had starved myself down to less than 100 pounds at that time, and I knew I needed to make a change for myself and for my family. In 2009, I sold my elliptical machine and used that money to hire a trainer and get a gym membership. I knew that the most important thing I could do at that time for my family was to become as healthy as possible. I have not relapsed since that day.
Oxygen: How did you become a fitness competitor?
BE: My trainer suggested that I consider competing in an effort to help me feel comfortable gaining weight. Our goal was for me to gain 5 pounds, and I competed in my first figure competition in April 2010. I won my pro card in the IFBB in July 2011.
Oxygen: What is your wish for female athletes in the future?
BE: My greatest wish is for female athletes to take a firmer stance against the sexualization of their bodies. I don't believe a fitness athlete has to be modest to gain respect, but I also don't believe a fitness athlete has to completely expose themselves to gain attention. I wish for female athletes to be perceived as strong women who know their worth.
Oxygen: If you could give yourself any advice as a child what would it be?
BE: I would tell her not to allow other people's labels to define her. I would also tell her that struggle is necessary, and although it may not seem like it at the time, everything she is experiencing will make her a stronger woman one day.
Oxygen: What is something that scares you that you are determined to overcome/try?
BE: I am terrified to test my athletic ability. I know I am an athlete, but my performance has never been something I have put to the test on a competitive level as an adult. It's my fear of failure that has held me back, but I know the only real failure is to not try. So I decided this was the year to do it, and I signed up for my first mountain-biking triathlon in August.
Oxygen: What is your favorite empowering quote?
BE: "It is not the critic who counts; not the man who points out how the strong man stumbles, or where the doer of deeds could have done them better. The credit belongs to the man who is actually in the arena, whose face is marred by dust and sweat and blood; who strives valiantly; who errs, who comes short again and again, because there is no effort without error and shortcoming; but who does actually strive to do the deeds; who knows great enthusiasms, the great devotions; who spends himself in a worthy cause; who at the best knows in the end the triumph of high achievement, and who at the worst, if he fails, at least fails while daring greatly." This is from Theodore Roosevelt.
Oxygen: Anything else to add?
BE: For the last six years, I have coached women, hosted camps and been a guest speaker around the world. My mission is to use my story to show other women that we don't need to make ourselves small — that life is messy and hard, and the struggle is a necessary part of the process of rising. It's in the rise that we become strong. The Women Strong message resonates deeply with me, and I am grateful to be a part of it.
Want to learn more about Brooke Erickson's story and her involvement in the growing Women Strong movement? Check out the May/June issue of Oxygen on stands now. And if you're ready to break a sweat with Brooke, brace yourself for her customized Women Strong workout! Follow the slideshow or watch the video.