Women Strong: Lexi Berriman Q&A
This NPC figure competitor entered the fitness scene on a dare from her boss, and she credits unity and positivity for her success in the industry.
Heading out the door? Read this article on the new Outside+ app available now on iOS devices for members! Download the app.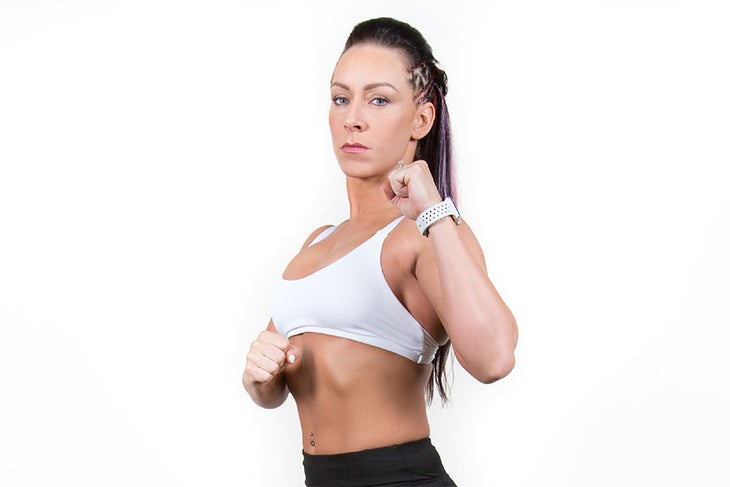 BIO
Name: Alexandria "Lexi" Berriman
Hometown: Detroit
Current residence: Las Vegas
Birth date: November 13, 1980
Height: 5'8"
Weight: 145 contest, 155-160 offseason
Instagram: @lov2lift
Twitter: @lexiberriman
Website: lov2lift.com
Competitive status/division: NPC Figure/ CrossFit
Oxygen: What does Women Strong mean to you?
Lexi Berriman: It means to stop dividing each other, coming together for the support of each other no matter where we are from, our color, our size or ability.
Oxygen: Did you have any strong female role models growing up?
LB: Yes, my oldest sister Sheri. She was always making me get up to do Kathy Smith videos with her when she would come home from college. I had trouble dealing at home, so she let me stay with her, and she took me to the gym and to work with her. She taught me how to be strong and fend for myself and for what I wanted out of life. I couldn't have done this or been who I am without her.
Oxygen: How did you become a fitness competitor?
LB: It was a dare! My boss at the gym I worked at and a bunch of trainers went to support a fellow guy at a fight in Las Vegas. A girl walked by and I said, "Wow, she must compete! She looks great." My boss said, "You could do that." I said, "If you train me." He said, "I only train winners." I said, "OK." I won my first show and got second at my second show. Every amateur show after that I won first place or took home overall.
Oxygen: What is your wish for female athletes in the future — how they are perceived, treated or compensated?
LB: For everyone to see themselves the way they wish [but don't think] they can be. Committing to something when you don't know the outcome is scary yet so rewarding. It's magic once you can see how much power you really do have over your own body and mind.
Oxygen: If you could give yourself any advice as a child what would it be?
LB: To learn another language. I went to the library often, though, so I could've taught myself how to speak more languages.
Oxygen: If you could say something to your current/future daughters, nieces or grandkids what would it be?
LB: Figure out what you want. Don't be afraid to change your mind. Be kind. Most of all, have fun. You really can love your life.
Oxygen: If you could meet any female athlete in the world who would it be and why?
LB: Katrin Davidsdottir. She seems to portray everything I think is awesome — strong, happy, successful, fun, loving. She's just amazing — and fit AF!
Oxygen: What is your favorite empowering quote?
LB: "Little girls with dreams become women with vision."
Read Lexi Berriman's full story and her passion for the evolving Women Strong movement in the May/June issue of Oxygen on stands now. And if you're up for a challenge, give her customized Women Strong workout a go. Follow the slideshow or watch the video.