4 Moves for Killer Tank-Top Arms
Tone up and build confidence with these four simple yet powerful arm exercises.
Heading out the door? Read this article on the new Outside+ app available now on iOS devices for members! Download the app.
As the weather begins to hint at sunshine and warmer temps, the realization that you will soon need to shed layers of clothing begins to set in. But are you ready to reveal your arms to the world?
"It isn't uncommon for winter weight gain to leave some women feeling discouraged or lacking confidence, especially when it comes to their upper body, as they transition from jackets to tank tops," says Felicia Romero, a trainer and former fitness cover model who recently appeared on season 2 of Fit to Fat to Fit on Lifetime. "I tell my clients to set realistic goals and be consistent with nutrition and exercise plans to ensure they feel confident, sexy and like a knockout in whatever they want to wear this season."
Romero is a firm believer that one of the best ways to tone and sculpt the upper body, back and arms is to mix heavy weights with lighter ones. She suggests the following moves to create the toned, sculpted arms you're excited to show off:
Biceps Curl Into a Shoulder Press: 3 Sets of 12 Reps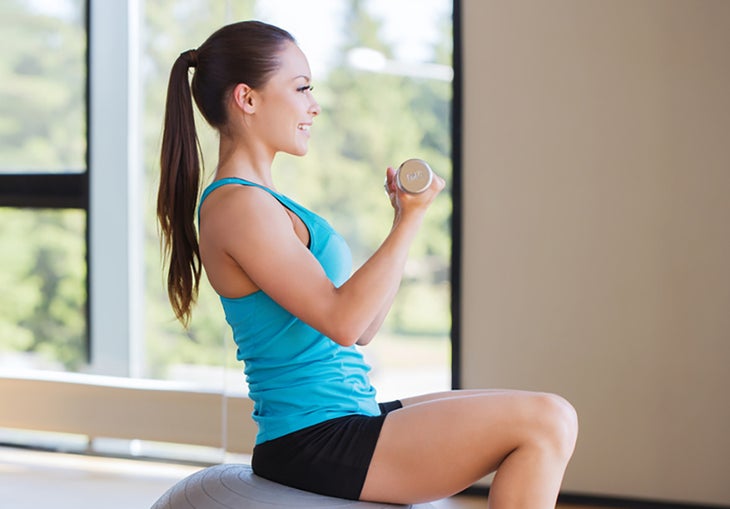 This workout, which can be done anywhere with a set of weights, begins with your legs shoulder-width apart and one weight in each hand down at your waist. Curl up, beginning at the elbows, drawing your arms toward your shoulders. Once you reach your shoulders, exhale while pressing the weights directly up. Lower back down, ending with both hands by your sides. Romero recommends starting with 10-pound weights and working your way up from there.
Pro Tip: To add more difficulty and to engage your core, try sitting on a balance ball and performing the biceps curl into a shoulder press. The compound movements will activate multiple muscle groups, making the workout more difficult.
TRX Row: 3 Sets of 20 Reps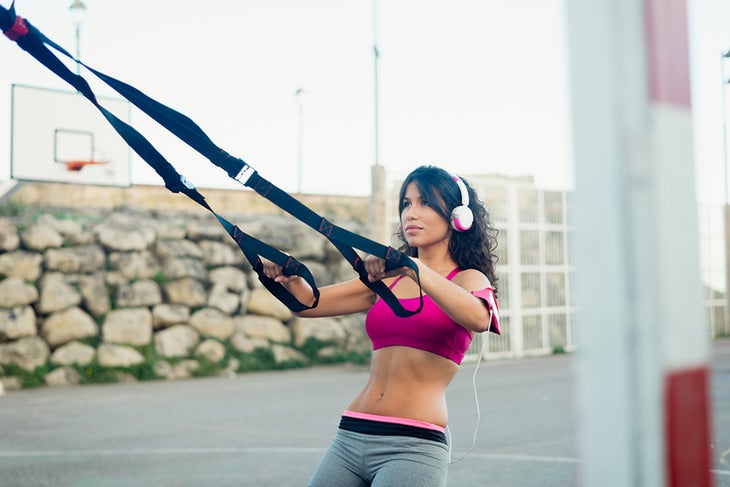 The TRX row is a great functional workout that uses your own bodyweight to challenge your body. Holding the TRX handles in each hand, keep your core engaged and your shoulder blades pulled down and back. Lean back, shifting your bodyweight while straightening your arms out at chest height. As you exhale, slowly bend your elbows and pull your body toward your hands, keeping your elbows tight to your sides as you do so.
Pro Tip: To make this exercise a bit more challenging, walk your feet forward (almost like you are suspended) and perform the row. The greater range of motion creates more difficulty. You can take it another step further and lift one leg while performing the row (alternate legs).
Half Burpee With a Biceps Curl: 3 Sets of 10 Reps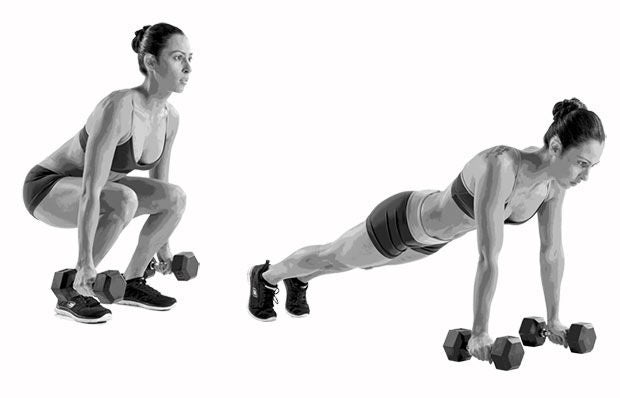 Start with your hands at your sides and your legs shoulder-width apart. Using 10-pound weights, curl the weights toward your chest, bending at the elbows and ending with your arms back at your sides. Then put the weights down and lower into a crouching squat with your hands to your sides. Make sure to keep your shoulders back. Do a squat thrust by jumping your feet back into a plank position, then jump your feet forward to your hands and come into a squat. Rather than jumping like you normally would, grab the pair of dumbbells in front of you and do a biceps curl. Put the dumbbells back on the ground and repeat.
Pro Tip: Need a tougher challenge? Explode from the burpee position, adding a vertical jump before moving to your next rep. The cardio burst will get your heart rate up, allowing you to burn fat, too.
Bodyweight Push-Up and Bodyweight Dip: 3 Sets of 10 Reps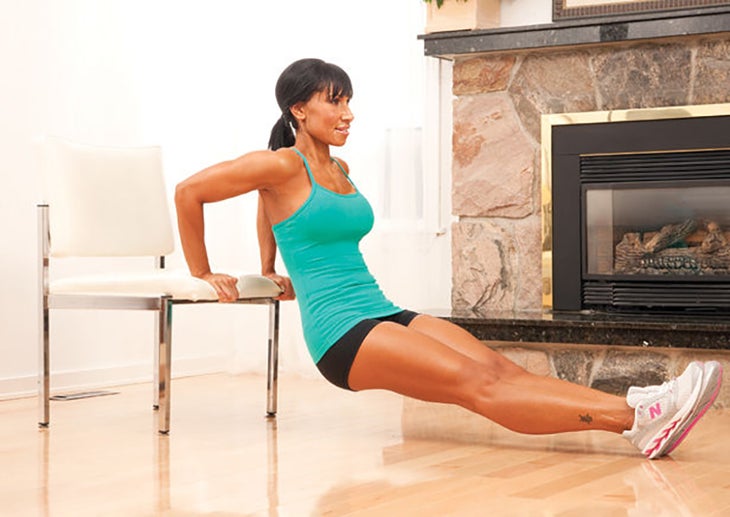 For each set, perform 10 push-ups, then 10 dips, followed by 30 seconds of rest.
This compound move burns out the arms and shoulders, and it can be done from home using a dining room chair if you can't make it to the gym. Start in a push-up position with your arms directly under your shoulders and your legs shoulder-width apart. Keeping your body in a straight line, lower down slowly, bending at the elbows. If this is too difficult, drop down to your knees. Follow this move with bodyweight dips using a chair or bench. Turn your back to the seat of the chair with your arms bended slightly, grasping the chair. Using your arms, slowly dip down and pump up, keeping your back straight.
Pro Tip: Add a 30-second plank at the end of these sets to really burn out the arms.
If you're panicking with Memorial Day just around the corner, be sure to combine these weightlifting moves with a healthy eating plan to see toning results at a faster rate. "You can speed up your progress by incorporating more weight (every four to six weeks) or adding in a cardio element," Romero says. "When working the upper body, I like to work in HIIT exercises to increase fat loss while toning. To level up, try adding burpees, jumping jacks, squat jumps or frog jumps to your upper-body workout — 20- to 30-second intervals with 10 to 15 seconds of rest."