Burn Up To 350 Calories In 30 Minutes
Tone up and lean out with this fun Spinning routine.
Heading out the door? Read this article on the new Outside+ app available now on iOS devices for members! Download the app.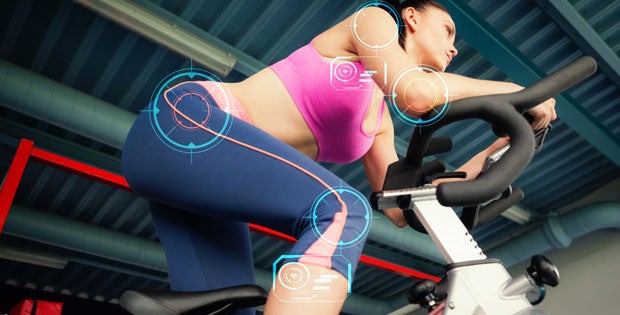 If you think Spinning is just a poor, rainy day alternative to road biking, then you're missing out. Spinning is actually a two-for-one activity, coupling cardiovascular endurance with strength training by manipulating the resistance on the flywheel, activating muscles throughout the body with a particular emphasis on the legs and core.
"Spinning is also a great ab workout," says Danielle LaBranche, a Schwinn cycling coach and Spinning instructor at Quad Spinning in Toronto. "Using your core to stabilize you while on the bike helps burn calories and trim your waist down."
This workout uses music to separate your intervals, and a 30-minute session is equal to about seven of your favorite pump-up songs. What's more, jamming out could actually help you work more intensely: Researchers at Brunel University in London recently found that listening to music while training elevates mood, reduces effort and increases endurance by as much as 15 percent. Use our suggested songs, or put together your own playlist of music that moves you. Push yourself when required and burn up to 350 calories a half an hour.*
*Based on a 130-pound woman
The Plan
Do this workout three to five times a week as part of your regular cardiovascular training. Warm up for five minutes with some light Spinning, then match the song number with its corresponding interval and do the indicated activity for the duration of that song. Afterward, cool down by cycling slowly, then dismount and stretch for five to 10 minutes, focusing on the large muscles of the legs, back, chest and hips.
Spinning Intervals
Set the knobs to a moderate tension and pedal in Position 1 at a steady pace to get the heart rate up.
Maintain that tension and alternate between Position 2 and Position 3 to warm up your legs and hips and start activating your core.
Increase the tension to a fairly difficult setting and alternate systematically between all three bike positions, pedaling eight times in each position.
Decrease the tension to a moderate level, settle into Position 1 and focus on pedaling while keeping your hips and upper body completely still.
Maintain the tension and move through all three positions in rapid succession. These are called "jumps" and should boost your heart rate quickly and keep it there.
Increase the tension to a moderate difficulty and stay in either Position 2 or Position 3 for the duration of the song to test your endurance.
Reduce the tension to a light setting, get into Position 1 and sprint by pedaling as fast as you can.
Assume the Position
There are three basic body positions on a Spinning bike:
Seated: Sit lightly in the saddle with your hands resting on the handlebars.
Standing: Stand vertically on the pedals with your hands either in the center or on the outside of the handlebars.
Incline: Stand on the pedals while inclined forward slightly with your hands on the very end of the handlebars.