A Marathoner Runner's Go-to Leg Exercises
Why this marathon runner never skips strength training days.
Heading out the door? Read this article on the new Outside+ app available now on iOS devices for members! Download the app.
Strong leg muscles are vital for success in running, whether your run of choice is a speedy road race or a 100-mile ultra marathon. It's crucial to focus on strength building to prevent injury and improve your skill on various terrains. The muscle groups runners most commonly use are quadriceps, hamstrings, glutes, lower back and core. 
There are a variety of ways to strength train as a runner. Finding what works for you is key. When I'm in season training for a race, I make it a priority to strength train at least three times a week. You don't necessarily need to use the heaviest weights to become stronger, either. Dumbbells are a great place to start.
Make a circuit with various exercises so you're working a variety of muscles. Make sure to give yourself breaks between sets! My dumbbell workouts consist of:
Squats
Walking lunges – front and back
Calf raises
I do reps of 10-12 per set for three to five sets.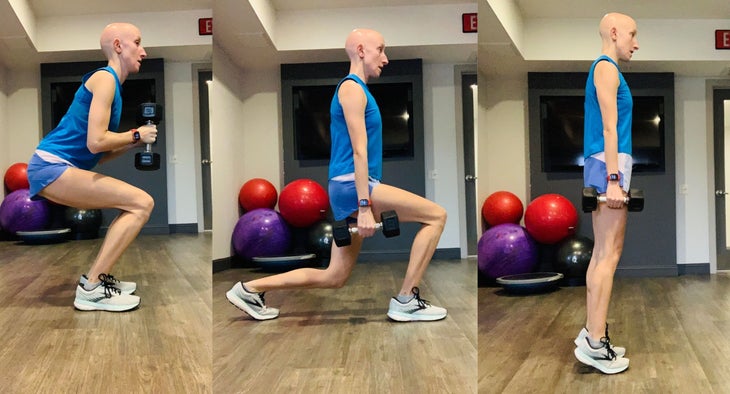 The most important piece of any workout is the correct form. The more you're working and the more tired you become, the more likely you are to slack on your form, and bad form is how injuries can happen. Remember to engage your core, maintain good posture from start to finish and know when to keep pushing or when to take a break. I always go for quality over quantity. In the end, it's about doing the workout correctly.
Another great strength-building exercise for runners is the deadlift. When this exercise is performed correctly, it has huge benefits in strengthening the hamstrings and glutes — two essential muscles for runners. Deadlifts can be intimidating at first, but you can start with the bar alone and perfect form before getting into any serious weight. You can also ease into the deadlift by using dumbbells at first and then switching to the bar and weights when you feel more comfortable. Check out our deadlift master class here to fine-tune your lifts.
Strength training has huge benefits and is vital for a runner's success, which is why I always write out my plan beforehand so I know exactly what I'm doing and always listen to my body. 
Happy Running! 
Lindsay Walter is a run coach, health educator 43-time marathon runner and four-time ultra marathon runner. Walter has completed over forty marathons and four ultra marathons. Her lifetime goal is to finish 100 marathons.