Fresh-Air Fitness
It's time to consider the many benefits of moving your workout to the great outdoors.
Heading out the door? Read this article on the new Outside+ app available now on iOS devices for members! Download the app.
You wake up, look outside and notice it's an absolutely beautiful day. It's the kind of day that makes your heart sing: The birds are chirping, the air is clear and there's not a cloud in sight. How great would it be to read a book under a tree or meet your friends for an alfresco brunch? But you can't — you indulged a bit yesterday, so today's workout is simply nonnegotiable. However, the thought of slaving away in the gym sounds like an unfair punishment.
It's time to consider the many benefits of moving your workout to the great outdoors.
"If you are in a warm location, the extra heat helps raise your body's temperature during your workout, which can help burn more calories," says Tiffiny Fambro, MPH, an ACE-certified group fitness instructor and SCW Fitness–certified personal trainer who owns Build Body Wealth. "If you are working out in the daytime, the sun's rays will provide your body with vitamin D naturally, which aids in the absorption of calcium. Plus, outdoor workouts give you a chance to relax and reconnect with nature. This in turn helps your mind and body become relaxed and calm during your workout."
When performing outdoor workouts, you'll find no shortage of props available to use as your equipment if you have a little creativity. Fambro provides six ideas for transferring your workout outside — ideas that will still leave you huffing and puffing, but at least it won't be of recirculated gym air!
Monkey Bars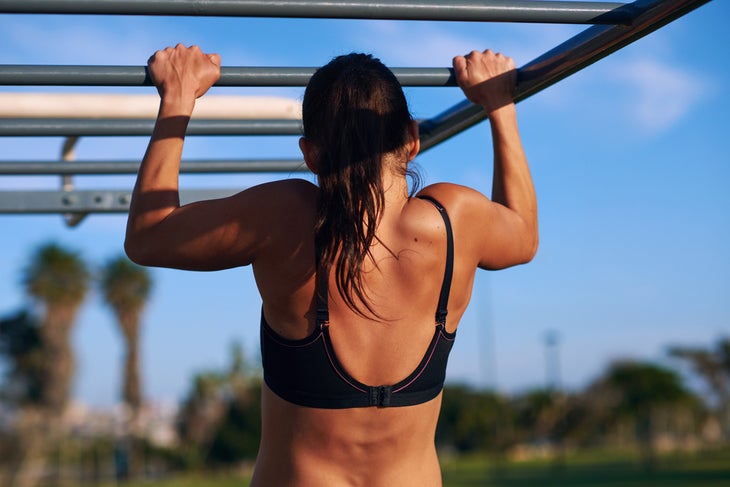 When you were a kid, you didn't think twice about performing pull-ups because they were fun. Try reclaiming your youth by gripping the bars wide and pulling yourself up until your arms are bent and your chin reaches the bar.
Ledges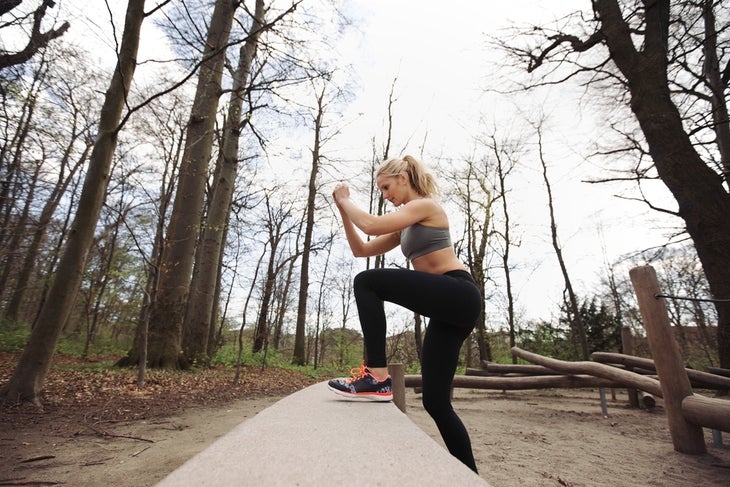 Are you ready to step up? Step-ups require keeping one standing leg on the ground while pulling the other leg up into a lunge position on top of the ledge. Use the force of the higher leg to press up, bring the foot on the ground up into a high knee toward your waist, then lower. This can be done 10 times on one leg, then switch legs and repeat 10 times on the other.
Hills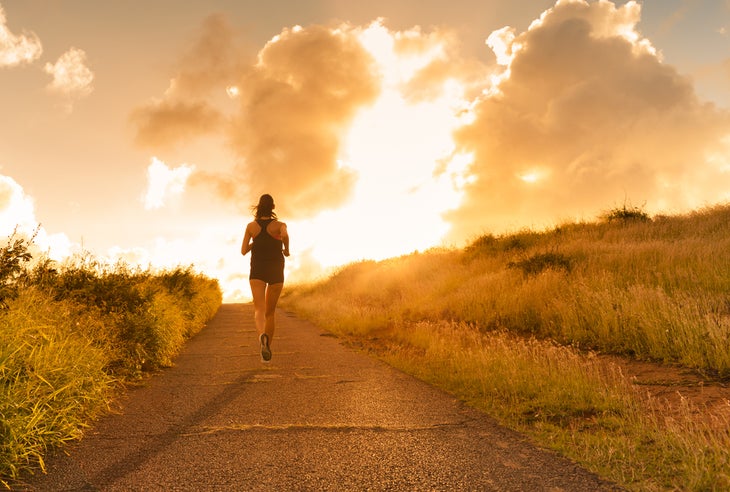 A great way to burn a lot of calories in a short period is by doing sprints uphill. Hill sprints entail running as fast as you can up a hill, pumping your arms and pushing through your legs and heels. Once you reach the top, jog back down, take a 30-second breather and repeat several more times.
Park Benches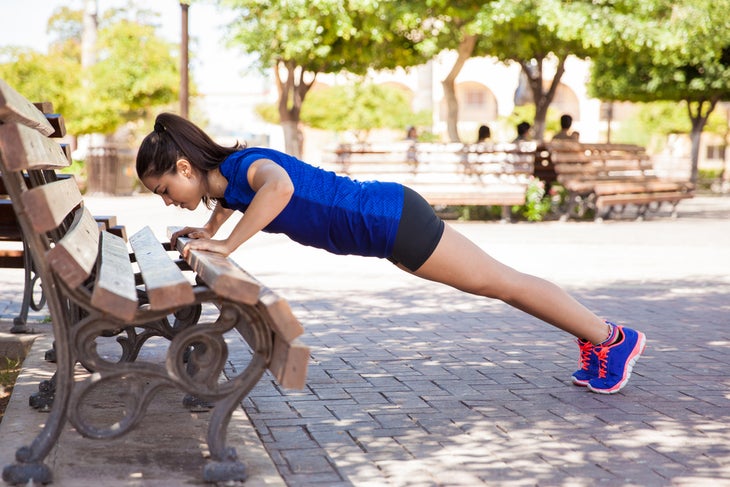 If it would be "leg day" at the gym, try using a park bench to do push-ups with your legs on the ground and your hands on the bench. For more of a challenge, put your legs on the bench elevated, with your hands and arms on the ground.
Sand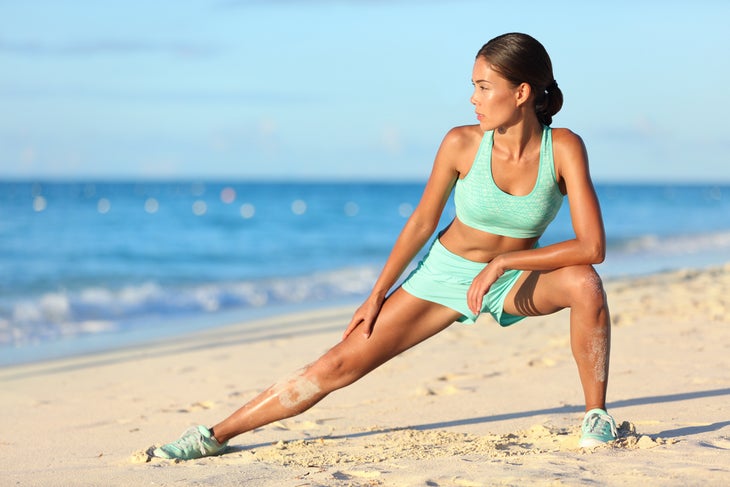 Plyometric workouts are great to perform on a beach because the sand is more forgiving on the joints. Exercises such as jump squats, jump lunges and side ski hops are great movements that test your agility and coordination.
Stairs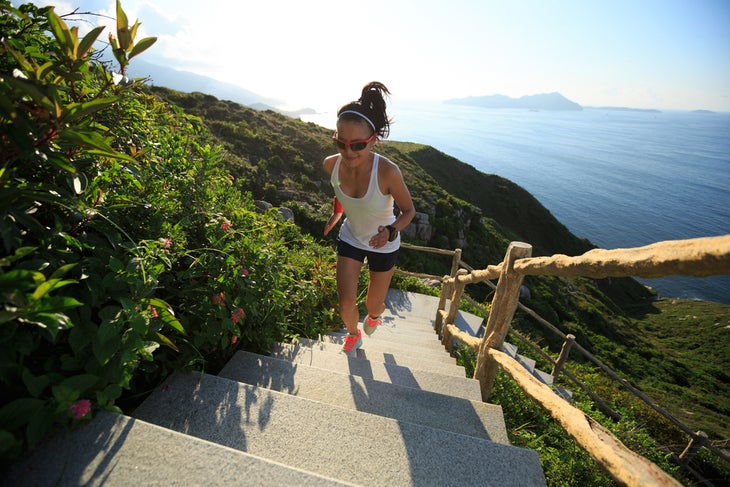 Stairs can be used to create a high-intensity cardio workout. Run the stairs up and down for 30 seconds, then take a one-minute break and repeat four more times. This keeps your heart rate high while also using your leg muscles to propel you onto each step.
"Be mindful to stay hydrated before, during and after your outdoor workouts," Fambro says. "Increased heat can quickly draw water out of your body and you may not know you have become dehydrated until it's too late. And make sure to use sunscreen — even if it's an overcast day, the sun is still giving off rays."