Knock Yourself Out!
HIIT it hard by incorporating a boxing-based fitness workout into your current cardio routine.
Heading out the door? Read this article on the new Outside+ app available now on iOS devices for members! Download the app.
The Gear: You'll need a heavy bag (many gyms have one), boxing hand wraps, and a pair of bag gloves. Wraps are necessary to protect your knuckles from scrapes and injury, and to offer wrist support. Bag gloves pad your hands and wrists.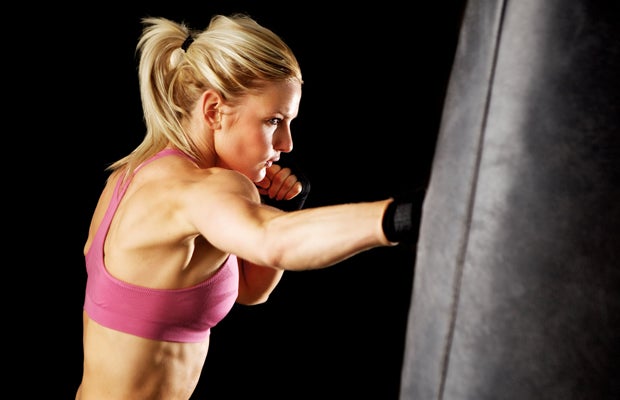 Related:Get A Knockout Body
The Workout: A HIIT-style boxing workout usually consists of a warm-up and calisthenics followed by 3–5 rounds of timed boxing intervals with rest or active rest between each round. This workout is a surefire way to keep things interesting and keep your heart rate sky high.
Bob and Weave
Three-time WBA Middleweight Champ and boxing coach William Joppy recommends incorporating an instructor-led boxing workout into your fitness program two to three times a week, for about two hours of total work time.
Each of the boxing punches are assigned a corresponding number. Coaches and instructors call out a series of numbers, and participants respond by executing the correct punches in sequence. It's a lot like the colored light game Simon that you may have played as a kid!
Left Jab. Straight punch with your lead hand. If you're right-handed, this is your left hand.
Straight Right/Right Cross. Straight punch with your rear hand. If you're left-handed, this is your left hand.
Left Hook. Half-circled side punch.
Right Hook.
Left Uppercut. Upward punch from the hip.
Right Uppercut.
Warm-up: Jump rope for 5 minutes
Calisthenics Circuit
50 Jumping Jacks
1 set of 10 push-ups
1 set of 20 Bodyweight Squats
60 seconds Mountain Climber
1 set of 10 Push-ups
20 seconds Standing Hamstring Stretch
Repeat
Boxing Round 1 (Put your gloves on!)
Perform combos of 3–4 punches as you work around the bag. Time the round for two minutes. It helps if you listen to a song that's the same length as the round you're working. Here's an example of a series of punch combos that follow a natural flow.
1-1-2-1
1-1-2-3
2-3-5
1-1-4
3-2-2
1-2-3-5
1-1-2-5
Tip: While you're working your combos pretend you're going to get hit back. Keep your head and feet moving constantly. Bob your head and move in circles around the bag.
Active Rest: Jog in place with high knees for 60 seconds.
Boxing Round 2
Punch combos for four minutes.
Active Rest: Jog in place with high knees for 60 seconds.
Abs Circuit (Take off your gloves)
20 Leg Raises
60 seconds Flutter Kicks
60 seconds jog in place
30 seconds Bicycle
25 sit-ups (hook your feet under the heavy bag)
30 seconds jog in place
Repeat
Beginners can stop here and move to the cool down. Intermediate exercisers can add one more boxing round of four minutes.
Cool Down
1 set of 15 Bodyweight Squats
Lateral Shoulder Stretch, 20 seconds each side
Standing Hamstring Stretch, 30 seconds
Overhead Triceps Stretch, 20 seconds each side