Slow and Steady
Good old-fashioned cardio has been snubbed lately in favor of HIIT. But here's why adding it into your training mix is exactly what your body needs.
Heading out the door? Read this article on the new Outside+ app available now on iOS devices for members! Download the app.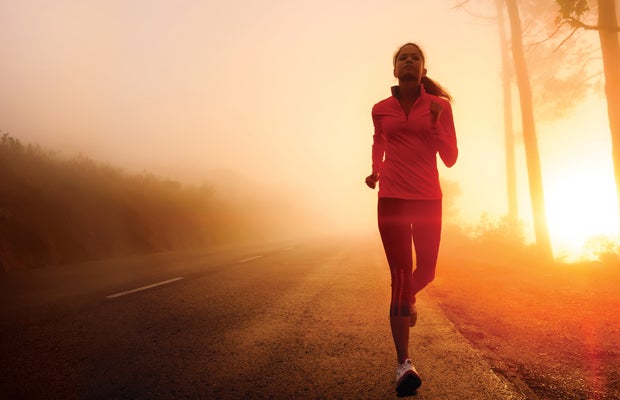 The hottest trend in fitness over the last few years isn't Zumba or eating Paleo or wearing brightly colored knee socks. No, the most popular phenomenon in gyms and online fitness communities continues to be the bashing of steady-state cardio. The rise of high-intensity interval training (HIIT) has spawned countless obituaries for the more traditional sustained bout on the treadmill or bike. Websites especially love the click-bait headlines of declaring "The Death of Cardio" and describing how 45 minutes of moderate intensity biking makes you skinny-fat, but 15 minutes of intervals will transform you into Sofia Vergara but with better abs.
The truth about HIIT is that while it's a highly effective calorie-burner, it has a price. And too often, it is your weight room workout that has to pay it. HIIT makes you tired and sweaty, and even though it releases a dose of feel-good hormones, it won't add shape to your shoulders or curve to your glutes. When coupled with the proper eating plan, only serious sessions with dumbbells or barbells or resistance machines can help you create that gorgeous shoulder-to-waist taper or the visible hamstring/glute tie-ins that make a body look so fit, athletic and sexy.
Point is, if a lung-busting interval workout makes you so tired or sore that you are forced to cut back on the weights (whether that means going lighter or shorter), then it is hampering the progress of where you ultimately want to take your body.
"A lot of people don't realize the cost of HIIT. Weight-based interval training exhausts the same muscles you should be saving for your resistance training session. If you do nothing but interval training, you are really limiting what you can do on the other end of the fitness spectrum," says Alex Viada, CSCS, founder and co-owner of Complete Human Performance in Durham, North Carolina. Sure, HIIT helps you shed fat but, continues Viada, "it's resistance training not interval training that helps you build out your shape."
While Oxygen doesn't suggest getting rid of HIIT entirely — a well-balanced program relies on assorted training modalities — dropping a HIIT workout here and there in favor of going a bit longer and slower might be precisely what your body needs. A couple days of steady-state cardio a week can help you lean out, feel better and actually improve your gym workouts.
Support Your Lifting
Incorporating low and slow cardio allows you to make some constructive aerobic adaptations without competing for the same type-II muscle fibers and glycogen stores that you use in your resistance training. In fact, sustained cardio will improve the quality of your weight-room workouts rather than steal from them.
"Lower-intensity cardio allows you to function at a slightly higher heart rate and a higher level of exertion over time. It gets your body used to operating under stress, even if it is a minor stress," Viada says. "In the gym you can tolerate a little more volume, a higher workload, and you can recover faster between sets. You'll be able to crank out an additional rep or two because your muscles are getting that much more oxygen, which is allowing them to stay out of that lactic threshold just a little bit longer."
Burn More Calories
One of the advantages of HIIT is the increase in excess post-exercise oxygen consumption, sometimes called EPOC but commonly identified as the Afterburn Effect. It refers to the fact that your metabolism stays elevated for hours after a very intense bout of exercise. That has been played up to mean that you can burn calories at a highly accelerated rate while you sit on the couch and watch Orange Is the New Black just because you did a HIIT workout that morning. While the Afterburn Effect is real, the potency often gets overstated.
"You are talking maybe 50 to 100 calories over the course of up to 36 hours," Viada says. "That is in the margin of error in most people's diets."
A study published in the Journal of Sports Sciences showed that EPOC accounted for only an extra 13 percent of the 246 total calories burned by subjects performing a HIIT workout, which was equal to a paltry 32 calories. The EPOC of a steady state bout of cardio is only about half that of a HIIT workout, but the total calories burned during a steady-state session tends to be greater than the HIIT and its EPOC combined.
Improve Recovery
One of the best things about low-intensity cardio is that it doesn't add to the accumulated load of stress on your muscles and central nervous system. Performing easy cardio on a recovery day can help ease muscle tightness and quell localized inflammation.
"Even the simple act of walking quickly though the woods gets everything flowing, sends oxygen and nutrients to the muscles and loosens everything up," Viada says. "And when done at low intensity, you are not taxing those type-II fibers that are trying to repair themselves."
Ultimately, the best programs, providing the best results, will take into consideration your age and fitness level, and include assorted variables and modalities: high-rep and low-rep resistance work; short and long rest periods; straight sets, supersets, even tri-sets, and on occasion giant sets; HIIT and steady-state cardio, just to name a few options, as well as nutrition and recovery time built into the plan.
How To Go Low and Slow
Strength coach and personal trainer Alex Viada, CSCS, prescribes steady-state cardio to several of his clients who compete in physique competitions. While volume and frequency depends on the athlete, he has a few tips that apply to everyone, whether your goal is a beach body or a placing onstage.
•Go easy on the impact: "I am a big fan of cycling," Viada says. "Running is a relatively complex movement, and gait and foot strike are complicated. The last thing anyone wants, if their passion is lifting, is to have shin splints or bad knees. A stationary bike is a great alternative."
• Space it out: Even though it is low-intensity, Viada has his clients do their cardio and weight-training separately in order to preserve the quality of their lifting session. "The cardio will be in the morning if they lift in the afternoon, or in the afternoon if they lift in the morning," he says. To maximize returns — cardiovascular endurance, muscle growth, decreased risk of overtraining — avoid doing cardio at the same workout session if at all possible.
• Fuel up: Before and after cardio take in some protein and carbs to mitigate muscle loss and initiate the repair process. "Even on relatively short runs bring along an electrolyte drink that has a small amount of carbs and a small amount of protein or branched-chain amino acids in it," Viada says.
• Don't go hard: "I like to use perceived exertion as a metric," Viada says. "For low-intensity cardio, it should be a five or six out of 10. You are not going for a mere stroll, but you should be able to do this pace for the better part of a day if you had to."