The Female Firefighter's Workout
Get fit with "Station 19" star Danielle Savre and her real-life firefighter sister Stephanie Savre.
Heading out the door? Read this article on the new Outside+ app available now on iOS devices for members! Download the app.
After years of yo-yo diets and weight fluctuation, Station 19 star Danielle Savre now focuses on being healthy instead of obsessing about being thin. Her lifestyle revolves around fueling her body with the best nutrients to function and building muscle to protect her from injury and deterioration. With women playing more physically demanding roles, like a firefighter, maintaining a healthy, strong physique has become a requirement.
For Danielle's sister — Los Angeles Fire Department firefighter and paramedic Stephanie Savre — maintaining physical, mental and spiritual health is a top priority. Remaining flexible and creative in high-stress situations is crucial to her job. Therefore, her fitness routine is dynamic and ever-changing to keep her body prepared for all potential scenarios out in the field.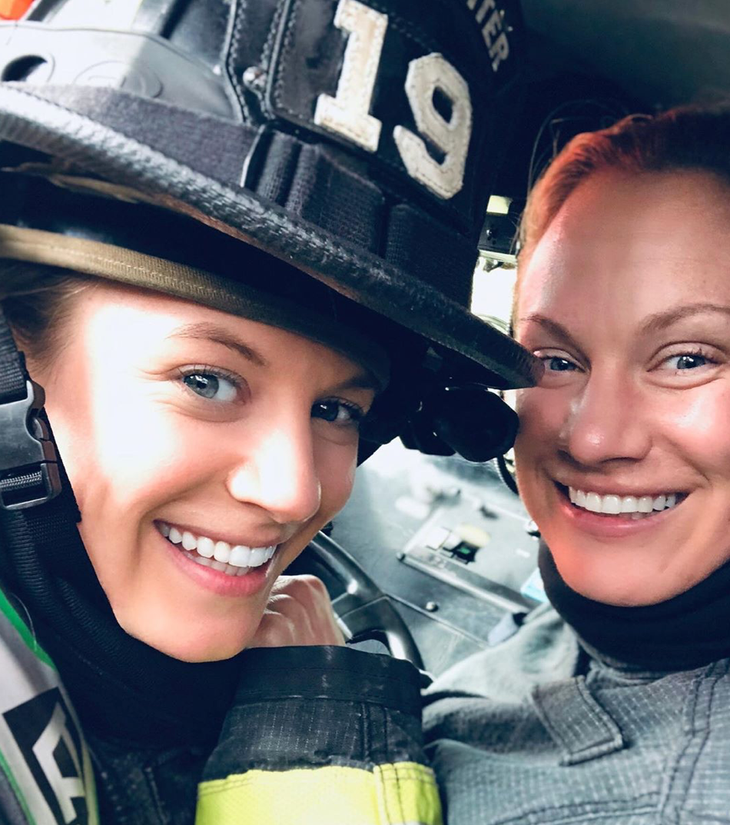 This full-body workout — developed and led by Jason Walsh and Devin Wiggins at Rise Movement in West Hollywood, California — uses FitFighter-weighted hoses for their versatility and durability, but you also can use sandbags and dumbbells or try putting weights in a backpack.
MOVEMENT PREPARATION
In the first series, you activate the nervous system and muscles, priming them for the workout.
Perform each exercise for 30 to 45 seconds on each side and rest 45 to 60 seconds between sets. Repeat three times.
Hip Warm-Up
Setup: Stand straight and grab one 5- to 10-pound FitFighter for each hand. Keep one foot planted while lifting the other foot off the ground. Lean forward with your arms extended. Your arms and your foot should be completely aligned, perpendicular to the ground
Action: Slowly lower your extended arms and leg to get back into the resting standing position. Switch your feet and do it again. Use the FitFighter for counterbalance. This motion will help warm up the hip joints and stabilize the muscles on your hips. Repeat for 20 to 30 reps each side.
Plank Pull-Across
Setup: Place a 20- to 30-pound FitFighter next to you. Set yourself up in a high-plank position. Squeeze your abdominal core and find your center. Lock your hips into place.
Action: Reach and pull the FitFighter with the arm farthest away. Reach and pull back with the other arm. This warm-up exercise will work on the anti-rotation of the core. Repeat for 15 to 20 reps.
Side Plank With Rotation
Setup: Position your body in a standard plank. Place one forearm to the ground and grab your 5- to 10-pound FitFighter with the available hand.
Action: Reach through with the weight and then transition into a lateral plank. To do so, stretch your arm down sideways through the grounded forearm and rotate your body into a side plank by reaching upward. Remember to control your body. Repeat for 15 to 20 reps each side.
Lateral Partner Row
Setup: This warm-up requires a partner. Place an 8- to 10-pound FitFighter on the floor. Both individuals will start by doing a lateral (side) plank facing each other with the exercise equipment in the middle.
Action: Both individuals pick up the exercise weight from the opposite ends with the available arm and play tug of war. Repeat for 15 to 20 reps each side. You can substitute a cable or bands attached to the FitFighter if you don't have a partner.
Crawl With Pull
Setup: Place a 25- to 40-pound FitFighter in front of you and kneel. Put both palms down on the ground and elevate your knees off the floor.
Action: With one arm, pull the exercise weight upward (toward or past your head) and crawl forward. Repeat with the other arm. Continue to crawl forward to the distance of your choice. Reverse the process afterward by crawling backward and pulling the FitFighter in the opposite direction. Repeat for 10 to 20 reps each side.
PRIMARY FOCUS
In the second series, exercises become more demanding, including full-body and multi-planar movements. Here, you put in the real work.
Perform each exercise for 30 to 45 seconds on each side and rest 45 to 60 seconds between sets. Repeat three to five times.
Iso Pull-Up Hold to Eccentric Drop
Setup: Hold onto the FitFighter (8 pounds linked as handles) with both hands and lower your body by bending your knees to get a full stretch on your arms.
Action: Use momentum by jumping upward and holding your position off the ground. Then slowly lower your body to the floor. This exercise focuses on one's upper-body strength by working on your core and lats (latissimus dorsi). Repeat six to 10 times.
Reverse Lunge With Chop
Setup: Hold a 15- to 20-pound FitFighter with one hand.
Action: Perform a reverse lunge. You can do so by taking a step back and lowering your hips so that it's parallel to the ground. At this point, your knees should be directly above your ankle. As you take a step back, raise the FitFighter and move it down and across laterally toward your body.
After executing this step, proceed to continue the exercise by performing a forward lunge while moving the FitFighter upward and across laterally. Repeat for 10 to 15 reps each side.
Squat Jump With Press
Setup: Hold a 10- to 20-pound FitFighter horizontally with two hands near your chest.
Action: Jump into the air with your arms and feet extended and land in a squatting position. Repeat for 10 to 20 reps.
Chop/Slam
Setup: Stand up straight with your feet apart. Hold a 15- to 20-pound FitFighter vertically with both hands as if you're holding an ax.
Action: Moving forward, proceed to rotate your hips and swing the FitFighter upward from one side of your body to above your head and to the middle as if you're chopping wood. Drop your hips and squat down as the FitFighter hits the ground. Repeat the exercise by switching the direction of the chop with the FitFighter. Remember to get into the rhythm of the workout. Breathe in on the swings and out on the drop. Repeat for 10 to 20 reps.
Single-Leg Get-Up to Pistol Squat
Setup: Grab two 8-pound FitFighters and hold one in each hand. Stand up straight and lift one leg and balance.
Action: Raise your arms and push your hip back to the platform. Keep one foot up as you stretch your arms over your head. Afterward, roll back up with your arms extended and lift yourself from the platform. Remember to keep only one foot planted on the ground at all times. The difficulty of the exercise can be adjusted with the height of the platform. The higher the platform is, the less range of motion you have to do. Repeat for eight to 12 reps each side.
ACCESSORY WORK
In the third series, you can focus on specific areas of the body. At this point, many people would end with some sort of conditioning. Luckily, Walsh and Wiggins built in conditioning throughout this workout, if done properly.
Perform each exercise for 30 to 45 seconds on each side and rest 45 to 60 seconds between sets. Repeat two to three times.
Dead-Bug Lateral Scoot
Setup: Sit on the floor and hold a 10- to 20-pound FitFighter horizontally.
Action: The idea is to rock your body back and counter it with a crunch. In doing so, you'll be doing a squirming motion that will move your body in one direction. Repeat for 10 to 20 reps.
V-Up
Setup: Lie flat on the ground while holding a 15- to 20-pound FitFighter over your head.
Action: Lift your legs off the floor and try to touch your toes by crouching up with both hands extended. In doing so, a "V" shape should form with your body. Have a consistent pace. Don't go too fast because your form will falter and you will risk hurting your lower back. Repeat for 10 to 20 reps.
Prone Body Extension
Setup: Lie down on your stomach while holding a 5- to 8-pound FitFighter on each hand.
Action: At the same time, lift your legs, chest and arms straight off the ground and hold. To increase difficulty, you can extend both arms above your head once you lift your body and revert it to the original position before you lower your body back to the ground. This exercise will work on one's posterior. Repeat for 10 to 15 reps.
X-Body Pull-Across
Setup: You will need a partner for this exercise. Stand straight and face your partner.
Action: Grab onto each end of a 15-pound FitFighter and drop into an isometric squat. You can do so by planting both feet on the ground and squatting down until your thighs are parallel to the surface. Afterward, both you and your partner will pull and stretch the FitFighter one after the other. This is an anti-rotational exercise, so don't rotate your hips or torso. That said, you can throw in some rotational movements by extending your arm out as you pull on the FitFighter to increase the difficulty of the exercise. Repeat for 10 to 20 reps each side. You can substitute a cable or bands attached to the FitFighter hose if you don't have a partner.
Danielle and Stephanie Savre share how fitness has a major impact on their professional and personal lives:
What is your relationship to fitness?
Danielle: My sister and I were raised in a household that encouraged an athletic lifestyle. Our parents encouraged us to try any sports or activities that interested us. You name it, we did it and gave it our best shot. I stuck with soccer because it was the only thing my sister wasn't good at. Stephanie was great at everything else she tried. Softball was her sport of choice, which eventually garnered her a full athletic scholarship to Virginia Tech. I like being physically active. Unfortunately, as I got older, club sports teams became confined to weekends. Therefore, I had to reinvent what it meant to live an active lifestyle for myself. Jason had a huge influence. He taught me how to work out properly, how to perfect my form and what exercises targeted specific muscle groups. In addition, he taught me how to accomplish the goals I was trying to achieve and how to properly allow my body to recover.
Stephanie: From being an athlete since I was a little girl to a Division I softball player to my current profession now as a firefighter/paramedic for the Los Angeles Fire Department, my passion for fitness has always been near and dear to my heart. I am grateful that a requirement of my job is to be focused on my physical, mental and spiritual health. I am inspired and driven every day to serve the people of LA City with what I believe is the best version of myself.
What role does fitness play in your lives as an actress and firefighter?
Danielle: As an actress, your image tends to be something that can be fixated on. It is the only occupation where being hired and fired because of your physical appearance is not a human resource issue. That being said, it can be tempting to just want to be skinny. After years of yo-yo diets and my weight fluctuating, I decided to make it a goal of mine to be healthy and not obsess about being thin. It changed my life for the better in every way. Now my lifestyle revolves around fueling my body with the best nutrients to function and build muscle that can protect me from injury and deterioration. My body and how it is perceived will always be a part of my profession. However, now with more physically tough roles for women, like a firefighter, a healthy strong physique is becoming a requirement.
Stephanie: The career of a firefighter/paramedic is one that is physically demanding. My mental and physical strength is tested daily! Whether at the station or on my days off, it is a top priority and of utmost importance to me. Being flexible and creative while in high-stress situations is crucial to my job. Therefore, my fitness routine is dynamic and ever-changing. I have to keep my body prepared for any incident that I may run into.
Why do you like this workout?
Danielle: I love any workout Jason throws my way. The FitFighter workout challenges me to have to dig deeper both physically and mentally. I like it because it targets and engages so many different muscles simultaneously. It is an efficient way to work out and easy to transport, allowing me to use it on set, in between setups or in my trailer. Also, I appreciate that the weights don't tear up my hands like iron weights do.
Stephanie: I am a huge fan of the FitFighter workout! The FitFighter hoses are something I am comfortable with. They focus on grip strength, which is crucial in my profession. Furthermore, they are so versatile regarding the amount of exercises you can do with them.
How does it benefit your overall health/lifestyle/work?
Danielle: Any workout, big or small, is going to benefit my physical fitness and mental health, as well as my professional endeavors. When I am able to get my workout in, I am in a better mood, get better sleep and have more energy. But we know that! Studies have shown it. We feel and see the results. I just have to keep reminding myself to do it — to constantly try new things, keep it interesting, and to continually challenge my mind and body with new workouts and tools. It's not easy at times, but it's important.
Stephanie: Fitness is the backbone of my lifestyle, health and career. It has, is and always will be a huge part of who I am. I am fortunate and so grateful that being a firefighter/paramedic commands me to constantly evolve and develop my fitness goals. I think the key for anyone is to embrace fitness, however it inspires you in your life.