The 6 Top Fat Burners for Women
Backed by some serious science, these nutrients can help you hit your fat-loss goals.
Heading out the door? Read this article on the new Outside+ app available now on iOS devices for members! Download the app.
Fat loss in a pill? While there's no magic bullet that can effortlessly melt away those last 10 pounds, you may want to consider adding a fat burner to your stack.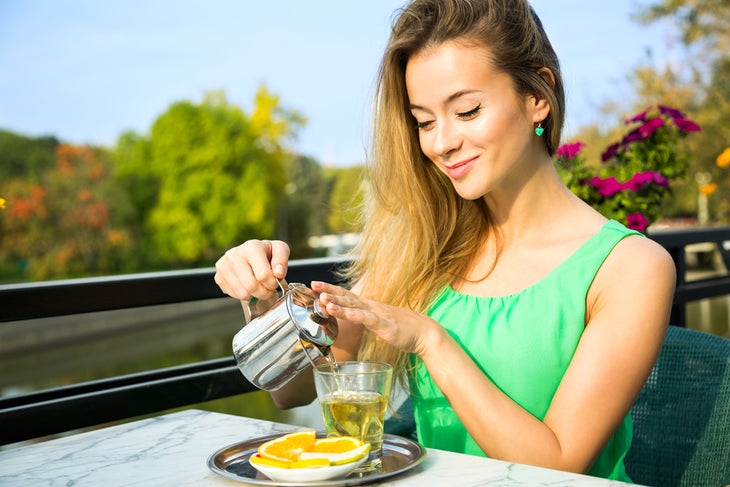 "Fat burners are for anyone who thinks they need an extra boost in their weight-loss efforts," says Pauline J. Jose, M.D., a specialist in family medicine and member of the pH Labs health team, a national nonprofit health information company that provides education and tools needed to achieve optimal health.
Of course, not all fat burners are created equal — especially when it comes to gender. So how can you tell what's hype and what's legit? Look for the following ingredients, which Jose deems as the top fat burners for women. These powerhouses can help you hit your fat-loss goals when combined with a clean diet and regular, dynamic workouts.
7-Keto DHEA
Technically known as the tongue-twisting 7-oxodehydroepiandrosterone,7-keto DHEA is a hormone-free metabolite of DHEA. Like DHEA, 7-keto is produced by the body, specifically in the adrenal gland, brain and skin. The glitch? As you get older, your natural levels begin to decline. Taking a 7-keto supplement can raise your levels along with your metabolic rate, which can help you burn fat more efficiently — no wonder it's considered one of the top fat burners for women.
"There are about 150 DHEA metabolites and 7-keto may have the most value among them," Jose says. "Production of DHEA decreases starting at age 25, and it is the parent of estrogen, testosterone and other hormones."
One way 7-keto DHEA may increase weight loss is the increase in the activity of some thermogenic (calorie-burning) enzymes responsible for fatty-acid oxidation. This was seen in a double-blind study of 30 overweight adults who showed a 6.3-pound weight loss compared to 2.1 in a placebo group. In another study, 7-keto DHEA was found to increase thyroid hormone (T3), which could further help increase metabolism.
Studies suggest that 7-keto also might improve protein synthesis, which can help you preserve more lean muscle despite reducing your caloric intake. During one study of people on a low-calorie diet, those taking 200 milligrams of 7-keto twice a day experienced a modest 1.4 percent increase in their metabolic rate, while those not taking the supplement saw their metabolism slow by 3.9 percent.
"Another small study done on people age 65 to 78 with DHEA did not show a significant weight loss compared to placebo — but did show a 10 percent reduction on abdominal fat in women and 7 percent in men," Jose says. "The researchers think DHEA turns on a receptor that improves the way the body metabolizes fat. More studies need to be done on its role as a fat burner and anti-ager, though. DHEA has shown some promise in reducing fat in certain areas of the body when combined with a healthy weight-loss diet and exercise program."
One thing to keep in mind if you're a serious athlete: 7-keto DHEA is banned by the World Anti-Doping Agency.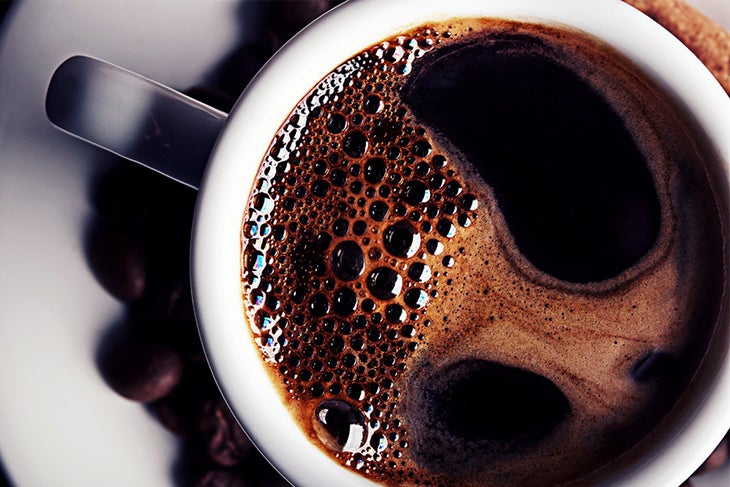 Caffeine
Yes, that delicious morning cup of java does more than clear the cobwebs from your sleepy head and allow you to function each day: Caffeine is probably one of the best-known thermogenics, or fat burners, around.
One study that appeared in the Journal of Science and Medicine in Sport found that people taking 330 milligrams of caffeine an hour before their workout experienced a higher rate of fat oxidation plus a lower rate of carbohydrate oxidation during their session. That means they burned fat instead of glycogen as they exercised.
"Caffeine has also been reported to stimulate production of neurotransmitters, giving exercisers more energy," Jose says. "These effects are seen after consuming about three cups of coffee a day or the equivalent in caffeine."
If you aren't already a certified caffeine addict, then it's wise to ramp your dose up slowly to test your tolerance. Some people end up feeling jittery or develop heart palpitations or gastric irritation when drinking coffee. If this happens, switch your strategy to focus on one of the other five top fat burners for women.
Conjugated Linoleic Acid
There are two PUFAs (polyunsaturated fatty acids) that the body cannot make, which are called essential fatty acids: The first is alpha-linolenic acid (an omega-3 fatty acid), and the second is conjugated linoleic acid (or CLA, an omega-6 fatty acid). The major dietary source of CLA in humans is ruminant meats such as beef and lamb and dairy products such as milk and cheese. It's also available in supplement form.
"CLA increases lipolysis and reduces lipogenesis (making new fat)," Jose says. "Studies show that CLA can reduce fat tissue deposition and body lipid content in certain animals."
For instance, the Scandinavian Clinical Research Group conducted short-term trials of CLA supplementation and found that the overweight women who participated in its study lost 9 percent body fat in one year's time — without exercising or changing their eating habits. Another study investigating the effect of 4.2 grams of CLA a day in 53 healthy individuals reported a 3.8 percent drop in body fat compared with participants not taking CLA. Other research shows that a daily dose of at least 3.4 grams of CLA for a period of 12 weeks was needed to see a significant reduction in body fat.
Coleus Forskohlii
Who would have thought that a tropical perennial plant usually found in India, Nepal and Thailand would find itself among the best fat-burning supplements for women? Yet Coleus forskohlii is the active ingredient in many formulations marketed for weight loss. "It enhances lipolysis or fat death and reduces appetite," Jose says.
Coleus forskohlii helps reduce fat mass while increasing energy and testosterone levels. Forskolin, the active ingredient in Coleus forskohlii, boosts levels of cyclic adenosine monophosphate — an enzyme that encourages fat loss while also suppressing appetite. Research suggests that this herb favorably affects the ratio of fat to muscle in the body, regulates cholesterol levels and promotes healthy hormone levels. Findings that appeared in the Journal of the International Society of Sports Nutrition of mildly overweight women show that Coleus forskohlii also reduces hunger and helps prevent weight gain.
A study done in Australia of 30 subjects who received forskolin with a hypocaloric diet and exercised for 12 weeks showed an insignificant reduction in weight compared to placebo, but a reduction in waist and hip circumference were observed. There was no difference in ghrelin or leptin levels, but it was only checked once in this study.
"More studies need to be done to establish forskolin's efficacy on weight loss in both men and women," Jose concludes. "However, it is safe enough and may help reduce fat in certain body areas. Watch out for side effects, including gastrointestinal symptoms like diarrhea and hyperacidity."
Green Tea
When it comes to natural fat burners for women, no list is complete without mentioning green tea, one of the most common natural ingredients in many weight-loss products. Why? Green tea is a rich source of catechins — powerful antioxidants that increase levels of the fat-burning hormone norepinephrine, keeping you in a thermogenic zone.
"The most abundant catechin in green tea is EGCG, or epigallocatechin 3-gallate," Jose says. "It is known to be thermogenic, causing weight-loss effects."
According to research by the American Society for Nutrition, consuming green-tea extract during physical activity produces a greater overall rate of fat loss among exercisers. And a 12-week study in The American Journal of Clinical Nutrition reported that consuming green tea containing 690 milligrams of catechins every day significantly reduced bodyweight, body mass index, waist circumference, body-fat mass and subcutaneous fat compared to those taking a placebo. Bonus? Green-tea extract also supports healthy cholesterol levels and a stronger immune system.
It's important to note that sipping on steeped green tea from your favorite coffee shop won't yield the same effects because the significant ingredients — catechins and caffeine — are not found in significant enough amounts. Supplementation is your best bet, but they may be accompanied by mild constipation and hypertension.
L-Carnitine
Found in many foods — including meat such as beef and lamb, as well as fish and poultry — L-carnitine is an amino acid derived from lysine and methionine. "It is involved in energy production by increased fatty-acid oxidation in the mitochondria," says Jose, noting that most L-carnitine in the body is found in the muscles. "It has been used for increased exercise performance and weight loss."
She says that a search of multiple studies revealed a pattern of reduction in weight and body mass index in subjects supplemented compared to control groups — but the magnitude of weight loss seen with supplementation tends to decrease over time. Therefore, while it does have the potential to help with weight loss and increased exercise energy, Jose says that more studies need to be done to establish the amount of supplementation and the duration it should be taken to sustain weight loss.