Breast Cancer Awareness Is for You, Too!
Don't forget the point of all the pink this October.
Heading out the door? Read this article on the new Outside+ app available now on iOS devices for members! Download the app.
It's officially National Breast Cancer Awareness Month, and you've likely read some inspiring stories of survival, made a donation to breast cancer research, or even participated in a charitable road race or triathlon. But has the plethora of pink increased your awareness of breast cancer as it relates to your health? Testimonials, tributes and fundraising are important, but don't overlook one of this month's biggest goals: encouraging all women to take charge of their breast health and be proactive about early detection. This includes you.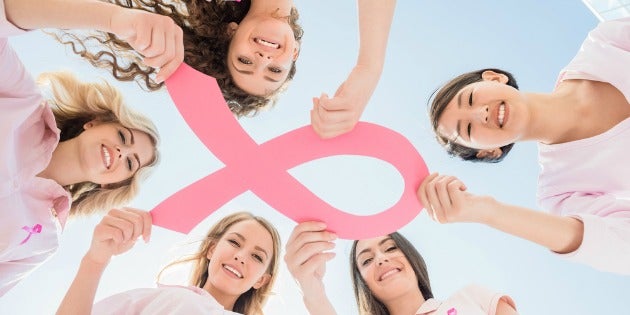 Risk Factors
According to the National Breast Cancer Foundation, certain health concerns and lifestyle choices can increase the risk of breast cancer.
If you need a new reason to give up cigarettes, recent research shows that smoking, as well as inhaling secondhand smoke, is a contributing risk factor for developing breast cancer.
A high-fat diet (more than 30 grams per day) triggers the production of estrogen, which can cause tumor growth. Monitor your fat intake and make leafy greens, orange vegetables and fruit the focus of your meals.
A sedentary lifestyle can lead to weight gain and a compromised immune system. Even just 30 minutes of brisk walking every day can lower the risk of breast cancer.
Booze — whether it's wine, beer or cocktails — also can increase estrogen levels. The National Breast Cancer Foundation states that drinking more than one alcoholic beverage a day can be a significant risk factor, but it encourages women to discuss alcohol consumption with their doctors.
While the risk associated with oral contraceptives is fairly low, there is a link between hormone replacement therapy and breast cancer. For women with known risk factors, a physician may recommend alternative therapies for treating symptoms of menopause.
A family history of breast cancer is a risk factor, but it's often overemphasized. Only 5 to 10 percent of people who are diagnosed with breast cancer have relatives with breast cancer.
Self-Exams
Monthly self-exams often lead to early detection, which can be lifesaving — 40 percent of diagnosed cases of breast cancer are detected by women who feel a lump. But self-exams are also a key to developing an understanding and familiarity with your breasts under "normal" circumstances. By knowing how your breasts should look and feel, you'll be more likely to notice any abnormalities.
Perform self-exams once a month. And if you're menstruating, wait a few days after your period ends when the breast tissue tends to be less swollen and tender.
The National Breast Cancer Foundation recommends a three-part self-exam:

Start in the shower using the pads of your fingers. Start from the outer edges of the breast, including the underarm area, and work your way toward the nipple, using a circular movement pattern.
Post-shower, stand in front of a mirror with your arms at your sides. Raise your arms overhead, then stand with your hands on your hips and contract your chest muscles. Look for any unusual dimpling, puckering or any other changes.
Next, lie down with one arm stretched overhead and a pillow under your shoulder so that the breast tissue is spread out. Again, start from the outer edge of the breast and underarm and work your way inward, using a circular motion. Squeeze the nipple to check for discharge.

When performing a self-exam, use light, medium and firm pressure.
In addition to checking for lumps and bumps, look out for:

Change in the nipple or nipple area, including tenderness, change in size or inversion of the nipple
A change in skin texture and enlarged pores
Unusual swelling, change in shape or dimpling
Nipple discharge that is clear or bloody
When to See a Doctor
Even if you've noticed no changes to the feeling or appearance of your breasts, be sure to see a doctor — a family physician or gynecologist — on an annual basis for a clinical breast exam. Women 40 and older should also schedule a mammogram every one to two years, and women younger than 40 with significant risk factors should speak with their doctor about whether a mammography is advisable.
While eight out of 10 lumps detected in breast tissue are not cancerous, any changes or abnormalities need to be evaluated by a doctor. In addition to a physical exam, a doctor may recommend an ultrasound, an MRI or a biopsy to confirm an accurate diagnosis.