Competition 101: Bikini Competitions for Beginners
Thinking about competing in figure, fitness, physique, bikini or wellness? Our guide to the most frequently asked questions will help you get started.
Heading out the door? Read this article on the new Outside+ app available now on iOS devices for members! Download the app.
So you want to compete? We get it: You've worked hard in the gym and now you're ready to take it to the next level by stepping onstage and showing everyone what you've got. Congratulations! But where to start?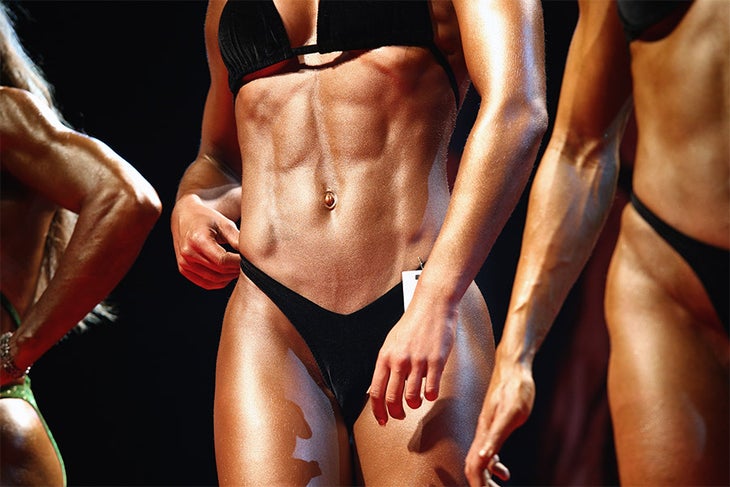 We know that bikini competitions for beginnerscan be pretty overwhelming. So Oxygen consulted with two coaches — Tanji Johnson, IFBB pro Fitness competitor and owner of Save Fitness, and Lindsay Messina, WBFF pro Bikini competitor and owner of the Fitness Divas— to get their advice on how our readers could get started in competitions. We also spoke with three competitors — Bikini pro and Olympia veteran Amanda Latona; Amanda Freick, who's competed in five NPC bikini shows and owns competition swimwear line Amanda Louise; and Shonte Turner, an IFBB Bikini pro and U.S. Air Force veteran — to hear their firsthand expertise.
Which Competition Is Right for Me?
Choosing a competition division will depend largely on your interests and current musculature. A reputable coach or veteran in the industry will be able to help steer you toward the division you're likely to find the greatest success in — otherwise, you may be fighting an uphill battle.
There have been four main categories of competitions over the last several years, and one newcomer that will hit the scene in 2020. They are the following:
Bikini: This is the most popular division and has been around since 2010. You do a "model walk" onstage and wear two-piece swimwear, heels and jewelry. If you have a naturally smaller frame, prefer a softer look or have trouble gaining muscle, this could be a good category choice. You are judged on personality, poise and physique, so if you're sassy and confident without being cocky, you'll probably do well here.
Fitness: Former dancers and gymnasts will enjoy this division because it involves a two-minute choreographed routine (two-thirds of your score) and a swimsuit round (one-third of your score) during which you can show off your fabulous physique in quarter turns, push-ups, high kicks and side splits. The routines are judged on factors such as creativity, stage presence, outfits and degree of difficulty, and physiques are judged on symmetry, proportion and presentation.
Figure: Figure was introduced as an alternative to fitness for those with little dance or gymnastics background. It is still a popular division among women who carry more muscle and rewards symmetry and balance. You pose in heels using strict form doing quarter turns in a two-piece swimsuit. Women who do well here have a tight, defined look, a V taper to their build and small amount of striations.
Physique: Do you have a defined muscular look, defined delt caps, round glutes and some muscular striations? You may feel right at home doing a mandatory bodybuilding-esque posing routine with others in the women's physique category. Judges look for more musculature than in a figure competitor, balance and symmetry between the upper and lower body. You'll wear a two-piece suit, and heels are not allowed.
Wellness: New for 2020 is the wellness division for women with athletic physiques who showcase more body mass in the hips, glutes and thigh areas. The upper body is developed but not to the same degree as the lower body — women who are lower-body dominant can rejoice! Competition takes place in a two-piece suit, and the same rules as the bikini division currently applies to shoes and jewelry.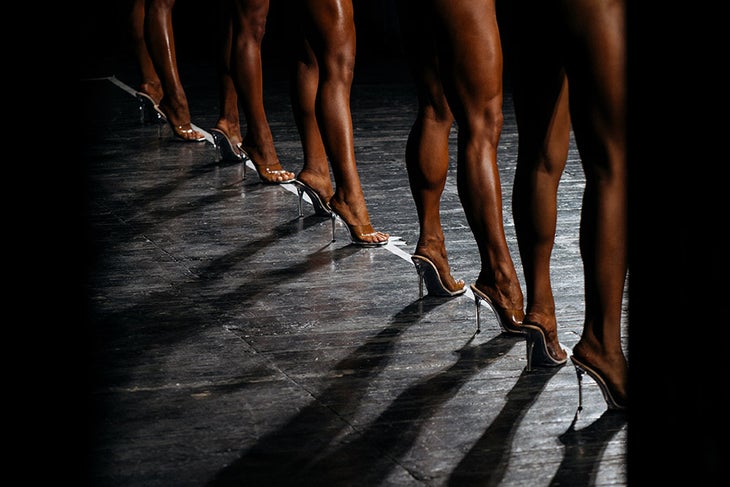 How Do I Pick a Show?
Once you've chosen a division to shoot for, you'll want to select the right show. Consider the following:
Location: For beginners, a local show will likely be smaller and less saturated than a national show. You'll be able to have friends and family come support you, and you'll save a bundle on travel. Plus, national shows are tougher competitions, since many of the women have some experience onstage.
Field of competitors: For national qualifiers, you'll typically find three main classes: novice, which is open to all beginners and anyone who hasn't placed top 10 at a national level show; open, which is open to everyone; and masters, which is for those age 35 and older. While Turner says it doesn't hurt to enter in all divisions and see how it goes (you'll get more feedback, which is always helpful), Johnson says you may want to ensure the odds are a bit more stacked in your favor. "Choose a show with a good percentage of novice competitors if you're a first-timer," she advises. "You'll compete against people close to your level and will likely have a better experience overall."
Timing: Choose a show far enough in the future that you have plenty of time to prepare and train. "You'll need a bare minimum of 12 weeks to get show-ready," Turner says. "Realistically, if it's your first show, you'll want 16 weeks instead. The first 12 will help prepare you for your new lifestyle and allow for a little trial and error along the way. Then the last four weeks will allow you to settle into your new normal and hit it hard."
Obligations: Take into consideration your work, family needs and other responsibilities. You should have as few distractions as possible, especially if this is your first show.
How Much Should I Budget?
One of the most easily overlooked aspects of how to prep for a bikini competition? How quickly all the dollar signs start adding up. In fact, these competitions can be downright expensive. "What girls don't realize is that even if you do it affordably, you're in it for a grand, at least," Freick says. "You can rent a suit to save money, but your makeup is $150, your tan is a couple hundred bucks, and you have to register not only for the show but also to become a member of the organization, so they double-wham you. If you're a newbie, you're probably going to do novice and open, which means you have to do a crossover payment. Plus, you have a coach and possibly also a separate posing coach, jewelry and shoes. It's crazy." Don't forget to budget for the costs for hotel and transportation if the show is out of town, too.
Do I Really Need a Coach?
Well, let's stop and think for a moment: Professional athletes all have multiple coaches, so why shouldn't you? When it comes to these competitions, coaches know the ins and outs of the industry and can help you achieve maximum success — they also know what the judges are looking for and how to help you put your best foot forward. In fact, this may very well be the most important tip for how to train for a bikini competition.
"It's important to have someone in your corner who has experience," Turner says. "I always recommend starting with a coach versus trying to figure everything out on your own. There are so many things judges look for that a first-time competitor would never know, which leads to wasted effort."
When choosing a coach, start with recommendations from people at the gym — simply tell them you're interested in bikini competitions for beginnersand see what they say. Then interview a few coaches to ensure your personalities mesh before finalizing your selection. "A good coach has their own philosophy on everything from supplements and diet to cardio and diuretics," Turner says. "Does their philosophy work with your lifestyle and beliefs? Most coaches won't change their beliefs for the client, so be honest with yourself or it won't work out well." You're going to be spending a lot of time with this coach and putting a lot of trust in their expertise, so doing your homework upfront is crucial to the process.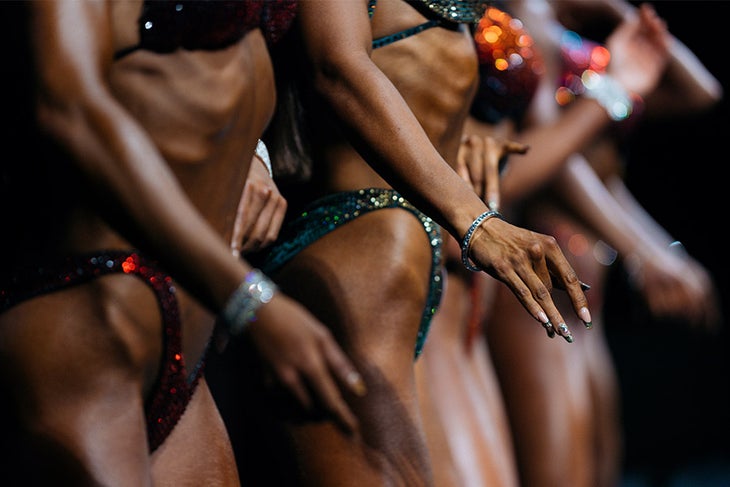 Where do I get a swimsuit, and how much should it cost?
"I actually won my first show with a $70 suit literally off the rack in a swimwear store," Latona says. If you want to have one tailored to your physique, then you'll need to purchase a custom competition suit. Here's another important tip for how to prep for a bikini competition: Many designers require a six-to eight-week lead time for these, so make sure you order it early enough.
When choosing a color, it'll be hard to factor in the stage lights' effect on the suit because they are different at each competition. "Play it safe and choose a jewel tone, such as purple, green or blue," Freick says. "Take into account what colors look good on you, which one brings out your eyes or offsets your hair color. And if you like bling, Swarovski crystals are the only way to go."
Listed below are a few designers and sites that offer custom suits for fitness, figure and bikini. Word of warning, however: Some of these suits are extremely expensive. (We're talking thousands of dollars!) If you don't have the budget for an expensive suit, consider "renting" a professional suit from pros online or purchasing one on a consignment site. Another bonus of renting a suit is that you'll end up with stage photos that all look different versus a bunch in the exact same suit.
CJ's Elite Custom Competition Suits
Fun Fact: Olympia veteran Erin Stern bought her first competition suit from Diva Exchange for $100!
Should I Join a Team?
Another common question when trying to figure out how to train for a bikini competitionis whether to join a team. Competition used to be an individual sport, but it is now becoming more of a team effort. With the continually changing rules and complicated training and dieting strategies, many women find solace with others who understand their pain. "It's always great to have a training partner or a group who are like-minded and love the same hobby as you do," Messina says. "You'll instantly have a group of people who will be on the same stage as you, so you'll feel less intimidated and more confident right off the bat."
There are a number of teams who welcome new members each month. And don't worry about not having a good coach in your backyard: "I do physique assessments, posing workshops and diet alterations with a lot of my girls on Skype," Messina says. Here are a few good teams to check out. Go to a camp or workshop and see which one might be a good fit for you.
Lindsay Messina's Fitness Divas
Tanji Johnson's Save Fitness