Five Realistic Morning Rituals for The Fit Woman
Committing to a few positive (and easy!) morning rituals can keep your fitness goals on track.
Heading out the door? Read this article on the new Outside+ app available now on iOS devices for members! Download the app.
While you may love the idea of waking up sans alarm clock, meditating as the sun rises, and then peacefully sipping a mug of homemade lemon/ginger/turmeric tea before transitioning into the pre-aromatherapy shower/dry brushing segment of your morning, you live in the real world.
If you wake up without an alarm, it's probably because you forgot to set it… and overslept. You thought about making that tea, but your last lemon is growing mold and you accidentally bought curry powder instead of turmeric. Also, you're lucky if you have the time to brush your teeth, never mind your epidermis.
The point is that so many of those lofty morning rituals that celebrities and wellness gurus swear by aren't realistic if you're a regular person who needs to accomplish anything else besides 30 minutes of sun salutations before 8 a.m. But that doesn't mean that just because you're wrangling kids, walking the dog or rushing to that morning meeting, you can't benefit from establishing some healthy habits.
Here are five realistic morning rituals that will help you start your day right without monopolizing your morning.
Eat (Almost) the Same Breakfast Everyday
You may skip breakfast to save time, but forgoing your first meal is a short-sighted shortcut. Fueling up in the morning is one of the best ways to prevent dips in energy and productivity. Instead of ditching breakfast entirely, make it a no-brainer part of your routine, even if that means eating pretty much the same thing every day. For example, if yogurt and a piece of fruit are easy to manage, line the shelves of your fridge with single-serving yogurts and stock your crisper with a bag of apples. Switch flavors and fruits whenever you get bored, but stick with formula that works for you.
Check Instagram, not Facebook
For better or worse, most of us are checking our phones before our feet hit the floor. If you check in from bed, try holding off on logging into Facebook in favor of image-based platforms like Instagram or Snapchat. The reason? User behavior is different. While it's easy to post a political rant or share a depressing article on Facebook (just two examples of negative content that can sabotage your mood), most people use Instagram and Snapchat to share images that make them happy or represent the best parts of their days. You're far less likely to be annoyed by artfully filtered sunsets than your second cousin's ill-informed opinions on the election. (Save the latter until after you've had your first cup of coffee).
Refill Your Water Bottle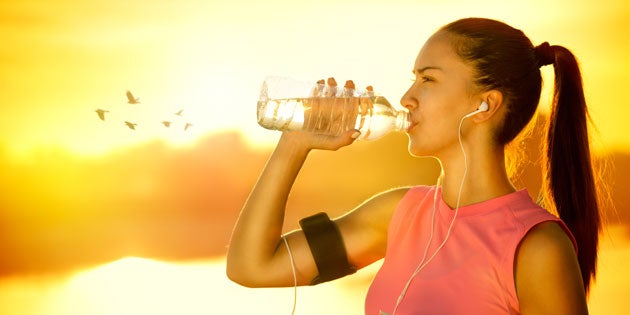 Even sedentary women need to drink more than two liters of water a day to stay hydrated. To stay on top of intake, keep a refillable bottle by your side at all times, including on your nightstand. Refill it every morning when you brush your teeth. Save time during the morning rush by washing it out with soap and warm water before you go to bed.
Revise Your Workout Schedule
While making a schedule and sticking to it can help keep your workouts on track, life happens. Your best bet is to roll with the punches and remain flexible. Take a few minutes each morning to review your schedule for the week, considering any last-minute changes and new obligations. Determine what you can move around and where you can squeeze in a quick run or 10-minute cardio circuit.
Pause for Positivity
Even if your gratitude journal is buried under a stack of unopened mail, you can still incorporate mindfulness and positivity into your morning routine. That could mean texting a friend an encouraging message, hugging your partner for a little longer than usual or taking 60 seconds to sip your coffee in a patch of sunlight. The key is to find some moment, however brief, that will set the right tone for the busy day ahead.