Taylor Gallagher: Embracing Strengths and Weaknesses
NASM-certified trainer, functional-training specialist and Dymatize athlete Taylor Gallagher opens up to Oxygen in this Q&A.
Heading out the door? Read this article on the new Outside+ app available now on iOS devices for members! Download the app.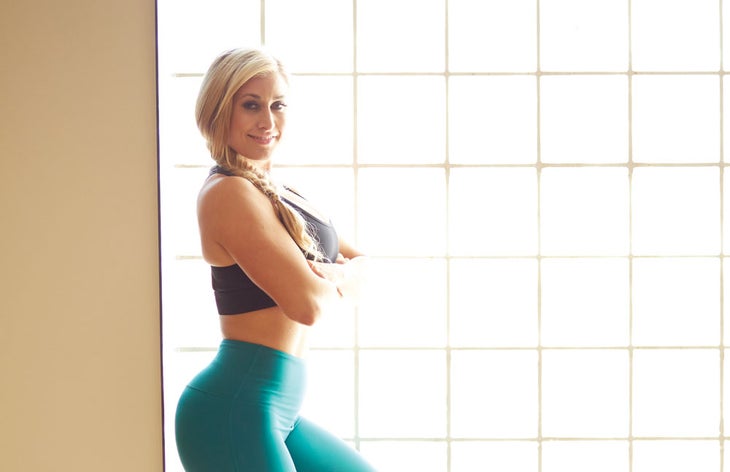 Oxygen: How has strength impacted you?
Taylor Gallagher: Being an athlete has definitely helped shape the woman I am today. It has given me the ability to set goals and accomplish them, taught me the importance of teamwork and how to deal with disappointment, and gave me the strength to never give up.
Oxygen:Can you share something interesting about your athletic career?
TG: For a while, I wrestled with WWE's Booker T Reality of Wrestling. I was drawn to the sport because of the mixture of strength, beauty, philanthropy and athleticism. And whether you believe it or not, wrestling truly is athletic! Those throws and bumps are real, and it's tough on the body. Plus, there is the mental aspect, which is a combination of psychology and storytelling in a live forum. It was the most amazing and fulfilling experience I've ever had, and I loved every second of it.
Oxygen: What does being strong mean to you?
TG: Being strong means loving your imperfections as much as your strengths, being vulnerable, and being able to face disappointment with resilience and grace. And when you're confident with yourself, it only shines in a positive light.
Oxygen: How has the perception of strength changed through society?
One thing I love about society these days is that every body type is finally being accepted, including being strong and athletic and having muscle.
Oxygen: What's the best compliment you've ever received?
TG: The best compliment I have ever received is that I am "one of a kind." I don't think you can really top that!
Oxygen: What's something people don't know about you?
TG: One thing most people don't know about me is that I love classical music. I love to go to the symphony and am currently learning how to play the cello.
Oxygen: Do you have any advice for your younger sel
TG: If I could give my younger self some advice, it would be to dream as big as you can. Believe passionately in that dream without doubt or fear, and work hard every day toward that dream and it will become your reality.
Oxygen: What's an important part of your daily routine?
TG: Being grateful is very important. If you are having trouble finding things to be grateful for, all you need to do is volunteer for a cancer center, at a hospital or for any organization for the underprivileged. Your services will be appreciated and will bring positive energy and happiness to everyone involved.