5 Grab-and-Go Post-Workout Snacks
After a workout, it's crucial to refuel to aid recovery. Here are 10 grab-and-go options that are packed with the nutrients you need.
Heading out the door? Read this article on the new Outside+ app available now on iOS devices for members! Download the app.
Breakfast is often touted as the most important meal of the day, but if you manage to squeeze in regular gym time, what you eat post-workout is just as important. You see, the correct edibles can aid in recovery by restoring energy stores and rebuilding muscle so you can achieve peak fitness. But if you're far away from your kitchen, you'll want to make sure your gym bag is stuffed with the necessary physique-friendly snacks to tie you over until you can get a full meal into your belly. Not sure what the ideal post-workout snacks should be? Here are some solid grab-and-go options full of the nutrients you need for after your next sweat session.
Grab-and-Go Post-Workout Snacks
Tomato Juice
Not just for Bloody Mary's, tomato juice can help your muscles recover better. In a study published in Nutrition Journal, researchers found that tomato juice consumption can help reduce oxidative damage associated with high-intensity exercise. This could go a long way in quelling muscular inflammation and improving recovery. The study authors surmise that the antioxidants, including tomato's signature antioxidant lycopene, found in the veggie drink are behind this benefit.
You can chug back store-bought versions, but making your own power-packed tomato juice is surprising easily.
INGREDIENTS
1 cup water
1 pound quartered tomatoes (about 3 medium-sized)
1 chopped celery stalk
1 chopped medium sized carrot
1 chopped green bell pepper
2 sliced scallions
1/3 cup flat-leaf parsley
1 chopped garlic clove
juice of 1/2 lemon
1 1/2 teaspoons prepared horseradish
1/2 teaspoon sea salt
DIRECTIONS
Simply blend together. Chill and transport in a reusable water bottle. Shake well before using.
PB&J Rice Cake Sandwich
Instead of bread, slather some peanut or other nut butter and jelly on a brown rice cake and top with another rice cake for a great post-gym crunch. The rice cake and fruit spread offers up carbohydrates to help replenish spent energy stores, while peanut butter provides a shot of protein. If you want a healthier fruit spread than the sugar-laden versions at the supermarket, try making this simple chia-infused version. As a bonus, you'll reap the rewards of the recovery-accelerating antioxidant bounty present in blueberries.
INGREDIENTS
1 cup fresh blueberries
1 tablespoon honey, maple syrup or agave syrup
1/2 teaspoon cinnamon
1 1/2 tablespoons chia seeds
DIRECTIONS
Place blueberries, sweetener, and cinnamon in a blender container and puree.
Place mixture in a container and stir in chia seeds.
Put in the refrigerator for at least two hours before serving.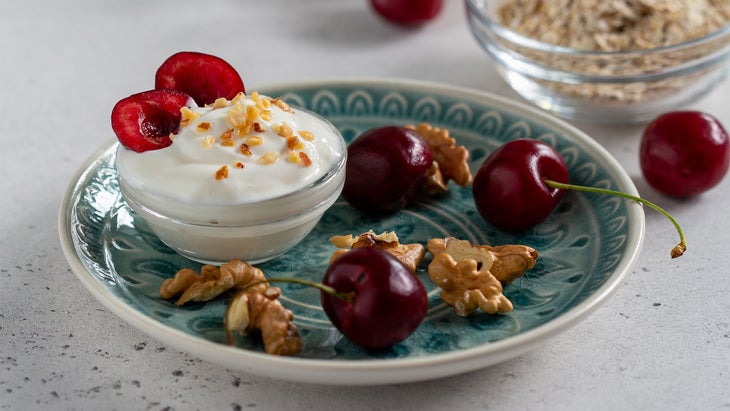 Yogurt with Tart Cherries and Walnuts
Yogurt is a near-perfect post-training nosh. Not only is it rich in high-quality protein to drive muscle repair and building, but research suggests the friendly critters known as probiotics in the cultured dairy can help bolster your immune system during periods of intense training. You can up the protein ante by selecting deliciously thick Greek yogurt. Stir in a handful of dried tart cherries and walnuts and you'll recover even faster. Studies have shown that the payload of antioxidants in this dynamic duo can help fitness fanatics reduce muscle damage from a tough workout.
Crunchy Chickpeas
Chickpeas can supply both carbs and plant protein when you need them most. But hummus isn't the only way to enjoy them after your workouts. These crunchy legumes may just become your new snacking addiction.
INGREDIENTS
1 (14 oz.) can chickpeas, drained and rinsed
1 tablespoon grapeseed oil or olive oil
1 teaspoon curry powder
1/2 teaspoon dried thyme
1/4 teaspoon salt
DIRECTIONS
Preheat oven to 400°F.
Pat the chickpeas dry with a clean kitchen towel. Remove any loose skins.
Place in a bowl and toss with oil.
Add curry powder, thyme and salt; toss to coat chickpeas with spice mixture.
Spread chickpeas out on a rimmed baking sheet and bake until crisp and golden, about 40 minutes, stirring at least twice for even toasting.
Let cool to room temperature (they will crisp up further) and store in an airtight container for up to three days.
Banana Recovery Muffins
Who says you can't combine post-workout nutrition and dessert. These flavor-packed muffins almost taste too good to be recovery fuel.
INGREDIENTS
4 very ripe bananas
2 large eggs
1/3 cup plain yogurt
1/3 cup coconut oil, melted
1/2 cup coconut sugar or other sugar of choice
1 teaspoon vanilla extract
1 1/2 cups whole-wheat pastry flour
1/2 cup unflavored protein powder
1 teaspoon baking soda
1 teaspoon baking powder
1 teaspoon cinnamon
1/2 teaspoon ginger power
1/4 teaspoon salt
1/2 cup walnuts, chopped
DIRECTIONS
Peel bananas and place them in a microwave-safe bowl.
Cover with paper towel and microwave five minutes, or until they have released their liquid.
Place bananas and liquid in a fine-mesh strainer set over a bowl and allow to drain, stirring occasionally, for 15 minutes.
Transfer strained banana liquid to a saucepan and simmer over medium-high heat until reduced to about 1/4 cup.
Stir together reduced banana liquid with bananas and mash until mostly smooth. Whisk in eggs, yogurt, coconut oil, sugar and vanilla.
In a separate bowl, stir together flour, protein powder, baking powder, baking soda, cinnamon, ginger powder and salt.
Add wet ingredients to dry and stir together gently.
Fold in walnuts.
Divide mixture among 12 standard-size greased or paper-lined muffin cups.
Bake for 18 minutes, or until a toothpick inserted into the center of a muffin comes out mostly clean. Let cool several minutes before unmolding.