Boost Your Fat Burn
Three surprising foods that help you torch more fat.
Heading out the door? Read this article on the new Outside+ app available now on iOS devices for members! Download the app.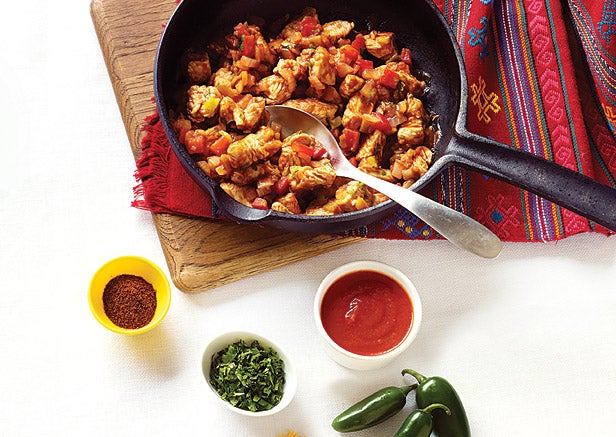 Here's a long-known food fact: Spicy chili peppers can boost your metabolism, thanks to a chemical called capsaicin which ups the heat in your body and acts as an appetite suppressant. "Hot peppers can potentially raise metabolism by 25 percent for as long as two hours after eating them," says Diane Kress, RD, author of The Metabolism Miracle (De Capo Lifelong, 2009). But that's old news. Another thing you should know: "Eating one pepper-laden meal won't make a huge difference because the effect is temporary," says Kress, "but spreading a variety of metabolism-burning foods throughout the day could add up to produce more significant results." Try these foods to spice up your fat-burning metabolism without torching your taste buds.
Sweet Pepper Power
Good news for non-pepperheads: New research shows that some sweet chili peppers provide the same metabolism-boosting effects as hot peppers, from another compound called dihydrocapsiate (DCT). It works by pushing the body to use more fat as fuel, increasing fat burning. The California study found that nine milligrams of DCT taken three times a day burned an extra 100 calories daily.
Gobble up
Try adding an extra slice or two of turkey to your lunch salad. Lean, high-protein foods such as turkey help kick up calorie-burning by making your body work harder. "It's more labor intensive to digest protein," says Kress. "Replacing 20 percent of carbohydrate calories with protein calories increases fat burning by five percent." So if you typically use two slices of whole-grain bread to make your turkey sandwich, you'll save 20 percent of calories (assuming 100 calories per slice) by substituting a whole-grain wrap (160 calories). Now add the 20 percent of calories to the turkey. If you usually eat three ounces of turkey with your sandwich, add another half ounce for a metabolism boost.
Metabolic Melon
A helping of watermelon for dessert or as part of a refreshing smoothie also keeps metabolic fires burning, says Erin Palinski, RD, LDN, CDN, CPT, founder of Vernon Nutrition Center, LLC, New Jersey. "Watermelon contains arginine, an amino acid that decreases body fat in animal studies," says Palinski. Arginine boosts metabolism by promoting muscle over fat gain, according to a study published in the Journal of Nutrition. Supplementing diets of obese rats with arginine reduced body fat gains by more than 60 percent.