Eat, Drink and Still Shrink
Heading out the door? Read this article on the new Outside+ app available now on iOS devices for members! Download the app.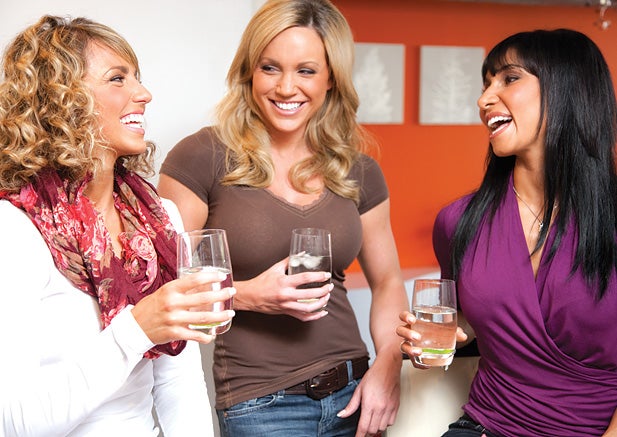 1. Easy Entertaining
It might not sound glamorous, but dining in has innumerable benefits. First off, it's a lot cheaper to eat at home, especially when you consider the added cost of transportation, taxes, tip and restaurant markups on food and drinks. There are also no hidden surprises in your meals such as added salt, fat and sugar when you eat in because you have complete control over your ingredients.
Several studies reveal that eating at home is associated with healthful dietary intake patterns, including eating more fruits and vegetables, fewer fried foods and soda, less saturated and trans fat and more fiber. If you think hosting a clean dinner is a big production, this crowd-pleasing menu will prove you wrong. Go ahead and send out the invites!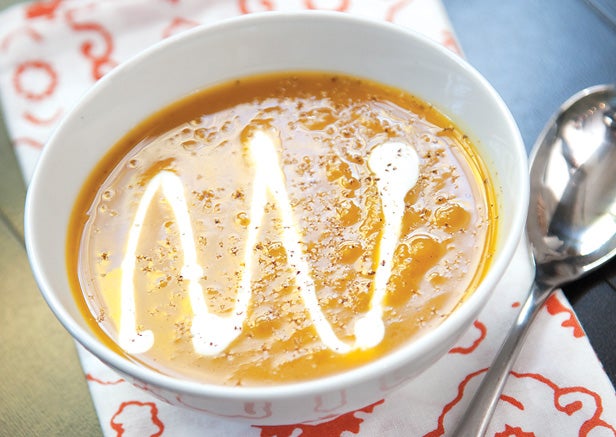 2. Soup Starter
This nutrient-rich butternut squash soup is the perfect beginning to your holiday dinner party. The spices from the curry powder and ginger really complement the sweetness of the squash.
Butternut squash is full of vitamins and antioxidants, including vitamin A, beta-carotene and potassium, which work together to promote healthy eyes, bones and teeth, as well as a strong immune system, a healthy circulatory system and good organ health. A healthy body is a fat-burning one!
Cut more fat: This soup calls for two tablespoons of oil but if you use two teaspoons instead you'll save 25 calories and three grams of fat per serving!
Get the recipe for Curry and Ginger Butternut Squash Soup.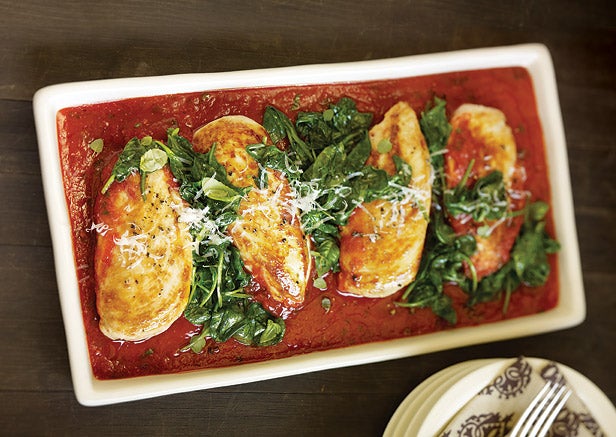 3. Main Attraction
Your guests will love this drool-worthy Chicken Florentine – and so will their waistlines!
Spinach is extremely high in iron, which works to deliver oxygen to your muscles, increasing your ability to exercise harder and burn more fat. Tomatoes are loaded with critical nutrients like vitamins A, C and B-6 and fiber, which help your body burn fat by reducing cholesterol and stabilizing blood sugar levels.
Fresh herbs are more flavorful than dried ones. Look for full, green leaves with no signs of yellowing. Pinch leaves from the stalk and chop into strips just before adding to recipes for the best flavor.
Cut more fat: Use "no-salt added" crushed tomatoes to reduce your sodium by 110 milligrams per serving.
Get the recipe for Chicken Florentine.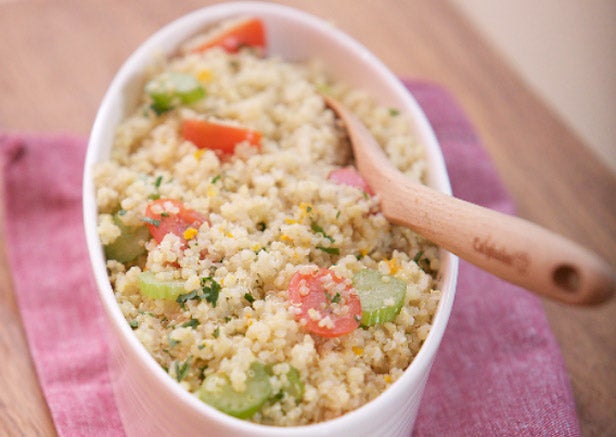 4. Spectacular Side
This Quinoa à l'Orange Salad is a perfect side for your fat-blasting Chicken Florentine. Quinoa contains all nine essential amino acids including an abundance of lysine, which is associated with tissue repair and growth. And since muscles constitute your fat-burning fire, the healthier they are the more fat you'll burn!
Cut more fat: Add more veggies to the salad, such as carrots, zucchini, cucumbers and red peppers to increase fiber content, decrease glycemic load and improve nutrient profile.
Get the recipe for the Quinoa à l'Orange Salad.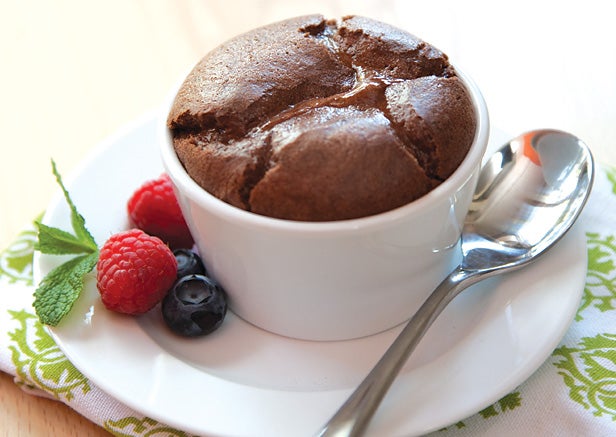 5. Decadent Dessert
Indulge your sweet tooth without undoing your hard work at the gym with these Mini Chocolate Souffles. Egg whites are a great low-calorie, fat-free protein source, containing 4 grams of protein per large egg, with only 16 calories apiece.
Cut more fat: Use smaller ramekins to reduce serving size, and serve smaller souffles with fresh berries to add fiber and vitamins.
Get the recipe for Mini Chocolate Souffles.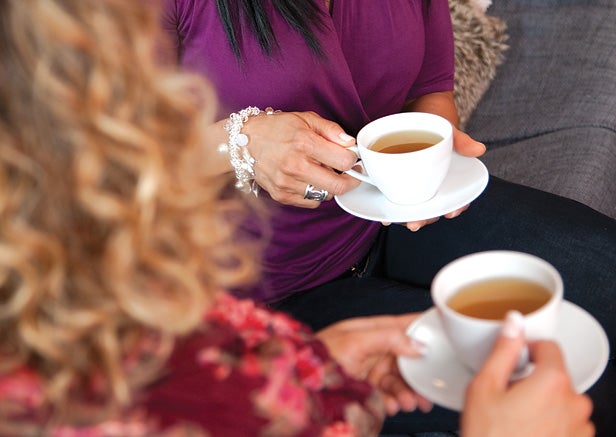 6. Slimming Sips
At about 75 calories per ounce, cocktails can be a real diet-buster. Alcohol also promotes fat storage by discouraging your body from burning alcohol as fuel. It takes a long time to for your body to burn off this booze and that's time away from burning off fat. Try these no-cal options instead:
Spa water: Slice one lemon, one orange and one cucumber and place into a large, glass pitcher. Fill the pitcher with water. Place in the refrigerator overnight for a flavorful, calorie-free beverage.
Green tea: Have a pot of green tea on hand. Not only will it stir post-dessert conversation (thanks, caffeine!), but also sipping it can help you stay on your fat loss mission. A study published in the Journal of Nutrition found that people who regularly drank green tea for 12 weeks lost more belly fat than those who didn't.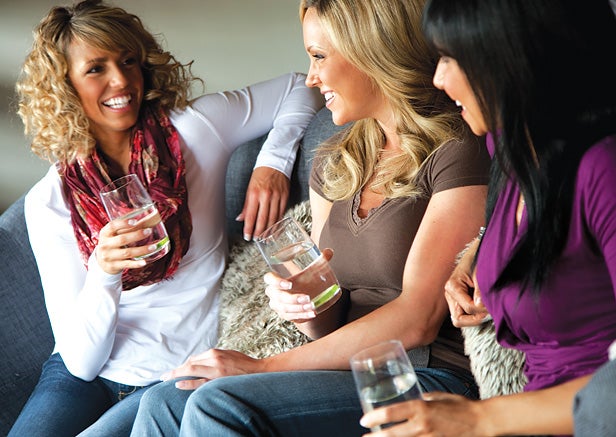 7. Your Game Plan
One day before:
Buy your groceries
Make soup and refrigerate in an airtight container
Thaw chicken (if frozen) in the refrigerator
The morning of:
Shred parmesan cheese, if fresh
Prepare quinoa salad
An hour before:
Chop fresh basil for chicken dish and set aside
Warm soup on the stove on low to heat slowly
When guests arrive:
Serve drinks
Start cooking chicken
Serve soup
During dinner:
Set oven to 350 F
Prepare souffles after enjoying the entree