How to Strengthen Your Gut With Kefir
Learn why you should consider trading regular yogurt in for this superfood — kefir.
Heading out the door? Read this article on the new Outside+ app available now on iOS devices for members! Download the app.
With 30-some strains of gut-friendly bacteria (as compared to about seven in yogurt), kefir is a probiotic powerhouse, promoting gut health and helping break down your food efficiently.
Its tart and tangy flavor makes it the perfect complement to just about any recipe. Here are five ways to use kefir — including one that might surprise you!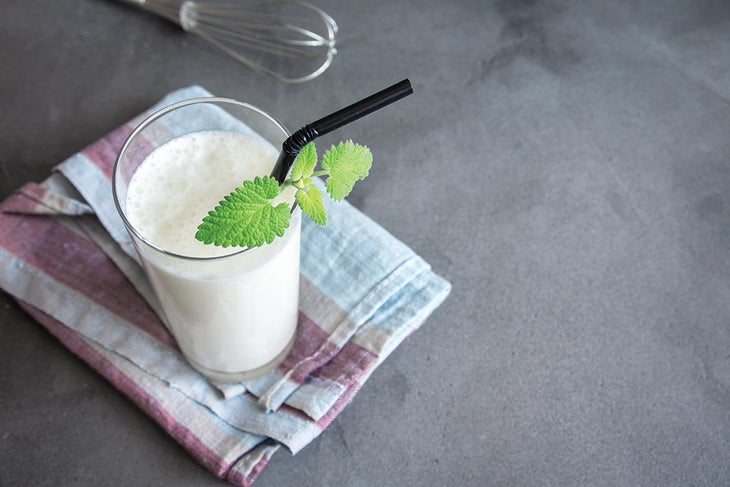 1. As a bone-building breakfast
Kefir has high levels of calcium and vitamin K2, which have a symbiotic relationship: Vitamin K2 helps the body better absorb calcium, and research shows supplementing with it can reduce bone fractures by up to 81 percent.
Quick Kefir Bowl: Stir together 1/3 cup of quick oats, ½ tablespoon of chia seeds, ¾ teaspoon of cinnamon and 1 cup of plain kefir. Let sit five to 10 minutes to thicken. Eat topped with fresh fruit, coconut flakes or chopped nuts.
2. As a disease-defeating dip
Not only does kefir contain biotin and folate to boost immunity, it also contains lactobacillus kefiri, which helps defend against E. coli, candida, yeast infections, irritable bowel syndrome and Crohn's disease.
Awesome Avocado Dip:
Mash all ingredients together in a large bowl. Serve with sliced veggies.
½ cup low-fat kefir
4 avocados, peeled, pitted and diced
½ red onion, minced
1-2 tbsp fresh lime juice
½ tsp salt
½ tsp black pepper
1 tsp chili powder
½ jalapeño pepper, seeded and chopped fine
3. As a cancer-kicking treat
Compounds in kefir have been shown to slow the growth of early tumors. One test done at McGill University in Canada found that it reduced breast cancer cells by 56 percent in animal studies.
Choco-Banana Pro Pops: Blend together 1 cup of kefir, 3 tablespoons of unsweetened cocoa powder, ½ scoop of protein powder, 1 tablespoon of mini dark chocolate chips, ½ frozen banana, 3 tablespoons of honey (or sugar), ½ teaspoon of vanilla extract and a dash of salt. Pour into popsicle molds and freeze overnight.
4. As a skin-saving salve
The probiotics in kefir help prevent acne, rashes and eczema from the inside out, and kefiran — a carbohydrate found in kefir — can help with wound healing. When applied topically, the alpha hydroxy acid (AHA) in kefir helps slow the aging process, adds elasticity and hydrates your skin.
Moisture Mask: Mix 2 tablespoons of kefir with 1 teaspoon of olive oil and 1 egg yolk, and apply mask to your face for 15 to 20 minutes.
5. As a cholesterol-crushing dressing
Women who drank kefir for eight weeks showed a significant decrease in LDL, or bad cholesterol.
Divine Dressing: Serve your daily salad with a mixture of ¼ cup of kefir, ¼ cup of apple cider vinegar, ½ cup of extra-virgin olive oil, 1 garlic clove (minced), 1 teaspoon of honey, 1 teaspoon of Dijon mustard, and salt and pepper (to taste).