How to Use Celery Root in the Kitchen
This underappreciated root vegetable is the chameleon of the kitchen and can be prepared every which way — both raw and cooked.
Heading out the door? Read this article on the new Outside+ app available now on iOS devices for members! Download the app.
K, so it's not the most attractive vegetable in the produce aisle, and if we're being honest, it looks like a hairy softball. Regardless, this bulbous, gnarled root holds all its beauty on the inside.
Celery root, also called celeriac, is economical, versatile and flat-out delicious, with a flavor akin to a mash-up of parsley and celery with a hint of sweetness. Worthy of a nutritional pat-on-the-back, this eternally underrated root is a leading source of vitamin K, a must-have nutrient recently linked to a lower risk of premature death from cardiovascular issues such as heart attacks. And at a mere 65 calories per cup, celery root is an ab-friendly stand-in for starchier items like potatoes and pasta.
Prep Step: Celery root requires a generous peeling before use. Lop off the top and bottom of the bulb so it sits flat, then work a sharp chef's knife down the sides to remove the knobby skin.
Here are a few ways to use celery root in your favorite recipes.
Use in Place of Steak
Nutrition Upgrade: Eliminate the saturated fat from the beef.
Cut celery root into 1-inch slices; season with salt and pepper. Heat 1 teaspoon oil in an ovenproof skillet over medium-high and sear celery root "steaks" until golden brown, about 4 minutes per side. Transfer skillet to oven and roast at 400 F until tender, about 8 to 10 minutes. Serve topped with your favorite sauce.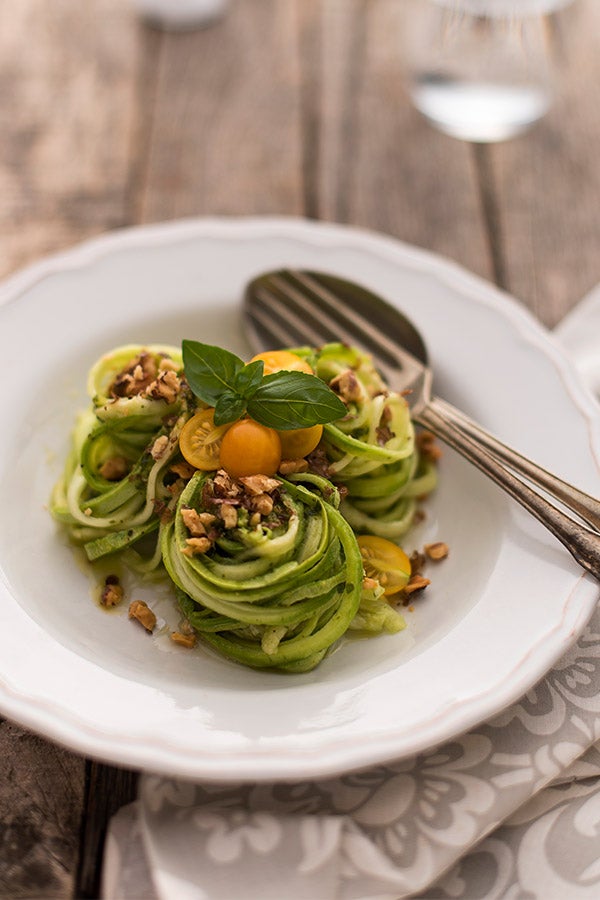 Trade for Spaghetti and Pasta
Nutrition Upgrade: Save about 150 calories per cup and eliminate gluten from the recipe.
Use a spiralizer to slice celery root into spaghetti-like strands. Warm the "noodles" in a skillet and toss with sauce such as pesto or Bolognese.
Sub for Cabbage in a Slaw
Nutrition Upgrade: Bolster your intake of vitamin K as well as harder-to-get minerals like potassium and manganese.
Combine grated celery root, 1 grated Granny Smith apple, ¼ cup chopped walnuts and ⅓ cup chopped parsley. Toss with 3 tablespoons cider vinegar-Dijon mustard dressing.
Exchange for Potato in Hash
Nutrition Upgrade: Slash about half the starchy calories in a typical hash and boost the fiber content.
Heat 4 cups cubed celery root, 1 small chopped onion and a few pinches salt in a lightly oiled skillet until tender and brown; stir in 2 tablespoons chopped fresh rosemary. Serve topped with a fried egg.
Switch with Cream in a Puree
Nutrition Upgrade: Slash a ton of calories and fat and make this dish edible for those with dairy allergies.
Steam or boil 2 cups chopped celery root until very tender. Puree together with ¼ cup evaporated milk, 1 garlic clove, 1 teaspoon lemon zest, 2 teaspoons fresh thyme and ¼ teaspoon salt. Serve under fish or meats.
Celery Root Horseradish Mash
Makes: 4 Servings
This is a great low-calorie sub for mashed potatoes — guilt-free comfort food!
INGREDIENTS
1 medium celery root, peeled and cubed
2 medium apples, peeled and cubed
2 tbsp prepared horseradish
2 tbsp butter
2 tsp fresh thyme
½ tsp salt
¼ tsp black pepper
DIRECTIONS
Place celery root in a large pan of water and bring to a boil. Cook 15 to 20 minutes, or until tender. Add apples during the last 5 minutes of cooking. Drain well and return celery root and apples to pan. Mash together with horseradish, butter, thyme, salt and pepper until just slightly chunky.
Nutrition Facts (per serving): calories 167, fat 6 g, carbs 28 g, fiber 5 g, sugar 13 g, protein 3 g, sodium 472 mg