Lean, Mean Tomatoes
Low in calories but packed with nutrients, tomatoes are the perfect complement to any protein-rich meal.
Heading out the door? Read this article on the new Outside+ app available now on iOS devices for members! Download the app.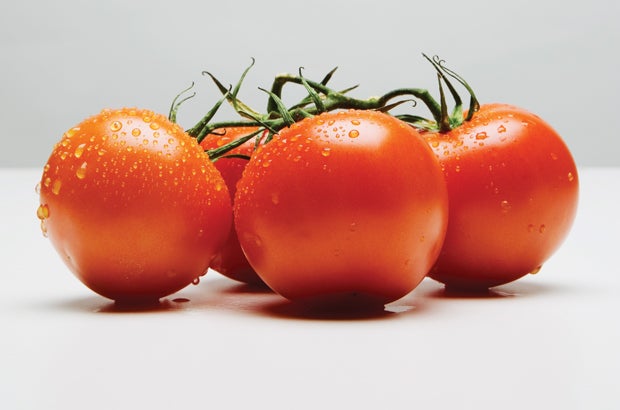 In a fitness world that's always in search of the next superfood to fuel your workouts, it's easy to overlook the nutrition powerhouses that are already around you. Ripe juicy tomatoes are not only versatile, inexpensive and easy to add into just about any meal, but they are also loaded with nutrients to feed your active lifestyle.
But while it's easy to fill a list with the helpful nutrients found in tomatoes — including vitamins A, E and C, potassium and lycopene — the main reason they are a great food choice is simply because they are tomatoes, says Allen Lim, Ph.D., exercise physiologist and co-founder of Skratch Labs, a company that emphasizes the importance of whole foods for athletes. "Reducing a particular food into a laundry list of health components sometimes ignores the bigger picture — that the whole is almost always greater than the sum of its parts," Lim says. "There are literally hundreds of compounds in a tomato that benefit our health. And, as much as we might highlight one or two, the reality is that the benefit of any single component occurs in the context of the whole tomato. Thus, the most important ingredient in a tomato is the tomato itself. Like most edible whole fruits and plants, the benefits are self-evident."
Lucky for us, this superstar vegetable is available year-round, though growing conditions seem to align perfectly in July and August to create the sweet, juicy tomatoes we all love to add to our BLTs and Caprese salads.
And when you want that sweet tomato fix at other times of the year, your best bet is to think small. "Red grape tomatoes, or Cherubs, are the most popular tomato in the United States because of their sweetness every day, all year long," says Michael Joergensen, director of marketing at NatureSweet, the largest tomato grower in North America. "We know from research that consumers prefer small tomatoes 75 percent of the time for their sweet flavor and no-slicing convenience."
When it comes to tomatoes, health comes in all shapes, sizes and colors. Take advantage of the opportunity to gobble them up whenever you can.
Tomatoes: Your Training Advantage
Lycopene, a powerful antioxidant, is a phenolic compound that gives certain foods their red pigment. The science is clear that regular consumption of lycopene-containing foods is associated with lower risk of heart disease, hypertension, Type 2 diabetes and even some cancers. Several foods contain lycopene, including grapefruit, apricots, guava and watermelon, but it is tomatoes and cooked tomato products — tomato sauces, canned tomatoes, soups and ketchup — that are one of the most concentrated sources of lycopene. "Even for those who aren't overweight or at high risk of chronic diseases, one of the top reasons to eat tomatoes is because lycopene can help reduce inflammation," says Joy Dubost, Ph.D., RD, and spokeswoman for the Academy of Nutrition and Dietetics. "Over time, when people have an imbalance of free radicals or antioxidants, damage to any of the body's cells can occur, and that's referred to as inflammation."
And lycopene isn't the only reason to load up your salads, sandwiches and other dishes with tasty tomatoes. "Tomatoes are a standout among fruits and vegetables because they contain all four major carotenoids — lycopene, alpha-carotene, beta carotene and lutein — and three highly powered antioxidants, including vitamins E and C," says Elaine Magee, MPH, RD, author of Food Synergy (Rodale, 2008). "Those compounds are all thought to have synergy that creates more antioxidant activity together than the sum of those individual compounds would." And if that weren't impressive enough, the list just keeps going. Tomatoes are also rich in folate, which we need to help prevent fatigue and anemia, as well as choline, which plays a key role in nerve and muscle function.
To get your tomato fix, check out these recipes:
Chicken, Tomatoes and Linguine In Creamy Gorgonzola Sauce
Sun-Dried Tomato Stuffed Pork Chops
Sausage-Tomato Flatbread With Apricots and Grilled Lemons
Shrimp And Chard With Oven-Roasted Tomatoes