5 Nutritious Bone Broth-Based Recipes
Take advantage of bone broth's robust nutritional profile with these delicious, healthy recipes.
Heading out the door? Read this article on the new Outside+ app available now on iOS devices for members! Download the app.
While bone broth may be an acquired taste, it's gained much-deserved popularity in the kitchen and among nutrition pros over the years. Whether you make it at home or buy a high-quality batch from the grocery store, adding bone broth to your favorite recipes will give you a kick of vitamins and minerals that will keep your body functioning at its best.
Researchers have found that bone broth is a nutrition powerhouse — high in protein and vitamins like magnesium, calcium and phosphorus. The amino acids found in bone broth ease digestion, helping to reduce inflammation and heal the gut. It's also a source of gelatin, which breaks down into collagen and can help repair joint damage and fight osteoarthritis. Hello, postworkout support!
You can use bone broth just like you would any other broth or stock — as a base for soups, to cook grains or to make casseroles. Or you can simply drink it like a cup of joe!
Here are five quick and easy recipes to get you started.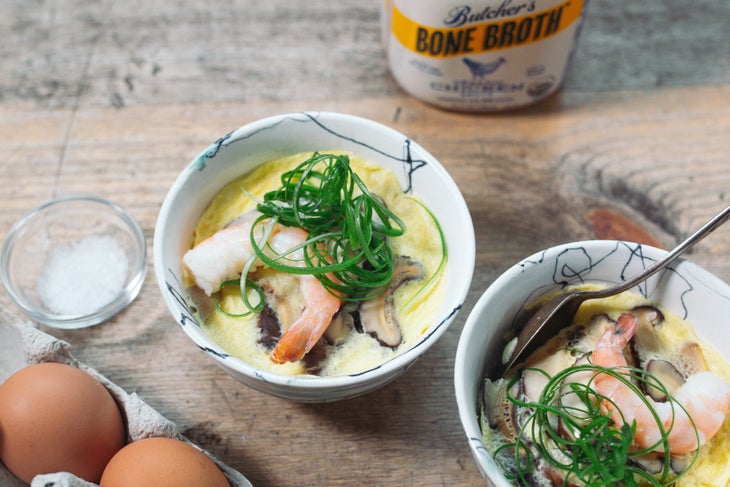 Quick Bone Broth Steamed Eggs
Makes: 2 servings
Ingredients
3 eggs
¼ cup chicken bone broth (We love Roli Roti Butcher's Bone Broth!)
¼ tsp salt
2 shiitake mushrooms, sliced
scallion curls, to garnish
2 cooked shrimp, to garnish (optional)
Instructions
Crack eggs into a small mixing bowl, add chicken bone broth and salt. Whisk until uniform. Add shiitake mushrooms into mixture. Divide and pour into 2 microwave-safe soup bowls. Cover bowls with cling wrap. Microwave for 2.5 minutes. Remove from microwave and discard cling wrap. Garnish with scallions and shrimp. Enjoy while hot.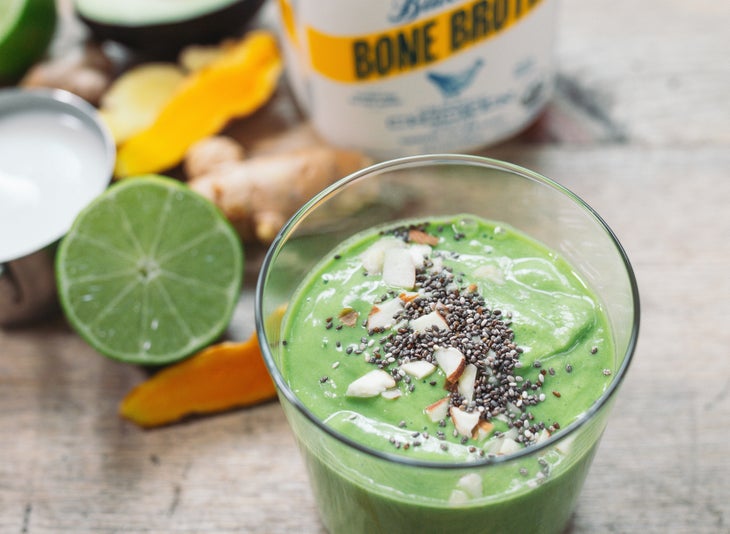 Bone Broth Green Smoothie
Makes: 1 serving
Ingredients
3 chicken bone broth ice cubes (Portion out broth into ice-cube tray and freeze.)
½ avocado
1 cup fresh spinach
1-inch piece ginger
1-inch piece turmeric
1 cup almond milk (or milk of choice)
juice of ½ lime
½ tsp chopped almonds
½ tsp chia seeds
Instructions
Place chicken bone broth ice cubes, avocado, spinach, ginger, turmeric, almond milk and lime juice into a blender and blend until smooth. Pour into glass and top with chopped almonds and chia seeds. Serve immediately.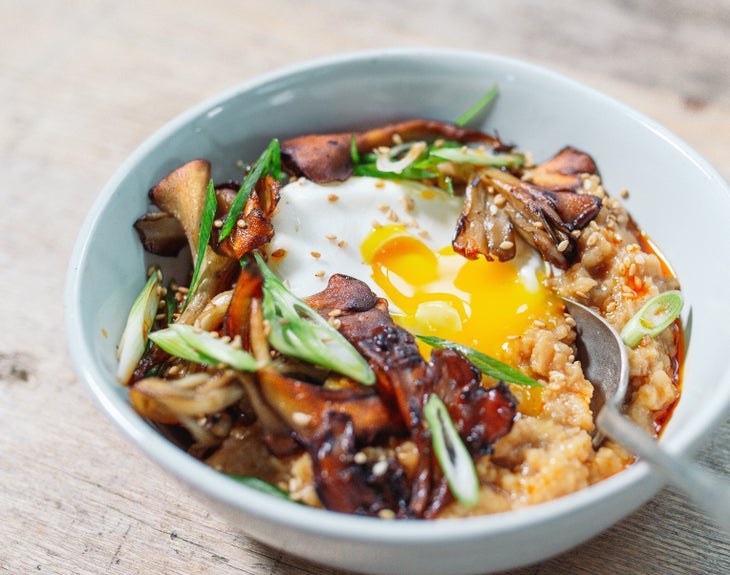 Miso Oatmeal
Makes: 2 servings
Ingredients
2 cups chicken bone broth
½ tsp soy sauce
1 tsp red miso
¼ tsp salt
1½ cups quick oats
1 tbsp butter
½ cup maitake mushrooms
2 eggs, poached (optional)
1 tbsp chopped scallions, to garnish
1 tbsp chili oil (optional)
1 tsp sesame seeds
Instructions
In a small saucepan, bring bone broth, soy sauce, miso and salt to a boil. Add quick oats and reduce heat to medium-low. Stir until oats are fully hydrated, about 2 minutes. Cover with the lid and turn off heat. In a skillet over medium-high heat, melt butter and add maitake mushrooms. Stir mushrooms into butter and cook until golden brown and edges are crispy, about 4 minutes. Remove from heat. To serve, fill 2 bowls with miso oatmeal. Top with a poached egg, fried mushrooms, chopped scallions, a drizzle of chili oil and sesame seeds.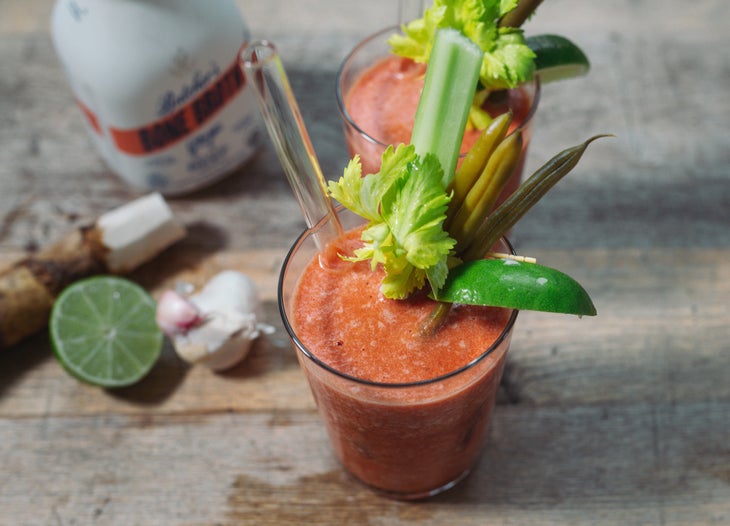 Beef Bone Broth Bloody Bull
Makes: 6 servings
Ingredients
28 oz can San Marzano peeled tomatoes
1 cup beef bone broth
1½ cups vodka
juice of 2 limes
2 tbsp horseradish, grated
2 tbsp hot sauce
1 tbsp Worcestershire sauce
1 tsp ground celery seeds
1 tsp freshly ground black pepper
1 tsp salt
celery stalks, to garnish
pickled green beans, to garnish
lime wedges, to garnish
Instructions
Place tomatoes, beef bone broth, vodka, lime juice, horseradish, hot sauce, Worcestershire sauce, celery seeds, black pepper and salt into a blender and blend until smooth. Fill glasses with ice. Pour bloody bull into glasses and garnish with celery stalks, pickled green beans and lime.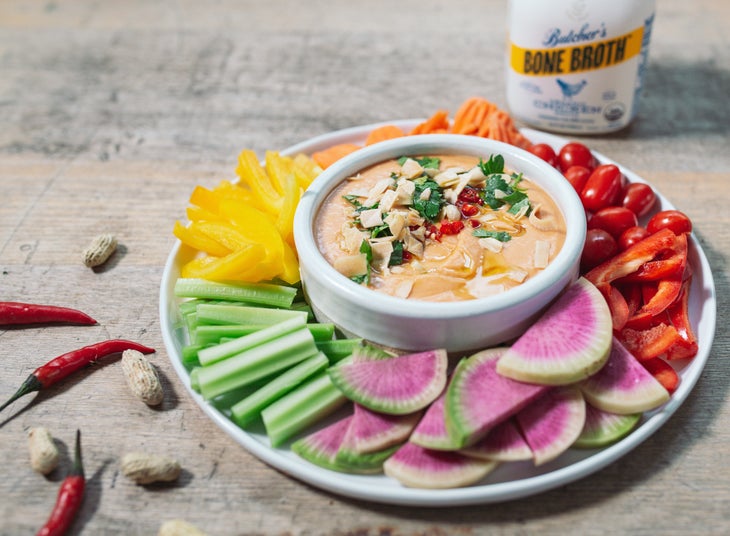 Thai Red Curry Bean Dip
Makes: 6-8 servings
Ingredients
1 can white beans, rinsed and drained
¼ cup chicken bone broth
¼ cup coconut milk
1 tbsp Thai red curry paste
2 cloves garlic
juice of ¼ lemon
1 tbsp peanut butter
½ tsp dark brown sugar
½ tsp salt
cilantro, to garnish
toasted peanuts, to garnish
toasted coconut chips, to garnish
chopped Thai chilies, to garnish (optional)
1 tbsp extra-virgin olive oil, to finish
Instructions
Place white beans, bone broth, coconut milk, Thai red curry paste, garlic, lemon juice, peanut butter, dark brown sugar and salt into a food processor and blend until smooth. Pour into serving bowl and garnish with cilantro, peanuts, coconut chips and Thai chilies, and drizzle olive oil on top. Serve with a colorful medley of veggies.