Oh-Mega!
Here are 5 new ways to reel in omega fats for more muscle growth and better heath.
Heading out the door? Read this article on the new Outside+ app available now on iOS devices for members! Download the app.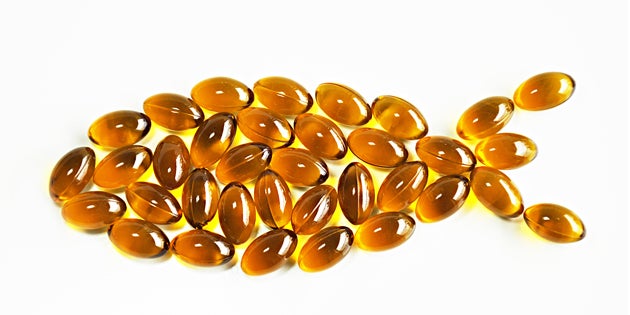 Almost everyone, from nutritionists to fitness enthusiasts to Volvo-driving soccer moms, have been waxing ecstatic about the omega-3 fatty acids EPA (eicosapentaenoic acid) and DHA (docosahexaenoic acid) found naturally in fatty fish like salmon for the past couple of decades. That's because a raft of research has shown that these nutritional heroes aid in heart health, better brain functioning and improved bone strength. Ladies who like to pump up should take heed of studies demonstrating these mega healthy fats can reduce exercise-induced muscle soreness and may even kick-start muscle growth.
But if you're reeling-in farmed salmon for your omegas you might be getting less of a bang for your buck. According to a recent report by the International Fishmeal and Fish Oil Organization, farmed salmon are increasingly being fed vegetable oil instead of fish oil, which is causing their omega-3 levels to drop like an anchor. Another concern is that fattening up the swimmers on cheap vegetable oils could raise levels of pro-inflammatory omega-6 fatty acids.
The World Health Organization recommends we shoot for at least an average of 250 milligrams of EPA and DHA daily for good health. Yet, a recent report by the American Heart Association found that most Americans still don't get enough. Beyond farmed salmon, here's how to get your fill.
Smoked Atlantic Mackerel
Omega-3 Count: 1,283 milligrams per 1-ounce serving
Perhaps the expression "Holy, Mackerel," comes from the fact that this fish species is an omega powerhouse. Beyond healthy fat, mackerel delivers notable amounts of the antioxidant selenium and vitamin B12. Count proper nerve and brain functioning as two important reasons to get enough vitamin B12. Mackerel also gets high-water marks from ocean conservation groups because it's quick to spawn and grows rapidly making it more resilient to fishing pressures.
It's not always easy to find fresh fillets, but a number of fishmongers carry packages of smoked mackerel, which can be used to instantly add an omega dose to sandwiches and salads. For an inspiring cracker or toast spread, place mackerel flesh in a mixing bowl and break apart with a fork. Stir in sour cream, parsley, chopped shallot, minced garlic, lemon juice, horseradish and black pepper.
Wild Planet Canned Albacore Tuna
Omega-3 Count: 1,100 milligrams in 2.5 ounces (1/2 can)
When it comes to your tuna salad sandwich it's time to splurge and cast your line for sustainable options from smaller companies like Wild Planet. Do so and you'll end up with up to five times more must-have omega-3 fats than options available from larger producers. Why? The tuna is cooked after canning, not before, which seals in the omegas not to mention a boatload of more flavor. In addition, they seek out younger migratory albacore that have huge appetites for fellow fish such as anchovies to support their growth, which also serves to drive up the omega numbers in their flesh. Canning only smaller fish, which have less time to accumulate mercury in their flesh, also means less of this toxin end ups on your plate. Beyond the can, look out for on-the-go tuna pouches so you can stash your omega and protein packed tuna meat in your office desk or gym bag.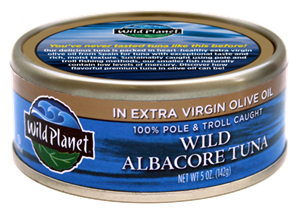 Also look out for their on-the-go pouches so you can stash your omega- and protein-packed tuna meat in your office desk or gym bag.
Kippered Herring
Omega-3 Count: 607 milligrams per 1-ounce serving
Often overlooked, kippered herring are made when the fish is sliced in half (butterflied) gutted, salted, then smoked — a process is known as "kippering." It's a favorite catch of the day among Scandinavians. In most supermarkets, kippered herring is available in convenient tins. As a small, oily fish, herring is rich in body-friendly omega-3 fats along with plenty of muscle-building protein and vitamin D. Studies suggest we need vitamin D for proper muscle functioning as well as better bone health. Another plus: As a sustainable fish low in contaminants, herring are on most conservation groups list of fish to eat. Work their rich, smoky flavor into egg dishes like scrambled eggs and omelette, pasta, sandwiches and even dips. Or simply grab a fork and enjoy straight from the tin. You can also look for pickled herring fillets sold in jars.
Mussels
Omega-3 Count: 665 milligrams per 3-ounce serving
Consider this shellfish your wild card omega-3 source as they don't often come up in talk about these phat fats. Yet, steaming up a pot of mussels can easily give you more than a day's omega-3 requirement. What's more, with only 146 calories yet a stellar 20 grams of protein in each 3-ounce serving, these crustaceans deliver an outstanding protein-to-calorie ratio. You'll also benefit from energy-boosting iron and huge amounts of vitamin B12. Unlike much of the farmed salmon on the market, farmed mussels are raised in an environmentally responsible manner that does not pollute surrounding waterways. Best of all, mussels are one of the most budget-friendly options at the fish counter.
Coromega Omega-3 Big Squeeze
Omega-3 Count: 916 milligrams per 2-teaspoon serving
Omega supplements can be an ideal way to get a reliable dose of omega-3s everyday, particularly if you're not fond of the "fishy" taste of the swimmers that are highest in these fats. Studies show that fish oil supplements are not likely to be contaminated with nasty stuff like mercury, and the fish sourced for the oil often comes from sustainable sources like anchovies. We like the Coromega squeeze pouches because they come in tasty fruit flavors like Mango Nectar and an emulsification process encourages better absorption without the need to swallow a horse pill or the risking those lovely fish burps.