Stop what you're doing right now and try this protein pumpkin latte!
Pumpkin season has finally been perfected.
Heading out the door? Read this article on the new Outside+ app available now on iOS devices for members! Download the app.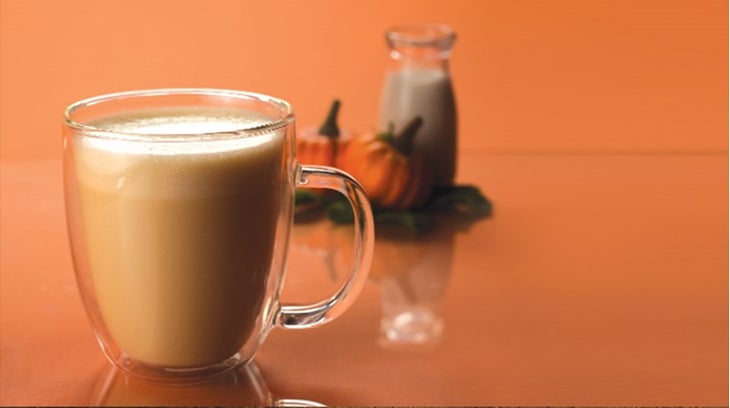 OMFG! It's pumpkin season! Everyone freak out and eat all the pumpkin things! Yeah, we're totally not over pumpkin yet, #sorrynotsorry, but we ARE over all the extra carbs, calories and inches that seem to mysteriously appear around our waistlines once bikini season ends and pumpkin season begins.
I want to EAT pumpkin, I don't want to LOOK like one! And let's be honest, a "skinny" pumpkin latte just isn't the same.
ENTER: the PROTEIN pumpkin latte. Yes, it's a real thing. Yes, it's just as good as it sounds. And YES, it has 11 grams of protein in it. Eleven grams of protein IN A LATTE! (Cue: triumphant trumpet blast!)
Here's the real genius behind this protein-packed beauty of a bevvy: It's made with the new Pumpkin Pie Quest Bar. (If you haven't tried it yet, this bar's AMAZING. It's like Ryan Gosling in a wrapper!) To make the latte, you basically mix up the bar with a little almond milk, an extra dash of spice and some sweetener, microwave it up and voilà: pumpkin protein perfection in a mug!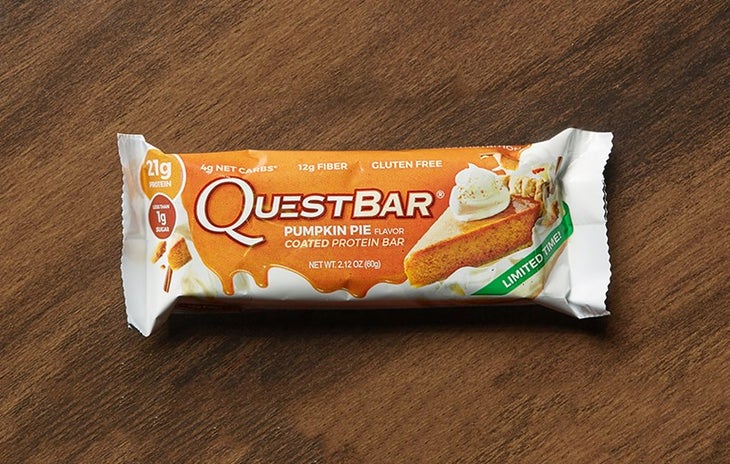 We have a feeling those bars are going to be in short supply because they're only around for the season, so get your hands on a few now and get mixing. This latte's caffeine-free, so it's perfect for anytime indulgence (we like it after dinner to get some protein before bedtime), but you could add a teaspoon of instant espresso if you need a pick-me-up with your pumpkin.
Go ahead, make those other latte lovers jealous.
Pumpkin Spice Latte
Yields: 2 servings | Serving Size: ½ recipe
Prep Time: 3 minutes| Cook Time: 2 minutes | Total Time: 5 minutes
Ingredients
1 Pumpkin Pie Quest Bar
2 cups unsweetened almond milk
1 tablespoon sugar-free syrup
½ tablespoon zero-calorie sweetener
⅛ teaspoon pumpkin-pie spice
*1 shot of instant espresso (optional)
Method
In a small bowl, microwave unwrapped Quest Bar, almond milk and syrup for one minute and 30 seconds. Whisk.
In a blender, add bar mixture, sweetener and pumpkin-pie spice, and blend for 30 seconds.
Pour into two mugs.
Reheat in microwave for 30 seconds, and serve.
Nutrition Info
Calories: 150
Protein: 11 g
Fat: 9 g
Net Carbs: 3 g (0 sugar grams)
Erythritol: 5 g
Fiber: 7 g
Total Carbs: 15 g
P/CAL: 29%