Coach Nikki's One-Day Meal Plan
These breakfast, lunch, snack and dinner recipes are sure to tempt your taste buds.
Heading out the door? Read this article on the new Outside+ app available now on iOS devices for members! Download the app.
My wife, Jojo, and I cook a lot together. She's the influence behind our meals, and I like to refer to her as a flavor goddess. I'll admit that I wasn't always very adventurous with trying different types of ingredients, having grown up in Utah in a family that simply wasn't very explorative with food.
But Jojo is Filipino, and she brings her cultural influences to our meals. She's baby-stepped me into trying things that I now wonder how I ever went 20 years without tasting! She's opened my eyes in the kitchen, even about how to do healthy twists on the Filipino and Latin foods that we love so much.
One of my favorite aspects of cooking together is the partnership it cements. We're having an experience together and not just focused on preparing calories to consume. We like to make a moment out of cooking and eating. We laugh and savor our food. We cook with love. Over the years, she's taught me to have more of an appreciation for what I'm eating versus just looking at food as a calorie.
One easy way we've found to stay on track is to prep some of our staple items ahead of time. So she'll cook up some lemon chicken and roasted vegetables with lemon and Parmesan cheese. Then we store those items in separate containers, and throughout the week, we combine them with other things, depending on what floats our boat that day.
The recipes I'm sharing below were created with love in our kitchen. You'll notice that we don't shy away from carbs and fat. We focus on food that has flavor and gives us energy and vitality. I don't count macros, personally, but I do visually eyeball them to make sure it's roughly in check. Bon appétit!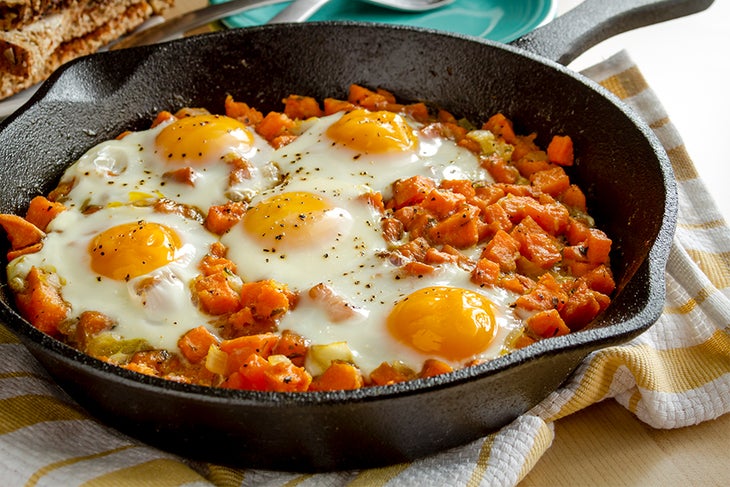 Breakfast: Sweet Potato Hash
Makes: 4 Servings
Ingredients
6 slices thick-cut, uncured bacon
2 tbsp olive oil, divided
1 small white onion, diced
1 green pepper, seeded and cut into strips
1 red bell pepper, seeded and cut into strips
1 jalapeño, seeded and diced
2-3 large sweet potatoes, chopped into small pieces
1 tsp garlic powder or 2 tbsp fresh minced garlic
1 tbsp oregano
salt and pepper, to taste
2 eggs, optional
Directions
Preheat oven to 400 F. Place bacon on a sheet pan and bake until crispy, about 25 minutes. Chop into small pieces and set aside. In a cast-iron skillet or oven-safe pan, heat 1 tablespoon oil over medium-high, then add onions, peppers and jalapeños. Saute until soft and onions are translucent, about 7 minutes. Set veggies aside. In the same pan, heat remaining oil until it's flaming hot. Add sweet potatoes and cook until seared and soft. Sprinkle with garlic powder, oregano, and salt and pepper (to taste). Add bacon and vegetables and stir to combine. Allow to cook, without stirring, so a crust forms on the bottom. If desired, make 2 wells in the top of sweet potatoes and crack an egg in each one. Place skillet in oven for 12 to 15 minutes; if using eggs, ensure the whites are cooked through.
Lunch: Nikki Roll Bowl
Makes: 2 Servings
Ingredients
¼ cup rice vinegar
1 tbsp honey
2 cups cooked brown rice
1 avocado, peeled, pitted and diced
1 cucumber, peeled and sliced in thin coins
½ cup fresh mango chunks
16 oz crab meat, drained
2 tbsp Sriracha sauce, or to taste
½ tsp toasted sesame seeds
Directions
Add rice vinegar and honey to a bowl and mix well. Microwave 1 minute on high. Add rice and stir with a wooden spoon to combine. Divide rice between 2 bowls. Top with avocado, sliced cucumber, mango and crab meat. Drizzle with Sriracha and garnish with sesame seeds.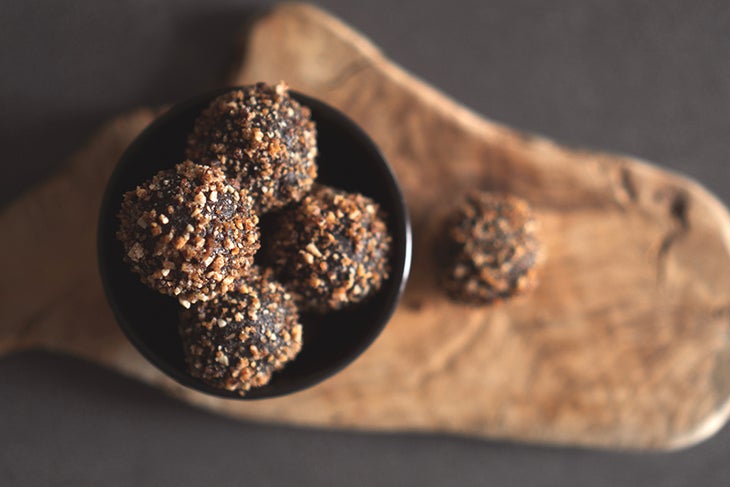 Snack: Chocolate PB Protein Balls
Makes: 4-5 Servings
Ingredients
1½ cups old-fashioned rolled oats
1 cup natural peanut butter (the runnier, the better!)
¼ cup organic honey
Add-Ins
2 tbsp chocolate chips
2 scoops chocolate protein powder of choice
Directions
Combine all ingredients in a bowl and mix well. If mixture seems too dry, add water by tablespoonfuls, as needed. Incorporate add-ins (if using). Use a small cookie scoop to form balls and place in an airtight container. Store in the fridge.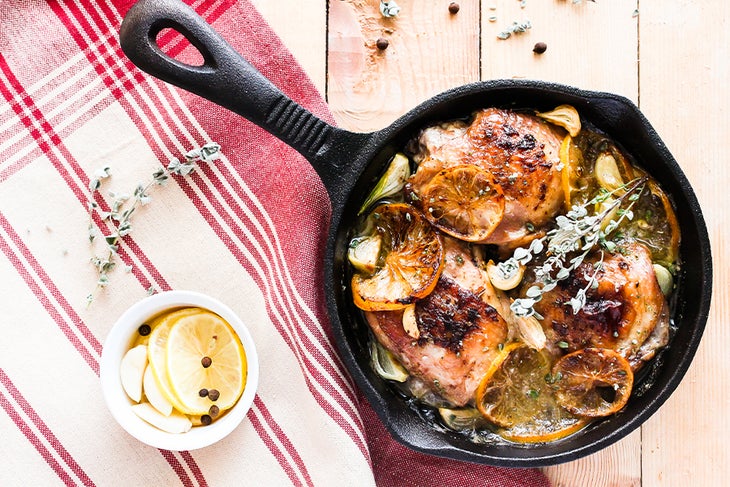 Dinner: Braised Chicken Thighs With Lemon and Capers
Makes: 3 Servings
Ingredients
6 boneless chicken thighs
salt and pepper, to taste
3 tbsp vegetable oil, divided
½ small onion, diced
1 cup low-sodium chicken broth
juice of 1 large lemon
2 tbsp capers, drained
3-4 sprigs fresh thyme
Directions
Preheat oven to 400 F. Season chicken on both sides with salt and pepper (to taste). Heat 1 tablespoon oil in an oven-safe pan over medium-high. Add onions and cook until translucent, about 5 to 6 minutes. Set aside. To the same pan, heat remaining oil. Add chicken and sear 4 minutes on each side. Add broth, lemon juice, onions and capers to pan. Top with thyme. Place pan in oven and bake 12 to 14 minutes. Discard thyme sprigs before serving.
Now in its sixth year, The Oxygen Challenge has helped thousands of participants around the world transform their bodies and their lives. This summer, we are bringing you two fitness experts focused on strength, empowerment and the mind-body connection: Jen Esquer, doctor of physical therapy and mobility expert, Nikki Snow, international trainer and professional coach.
So what are you waiting for? Start transforming your life and body today with their 90-day training and nutrition program designed exclusively for Oxygen— it's guaranteed to awaken your inner athlete, buoy your spirit and empower your life! Join the Challenge today.