Meet the Oxygen Challenge 4 Coaches
Now in its fourth year, the Challenge is better than ever, and it will help you change your body, your life, your mindset and your attitude.
Heading out the door? Read this article on the new Outside+ app available now on iOS devices for members! Download the app.
JEN WIDERSTROM: THE GRIT
Watching her on TV, you can easily imagine Jen Widerstrom as your best gal pal. With a quick smile and an earthy attitude, she is that buddy who will laugh at your jokes, complain about boys and hold your hair back when you have one drink too many.
Her easygoing, empathetic personality is what enabled Widerstrom to connect with millions around the world as a trainer on NBC's The Biggest Loser, and which will now allow her to connect with you.
Though she is best known for training a high-risk, obese demographic, Widerstrom is super excited to be pairing up with the athletic and eager Oxygen audience. "Getting into shape is the same process, whether you have 10 or 100 pounds to lose," Widerstrom says. "The Oxygen Challenge offers everybody an opportunity to start where they are in their fitness and wellness journey — beginner to advanced — and to transform."
Teamwork and Training
Widerstrom's coaching style is that of an encouraging partnership rather than a do-it-or-die approach. "This process is not a dictatorship, and you are a critical part of your success," she insists. "Think of it like this: A ship is safe in the harbor, but that is not what the ship is built for. It is built to move and to travel and to be challenged. I'll help you get out of the harbor and will direct your sails, but ultimately, you are the one earning it and working for it and traveling to your ultimate destination."
If you choose her as your coach, Widerstrom will steer your ship into a smorgasbord of programming. "For OC4, I bring in all kinds of movement — from strength training to power training to yoga to Pilates to volume overload," she says. "We hit it from all sides to keep it fresh so you remain mentally and emotionally invested." Better yet, her workouts only use dumbbells, a medicine ball and your own bodyweight, so they can be done anywhere by anyone.
Because your body adapts to specific training routines quickly, Widerstrom has split her 90-day program into three-week segments. "These segments build on one another in a progressive system that challenges your mind and body to help you achieve your goals," she says. "And everyone's goals are different: If you want to improve strength, great. If you want to lose fat tissue, great. If you are 75 years old and want to find consistency, great. Every one of these goals is achievable with my OC4 program."
Nourishing Nosh
In terms of nutrition, Widerstrom's philosophy is simple: Eat what you like. "Nutrition should complement the person more than it does the workout," she says. "Sure, you can follow a protocol of eating protein and veggies at night and starchy carbs in the morning, but ultimately, you'll choose foods that you like and that you'll actually eat."
The recipes in her OC4 program were created by Widerstrom herself. Some are simple and quick, others are a little more involved, but all are delicious and nutritious. "These are balanced meals with foods that will move you toward your goals," she says.
Jen's Fave Protein Ice Cream
"This recipe is a great solution when I am having a craving for sweet, decadent treats," Widerstrom says.
2 cups ice
½ cup unsweetened almond milk
1½ scoops protein powder of your choice
1 scoop collagen peptides
spoonful of nut butter or cacao (optional)
Add all ingredients to a blender, cover tightly and process for 10 seconds. Stir with a spoon and repeat. Once the ice gets broken up sufficiently, turn the blender on high and process until nearly smooth. (The mixture should be thick. If it is runny, add more ice.) Spoon into a mug and eat right away.
Before hitting the small screen, Jen Widerstrom was a NCAA Division I hammer thrower at the University of Kansas. After completing her degree in sports administration, she became certified as a personal trainer by the National Academy of Sports Medicine with an emphasis in nutrition, balance training, cardio performance, resistance training and neuromuscular stretching. Widerstrom initially appeared on television as the pink-haired Phoenix on the remake of American Gladiators, then went on to train contestants on NBC's hit series The Biggest Loser. Her book Diet Right for Your Personality Type (Penguin Random House, 2017) quickly became a best-seller, and it is now available in paperback.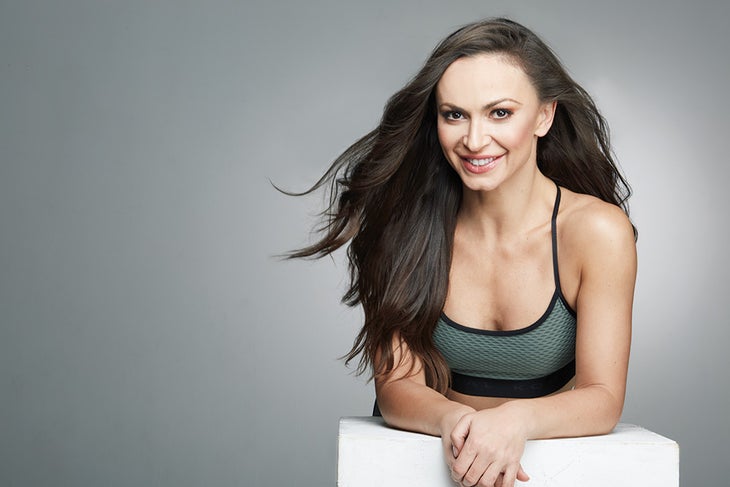 KARINA SMIRNOFF: THE GRACE
In the flesh, Karina Smirnoff is a diminutive pixie — with a big personality. Good-natured, hilarious and outgoing, she always has a joke at the ready and proves the exact opposite of the sultry, elusive seductress you'd assume she is from her dancing. Smirnoff spent 11 years as one of the pros on Dancing With the Stars and patiently coached everyone from Mario Lopez to Billy Ray Cyrus to Ralph Macchio, helping them release their inner dancer and be one with the music. And she can absolutely do the same for you.
"My program is unlike anything you've seen before," Smirnoff says. "It combines power yoga, self-defense/martial arts and intense cardio with my passion for dance." The resultant workouts — Yoga Dance, Krav Dance and Cardio Dance — have been formulated into a progressive plan that will challenge you mentally and physically. "I break everything down into its simplest components, and for each workout, you learn the routine gradually," she says. "Every two weeks things change a little, and each two-week block builds on the last, increasing in intensity, depth and complexity."
Step by Step
Though dance is an integral part of her plan, it is only part of the picture: Smirnoff also implements yoga moves that will be familiar to even the most novice of yogis and teaches foundational punches, kicks and blocks that are rote for any boxing, kickboxing or self-defense class. These elements make her program accessible to those up for a new and exciting challenge.
"My program is dance-inspired, and there is something in here for everyone," she says. "If someone is intimidated by the dance part of the workout, then they can focus on the yoga part or the krav part or the cardio part at first. As you progress and become more confident, then you can — and should! — add in the dancing. Trust me, you can do it! When you first learned to ride a bike, you didn't get on and ride right away. You fell a few times and then it was easy. Dance — like any other form of movement — is a process and a journey. And at the end of the day, OC4 is about challenging yourself and about getting the most out of your body."
Fortunately, Smirnoff is a patient teacher (you have to be when coaching clumsy male celebs) and gives clear, thoughtful — and oftentimes humorous — instructions for how to execute a particular move. "At your core, you already know how to dance, even if you have no proper training," she insists. "Dance existed before so many other things. It was a form of introduction and invitation and celebration. You do a happy dance when you get a raise and even babies bounce to a beat, without ever having seen anyone dance before. So can you dance? Absolutely. Will you look stupid doing it? Maybe! But you have to embrace the stupid and go with it!"
"I actually tested my OC4 program out on my mom and dad, who are not dancers! They were not only able to follow along, but they also remembered all the steps and then showed them off to their friends!"
Food for Thought
Smirnoff is also excited to share her nutritional philosophy with her participants, and her recipes use whole, clean foods that will keep your energy high and your body lean. "I love to make delicious and healthy meals that require minimum effort and no proper culinary skills," she says. "My recipes also take very little time — and often very little cleanup since I hate to do dishes!" Some of her meals have been handed down through generations of her family and have stood the healthy test of time.
Easy Breakfast Tasty Toast
"This recipe is so easy and so nutritious, I make it all the time to power my morning," Smirnoff says.
1 slice multigrain or wheat bread, toasted
½ banana, sliced
1 tsp almond butter
pinch of chia seeds
Spread almond butter on toast and layer on banana. Sprinkle chia seeds on top and enjoy.
Shake your groove thing
Dancing is more than just a way to blow off steam in a club or celebrate a raise at work. Check out what recent research has revealed about the benefits of dance.
Dancing was shown in the New England Journal of Medicine to boost memory, reduce anxiety and help prevent dementia.
Teaming up with a partner improves body awareness, balance and stability, according to the Journal of Aging and Physical Activity.
People who participated in an upbeat dance group showed the fewest symptoms of depression, according to one study.
A study in the Journal of Physiological Anthropology found that following a program of dance is just as helpful for weight loss and aerobic endurance as is cycling or jogging.
A recent study found that dancing leads to higher energy levels, improved flexibility, better posture and greater happiness.
Karina Smirnoff began dancing when she was 9 years old and never looked back. Since then, she has won innumerable dance titles and starred twice on Broadway. She appeared for more than 20 seasons on Dancing With the Stars and won the coveted mirrorball trophy with partner and war veteran J.R. Martinez in Season 13. Smirnoff also appeared on a celebrity edition of Chopped — and won! — wrote a book called Dating Disasters From the Trenches (Post Hill Press, 2015) and earned two degrees from Fordham University. Today, she travels the world with her dance partner coaching, teaching, lecturing and hosting, and when she's back in Los Angeles, she teaches classes at her studio every day of the week. Smirnoff has also developed a cruelty-free line of makeup for active women called the Karina Collection for LA Splash Cosmetics.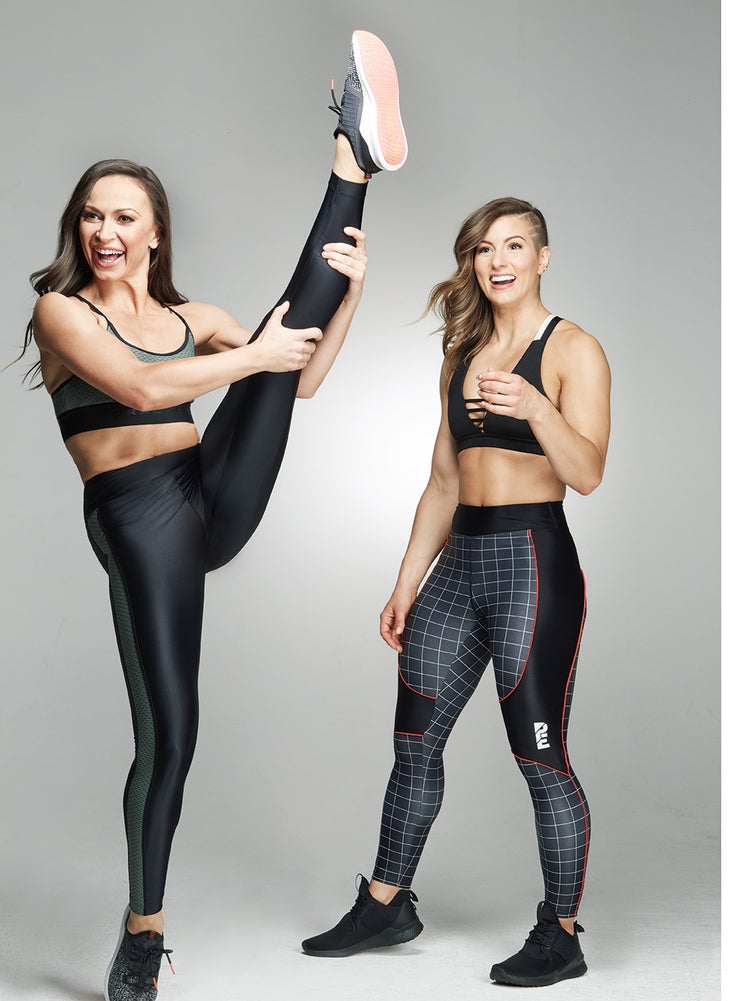 Q&A: Jen Widerstrom
Oxygen: Why the half-shaved head?
Jen: It just felt right! There are so many things that I tell myself I can't do, and you know, you only live once. I don't want to look back and think that I didn't do what I wanted when I wanted. It is funny, though — even after having this haircut for only a few days, I can't see myself growing it back out!
O: Will you cut off the rest?
J: No, God, no! I am super feminine and super masculine at the same time. I need both the wavy, big side and the shaved side to be balanced!
O: Why did you move to Colorado?
J: I moved here for a television show, which actually wrapped a few weeks ago. I assumed I would go back to LA, but then I was like, Why? I love it here — the space, the pace, the weather. I can afford a home here, whereas I can't in LA (no one can!), and if I decide I want to go to California or New York, I can do an Airbnb for a week and then come back here to home base. I also realized that I was being really hard on myself when I was in LA and was dysmorphic about my appearance, looking in the mirror 20 times a day. But in Denver, I am just living and breathing and moving in a really great place.
O: What is your guilty food pleasure?
J: Once or twice a year, I will go to the movie theater and eat a bucket of buttered popcorn and maybe a beer. But the way you butter the popcorn is key: You fill the bucket halfway, put butter in, fill it the rest of the way and put more butter on top. Amazing!
O: Do you think you could still throw a hammer like you did in college?
J: A hundred percent, but I might fall down the first nine times. It's a lot of spinning! There is a science and a balance in the force you're creating, and my legs and core are not as strong as they used to be. A women's hammer is 4 kilos — 8.8 pounds — which doesn't seem like much, but if you want to throw it more than 200 feet, that is pretty tough! So could I do it? Yes. Would it be pretty? No.
O: Will you write another book?
J: Yes, I would love to, but honestly it was one of the hardest, most insecure processes I have ever been through. Any other time I have felt insecure or uncomfortable, I've been able to get through it in a few hours or a few days. But it takes a long time to write a book! You are stuck in this place of second-guessing yourself for months or years, and it is hard to put your brain on paper and let it ride.
Q&A: Karina Smirnoff
Oxygen: Did you do any sports besides dance?
Karina: When I was small, I did figure skating, but I hated being cold! I also did gymnastics and ballet, but finally I settled on dancing when I was about 9. Today, I do all kinds of things in addition to dance, such as Bikram yoga, SoulCycle and martial arts. I am a fan of all kinds of movement.
O: Have you ever had issues with weight?
K: We moved to the United States from the Ukraine when I was 14 and I quickly gained 15 pounds! I could not get enough bananas and Frosted Flakes. We didn't have bananas in the Ukraine — they were a delicacy, and once in a blue moon when I got one, I would make it last for hours. And of course, there were no Frosted Flakes! Hence, 15 extra pounds. But once I started dancing again a few years later when we could afford it, I lost the weight.
O: Is the mirrorball trophy from Dancing With the Stars as cool as it looks?
K: Mine is! The first few seasons it was just a Styrofoam ball with little mirrors glued onto it — which I hear eventually started falling off! But the one J.R. [Martinez] and I won is super heavy and rock solid. They figured out how to make them right after a couple of years!
O: What did you cook on Chopped that won you the show?
K: It was venison believe it or not! I didn't even know what venison was — when I opened the package, I thought it was liver! I decided to cook it like a high-class steak: I cut it into medallions and seasoned them with salt and pepper. Then I heated some oil in a pan and seared the meat on both sides. Then I added butter and cooked the meat slowly in the pan with its juices so it was super tender. It was perfectly cooked, the judges said, and I was able to give $10,000 to City of Hope.
O: You wrote a book — what was it about?
K: (laughs) Yes, it is called Dating Disasters From the Trenches, and it is meant to be a girl's way of looking at dating and laughing at your own mistakes. I mean, dating shouldn't be a chore, but it really is for a lot of people — myself included! This book is a humorous account of my own and my friends' dating disasters, to which any girl who has ever dated can relate.
O: What was your worst onstage disaster?
K: When I was on DWTS with Billy Ray Cyrus as my partner, we were dancing the cha-cha to his song called I Want My Mullet Back. I decided to be funny and wear a mullet wig, and at the end, I was supposed to drop into a split and he was supposed to yank it off my head like, I got my mullet back! Genius, right? But unfortunately, it was pinned on a little too well and he yanked up on it several times so hard that he actually lifted me off the floor! I had to slap his arm away and unpin the wig in order to give it to him so he had his mullet back. I'm sure you can find that on YouTube somewhere!
Are you ready to transform your body and your life? Head to challenge.oxygenmag.com and sign up today!