7 Cold-Weather Training Tips
Weather outside frightful? Use these tips to stick to your workout program despite the whims of Mother Nature.
Heading out the door? Read this article on the new Outside+ app available now on iOS devices for members! Download the app.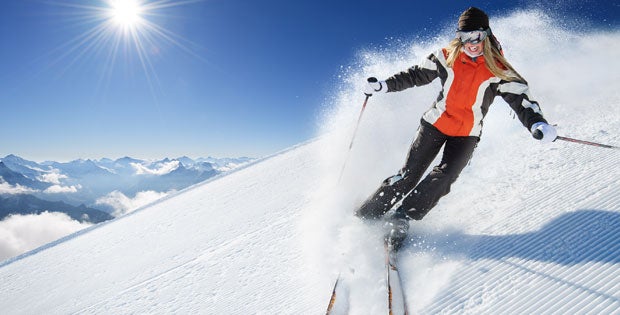 Cold weather brings on the blahs, especially if you're not exercising. But you can combat the seasonal bah-humbugs and still maintain your exercise program despite the chill in the air with these weatherproof workout tips.
Warming Hut
Think of your muscles as taffy. Now put that taffy on ice for 10 minutes and try to bend it. Snaperoo! Similarly, your muscles are less pliable when it's cold outside, making you more susceptible to injury. Double up on your warm-up time to accommodate your frigidity, and do a little extra stretching postworkout to ease your muscles back into form.
Learn About Layers
When it's cold out, you might be tempted to bundle up, but believe it or not, you can dress too warmly for your workout. Sweat can work against you in wintertime, drawing heat away from your body and causing a chill. Solution: Wear multiple layers that you can strip away as you heat up, then just as easily layer back on as you cool down. Layer thusly: The base layer should be made of synthetic, moisture-wicking fabric, next comes a layer of insulation such as wool or fleece, and on top of it all, a weatherproof shell or breathable light jacket.
Be Sun Smart
Just because it's cold does not mean the sun isn't baking your dermis. In fact, the reflection of the sun's rays off snow and ice can intensify their strength and make them more damaging to exposed skin and eyes. Cover your face, ears and any other exposed areas with SPF 30 or higher sunscreen that contains a zinc oxide, and wear UV protective sunglasses or goggles to protect your eyes when engaging in outdoor sports and activities.
Weather Watch
Sounds silly, but before you go outside, have a look out the window. Is it pouring rain? Is it below zero? Is the wind whipping like a mad snake? Then reconsider your outdoor tryst. Rain can soak through clothes, rendering all those carefully constructed layers useless and chilling you from the outside in. Extreme cold and wind also can suck the heat right out of your clothing. In these cases, Mother Nature wins. Hang up your shoes, pull out your favorite workout DVD and try again tomorrow.
Head, Shoulders, Knees and Toes
When it's cold out, your blood tends to hide out in your core and have a cookout with your guts, leaving your extremities more exposed to chill than normal. To combat this sanguine defection, wear gloves, thicker socks and a hat to protect far-flung areas and consider a light scarf to cover your face and neck.
Water Works
Dehydration knows no season, and you can parch yourself just as successfully in the winter as you can in the summer. Drink plenty of fluids before, during and after workouts or activities to stay flush. Also, contrary to the advice of St. Bernards everywhere, avoid alcoholic beverages until après-ski (or sled or run). While a little Jäger might heat your esophagus going down, it can ultimately dry you out (and give you a nastier-than-normal hangover to boot).
Gear Girl
Winter conditions mean different gear. First of all, winter means it gets dark earlier, so wear reflective clothing when you exercise outside. Snow and ice can make for unsure footing, so wear shoes with heavy treads to prevent a crash and burn. And if you're a skiing or snowboarding fan, wear a helmet to protect your nugget and make use of those little hand and feet warmers on especially frigid days.
Cold Counts
Check out these outdoor cold-weather activities and the calories they burn per hour.*
| | |
| --- | --- |
| | |
| Downhill Skiing | 354 |
| Ice Skating | 413 |
| Snowshoeing | 472 |
| Cross-Country Skiing (vigorous) | 531 |
| Shoveling | 354 |
| Curling | 236 |
| Sledding | 413 |
| Ice Hockey | 472 |
Based on a 130-pound woman.