Expert Answers: Are You Injured or Just Sore?
If you've ever woken up the day after a workout and felt like you've been hit by a slow-rolling bus, this one's for you.
Heading out the door? Read this article on the new Outside+ app available now on iOS devices for members! Download the app.
You might waddle, limp and even grimace while sitting down after a particularly grueling workout. And let's face it: Many of us may consider the ridiculousness of slowly easing into a chair after leg and glute day the sign of a good workout. But how do you tell whether it's just soreness or something's really wrong? 
Melissa Gallatin, physical therapist at the Ohio State University Wexner Medical Center, says she sees plenty of athletes struggle with this question daily. 
"I often describe it like this: If you do 100 calf raises, your muscles are going to be sore. That's sore," she says. "But if pain lingers longer than 24 to 48 hours after working out, that's an indication of a potential injury. It can be a hard thing to describe to people."
But what about "no pain, no gain!"? 
"We want the muscle-burning kind of pain," Gallatin says. "That's good pain. We don't want injury pain."
So where do you draw the line and let up on your workouts or even see a doctor? For starters, here are some indicators that you're not just sore, you're injured:
You move differently. With soreness, you might sit down and feel the obvious "ouch" of your muscles being sore. But if you're limping and finding that the pain worsens the longer you're on your feet, this is a bad sign. If you physically can't reach your arms above your head, that's also an indicator of something a little more serious than your run-of-the-mill delayed onset muscle soreness. 
The pain is sharper. Soreness can be described as a dull pain in your muscles, whereas an injury more often than not feels sharp and might only come when using the affected area. 
You feel it in the joints. Soreness should be felt in the muscles, not the joints. If you're getting sore in areas such as the knees, elbows or other essential joint areas, you may want to alter your training to lessen the impact.
Feel the Burn
Often, athletes appreciate soreness because it can be an indicator of hard work. But Gallatin says that just because you're not feeling it in your muscles after a workout doesn't mean you didn't have a productive session. If you're in a maintenance phase with your current program, you might not feel as much tenderness a day after lifting. However, when incorporating more weight to build muscle, you will. 
"Getting sore is good, but you need to learn how to recover properly in order not to injure yourself during the next workout," Gallatin says. 
She suggests active recovery days with walking, stationary biking or swimming. Finding a way to keep the muscles warm and moving will actually alleviate some of the soreness you're feeling.
Another pain-alleviating tool is the humble foam roller. However, it's not for every tweak or pulled muscle. For instance, if you pull a hamstring, you shouldn't immediately start foam rolling the area right away because it will only worsen the injury. It can be used later on when you're on the road to full recovery and get the OK from your doctor but not instantly.
Instead, Gallatin suggests using a foam roller to try to find trigger points that affect the muscle of concern. Taking care of the muscles around the area, she says, can help loosen everything up. 
"For example, if you have tightness in your quads, you may also feel a strain in your knee or hip," she says. "So if you roll your quad out, that might reduce the pain in those areas, too."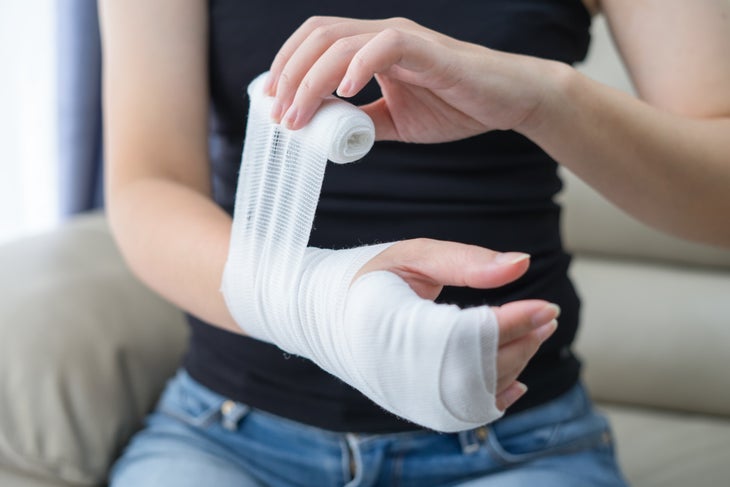 Bottom Line: Should You Push Through Pain?
The answer from our expert is (unsurprisingly) no. If you've already managed to tweak something, you don't want to push it any further.
However, Gallatin doesn't suggest halting all activity altogether. She works with many runners, so taking them off their cardio routines is a last resort because of their dependence on endurance. Instead of pushing through the pain, Gallatin says athletes should modify workouts to avoid aggravating the injury. 
"Let pain be your guide," she says. "If you're used to lifting for 30 minutes but get discomfort or pain at 20 minutes, then that needs to be your new stopping point for a while. For runners, if your gait is uncomfortable or altered, you need to adjust your training methods."
So keep active but modify. Instead of "No pain, no gain," maybe the saying should go, "We yearn for the burn."