360-Degree Core Ladder Workout
Improve performance and construct a no-nonsense core with this descending ladder workout.
Heading out the door? Read this article on the new Outside+ app available now on iOS devices for members! Download the app.
Whether your goal is to lose weight or get shredded, everything begins and ends with your core. "This workout incorporates all the abdominal muscles and works to strengthen your midsection, improving performance," says Ruben Belliard, CPT, group fitness instructor, weight management specialist and youth performance specialist at The Training Lab in New York City.
This program, designed by Belliard, follows a descending ladder scheme. "Ladder workouts allow you to increase your overall training volume while maintaining proper form and technique," Belliard says. For all moves, Belliard gives this tip: "Imagine you are about to get punched in the stomach and notice what muscles you contract 360 degrees around to brace your core. Now hold that contraction throughout the exercise as you breathe to create stability in your trunk and reduce the risk of injury."
Instructions
Do these four moves in order for a total of five rounds.
With each round, do fewer and fewer reps, starting with 20 each move, then 16, 12, 8 and 4.
Rest 30 seconds between moves and 30 to 60 seconds between rounds.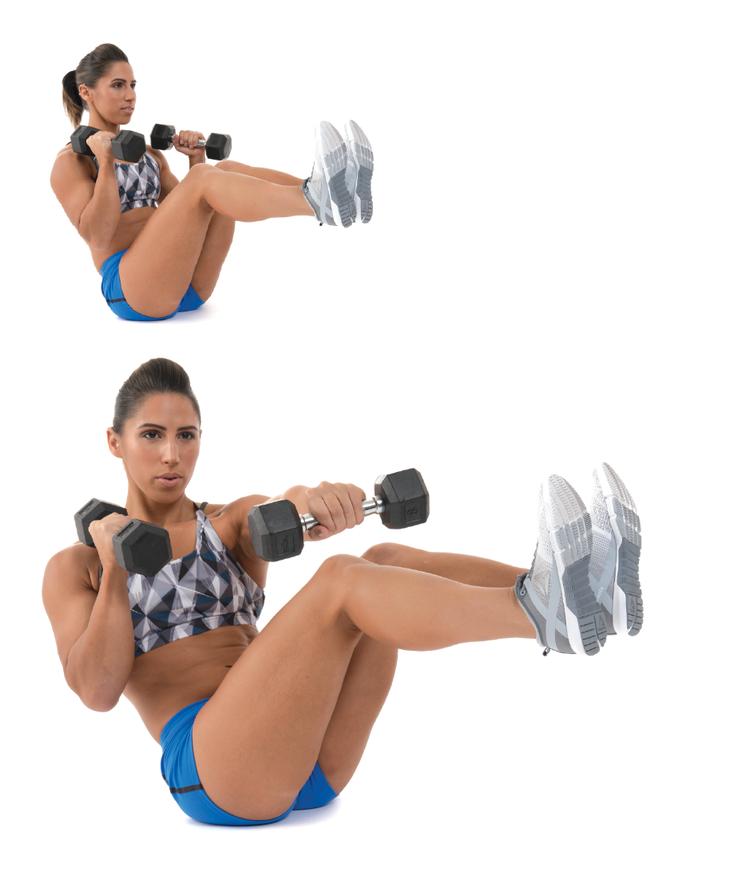 Dumbbell Sitting Cross Jab
Focus: Abdominals, obliques
Sit with your knees bent, feet flat on the floor, and hold a dumbbell in each hand at your chest, palms facing inward. Incline backward slightly with your torso, spine straight, and pick your feet up so your shins are parallel to the floor. Hold your legs here as you alternately punch your hands straight across your body to the outside of your opposite knee. A punch with each hand counts as one rep.
Imagine you're going to take a punch to the gut to contract your core 360-degrees around.
Make it harder: Extend your legs straight up into a V.
Make it easier: Perform with your toes lightly touching the floor.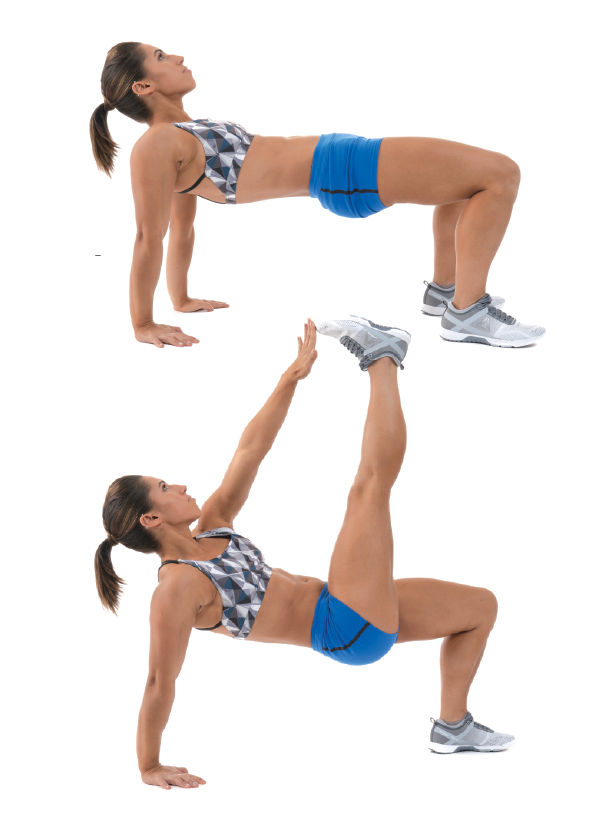 Crab Toe Touch
Focus: Abdominals, lower back, glutes, shoulders
Sit with your knees bent, feet hip-distance apart, hands on the ground behind you. Press through your hands and heels and lift your hips to align with your shoulders and knees. Hold here as you lift one leg up and reach toward your toes with your opposite hand. Hold briefly, then lower your leg and sit back down on the floor. Continue, alternating sides.
Make it harder: Don't sit between reps; stay elevated throughout.
Make it easier: Stay seated and alternately lift your knees and reach for your opposite toes.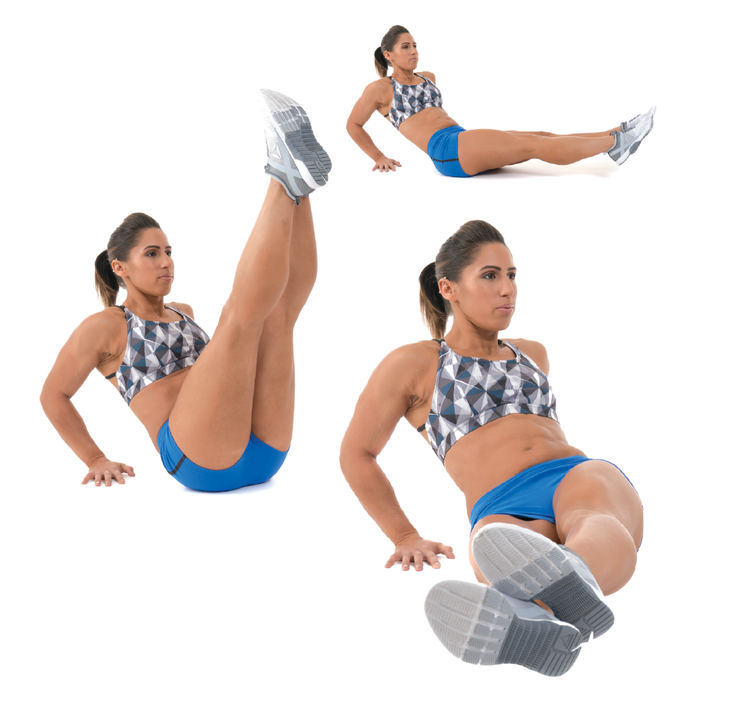 Full Moon
Focus: Abdominals, obliques, hip flexors, triceps
Sit with your legs extended straight out on the floor and place your hands behind you about shoulder-distance apart. Lift your legs off the floor and keep them together as you swing them up and around in a large circle in front of you, keeping your back as straight as possible. Alternate direction with each rep.
Make it harder: Hold a light dumbbell between your feet.
Make it easier: Allow a slight bend in your knees.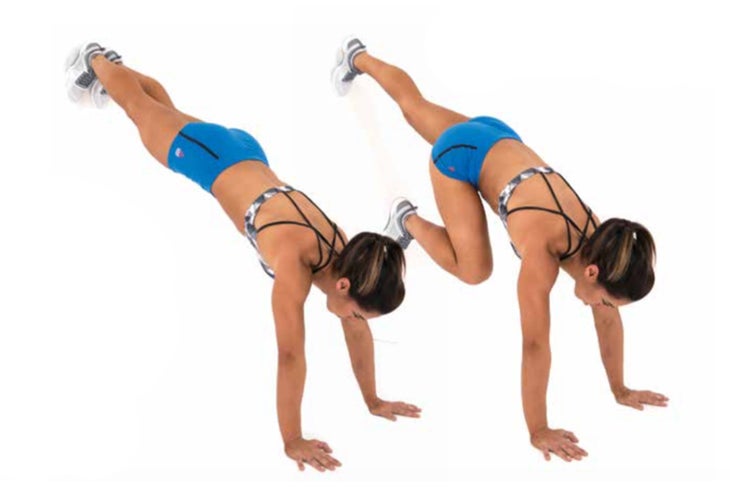 Wall Mountain Climber
Focus: Lower abs, obliques, shoulders, glutes
Stand a few feet away from a wall with your back to it. Place your hands on the floor and extend your legs behind you with the soles of your feet pressed into the wall. Walk your hands toward the wall and your feet up the wall several steps until you are at about a 45-degree angle to the ground. Keeping your arms straight, alternately bring one knee to your elbow, moving smoothly and steadily.
Make it harder: Move closer to the wall so your body is more vertical.
Make it easier: Move away from the wall so your body is more horizontal.