Seven Steps to Success
Use these tips to maneuver around any and all obstacles in your path and achieve all your goals and dreams.
Heading out the door? Read this article on the new Outside+ app available now on iOS devices for members! Download the app.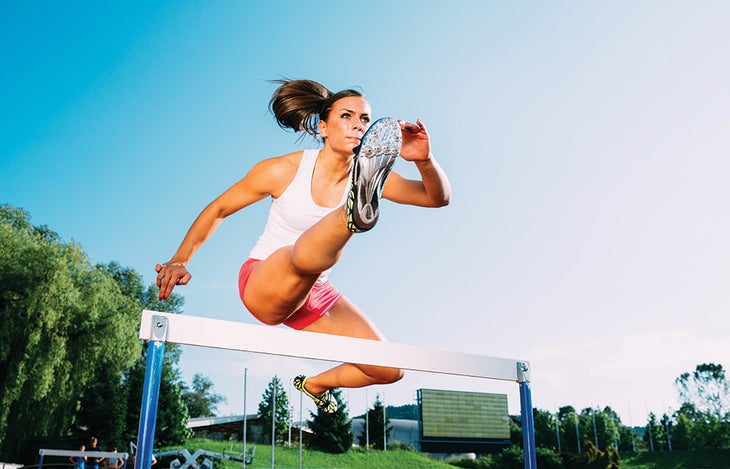 Are you chasing after your dreams with all the passion and energy of an Olympic athlete, or are you setting limits — even subconsciously — on what you can achieve? "You have the power to transform your life," says Tae Yun Kim, Ph.D., motivational speaker, martial arts grandmaster and author of Seven Steps to Inner Power: How to Break Through to Awesome (Mountain Tiger Press, 2018). "These steps are the foundation to finding and expressing the real you. No matter how that path progresses, these principles apply to everyone."
Peruse Kim's simple steps and do the homework to set your compass for success.
1. Body and mind as one.
If your mind and body are not acting together in pursuit of your goals, you will sabotage your efforts, Kim explains. For instance, if you set a goal to run a marathon but you eat junk food and skip workouts, you won't succeed.
Homework: Look ahead to your day and list three specific strategies that will help you improve your mind-body synergy. For example, if you are easily distracted, what will you do next time you get a phone call during a workout?
2. Truth.
"When you want to create change, you must be brave in facing the truth of your innate strengths and the truth of your current weaknesses," Kim says. Opening your eyes to the fact that you have bad habits is the only way to start to heal and become stronger.
Homework: Do you portray yourself as the victim or make excuses for not taking control of your life? Think about the reasons you give for why you are "stuck," and envision how you would act if you were free from these limitations. Acknowledging these patterns allows you to take action and remove self-defeating behaviors from your life.
3. Purity.
As adults, we tend to believe what we were told growing up. For example, if a teacher or parent told you that you were stupid, that negativity seeps into your subconscious and you begin to believe it. Take charge of your thinking: Reject limited concepts about yourself, and let go of toxic feelings like anger, jealousy and hurt to express purity, Kim says.
Homework: Use your daily shower as a time to cleanse your body, mind and emotions. Refuse the poisonous thinking that is a cancer in your life. Think: I am beautiful, smart, intelligent, kind and gentle. I love myself and everything I am.
4. Love.
When you really love yourself, you build yourself up and do things to help maintain and build that life force rather than tearing yourself down with self-sabotaging efforts.
Homework: Bring about the changes you want by practicing gratitude: The moment you wake in the morning, pause for a moment to be grateful and happy for another day of opportunity.
5. Loyalty.
Loyalty means making a commitment and dedication to your own life by putting your real self forward with confidence, determination and love. It also means committing to your goals and plans in the long term.
Homework: Look at your life as a 24-hour clock and imagine what time it is for you right now. For example, if you expect to live to 80, then at age 40, you are halfway through your day — and your life. Each day, ask yourself, Am I staying true to my dreams and goals? Then take action to make the most of your time on earth.
6. Sacrifice.
When trying to create lasting change, old habits and new habits cannot exist side by side. Sacrifice means giving up those habits that are getting in the way of your goals, such as drinking too much or negative thoughts.
Homework: Instead of focusing on what you are losing, focus on why you want to give it up. Build in time for self-reflection so you can take a step back and objectively look at yourself and your situations and see whether you honored your commitments.
7. Patience.
Impatient people risk backsliding and losing the benefits of all their hard work. "Your life is always a work in progress," Kim says. "It takes time to grow and mature."
Homework: Take a step back and breathe. Give yourself a pat on the back, congratulate yourself and celebrate your victories, no matter how small.