Overcoming Depression Through Fitness, Nutrition and Mindfulness
Amanda Webster went from nearly committing suicide to transforming her body, mind and spirit. Here is her story.
Heading out the door? Read this article on the new Outside+ app available now on iOS devices for members! Download the app.
Trigger warning: This piece contains descriptions of attempted suicide.
It took being on the ledge of a foreign hotel room, ready to end my life, to catapult me into taking action against something that mental health professionals told me I would never overcome.
"I hope this doesn't hurt because I don't want to hurt anymore."
Tears were streaming down my face as I stared at the roof below. I had battled depression for two decades, so hopelessness and despair weren't new to me. However, they were usually accompanied by a fear of death that prevented me from taking suicide too seriously. I wasn't afraid anymore.
"It's better for everyone this way. The pain will stop and you will no longer be a burden on your husband, friends or son."
I closed my eyes and thought of my 7-year-old's face one last time. I wanted him to be the last thing on my mind. I leaned forward. My grip loosening from the window frame.
A sound penetrated the quiet air — a familiar voice. At first I thought it was in my head, that this was the well-known experience of your life flashing before you in those last seconds. I felt an intense need to follow the sound just to see whether it was real.
Violently shaking, I stepped down, walked to the door of my room and cracked it open to find two men with a cleaning cart. They abruptly stopped their French conversation to look at me, probably expecting me to complain or ask for extra towels.
I smiled, gestured toward the boombox on their cart and told them in French that this was my favorite song. They replied with their equivalent of "oh cool," and I returned to my isolation.
The chill from the open window hit me, the song seemed to enter my ears through a tunnel and my whole body pounded to the rhythm of my heart. I fell to my hands and knees, my thoughts racing.
Linkin Park had been my comfort blanket through my darkest times. Even though I didn't have a particular faith to speak of and had struggled to listen to their music after the lead singer, Chester Bennington, took his life, I couldn't believe that the song coming on at exactly that moment was coincidence — especially since I had barely heard a hint of another person the whole three days I was there.
Seconds earlier, I had been so sure of my decision. In that moment, I wasn't sure of anything.
All I could do was sob. I stayed curled up in a ball for hours, my brain fading in and out. There were only three things that became clear to me. I didn't actually want to die, I didn't want to live with such intense pain anymore and I had to do something drastic.
The question was, what?
I had tried practically every antidepressant that hit the market for years and only found that they worsened my symptoms regardless of dose or brand. I'd tried eating better, taking sporadic yoga classes, reading self-help books and dousing myself in essential oils. I had talked to therapists, life coaches and friends.
I had also gone the opposite direction. I was only four months clean from cocaine and self-harm — ironically after being inspired by a meet-and-greet with the surviving singer of Linkin Park, Mike Shinoda.
I didn't leave my hotel room for the remainder of the day. I sat in quiet contemplation on the flight home and kept mostly to myself in the days following. In that time, I made a pact with myself that I was going to give it my all for one year. If at the end of the year I still felt the same suffocating pain and hopelessness, I gave myself permission to jump.
Eventually, I reasoned that it was time to get back to basics. I started making a list of the changes I could make in my life that would have the biggest impact on my well-being: what I was eating, who I was passing my time with, and what I could do to boost endorphins and serotonin.
Even though I tried many of these things in the past, I realized that I had always attempted them one or two at a time, and I never stayed consistent with them all.
My first stop was my mental health professional, the one who had confirmed my diagnosis as having a serious mental illness (SMI). What this meant is that I had a mental disorder that caused significant distress and severely impaired my ability to lead a functional life.
I shared what had happened but also told her of my plan to commit to do whatever it took to heal myself of my disorder and live a happy and fulfilling life. Imagine my devastation when she replied, "That's not really possible. People don't truly heal from depression, so you might be content, but that's about it."
My jaw clenched, my lips pursed, and my breath slowed to a deep and steady pace to keep me from losing my cool. Two things came to mind. The first was a scene from Legally Blonde, in which Warner tells Elle that she wasn't smart enough to get the grades to qualify for an internship at the law firm. The other was wisdom from my dad that I had prided myself in living by as long as I could remember: Prove 'em wrong.
Over the following months, I began implementing the changes I had outlined, altering things as I saw fit, with a burning determination to find the one thing that had always been most elusive to me: happiness.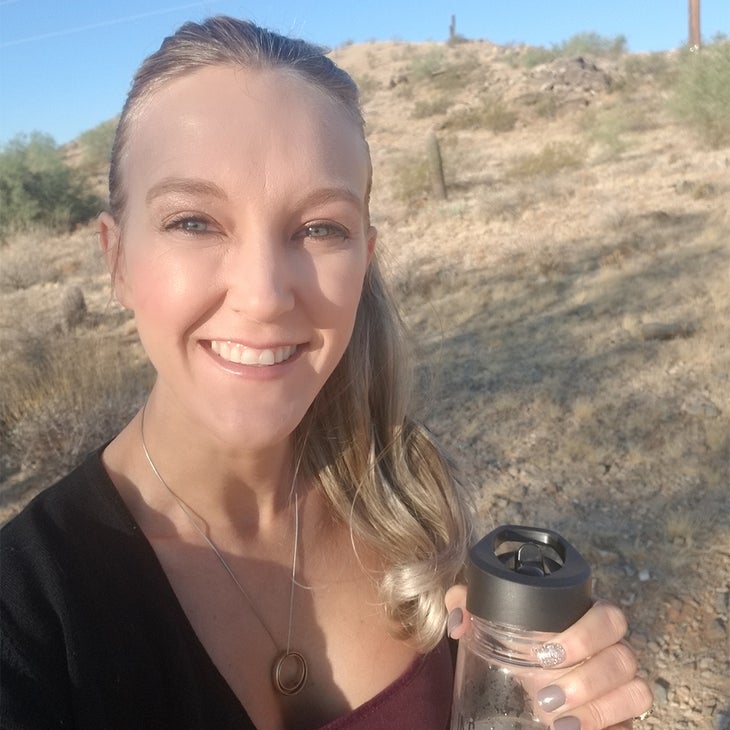 The more I thought about it, the more I realized that in nearly two decades in and out of mental health treatment, happiness had never been a clinical goal. The goal was to keep me safe from myself. Of course that's important, but there was never anything beyond that, even in the periods when I didn't partake in self-destructive activity.
I had no desire to live complacently ever again.
It took a couple of months before I considered my life "functional," meaning I could partake in activities and live day to day without symptoms of depression. At around the six-month mark, I noticed that not only were the telltale depression symptoms rare, but I also was full of energy (I'm positive this was a first) and found myself smiling more, doing more and enjoying more.
What I've learned from this journey is that there are no quick fixes for mental health disorders, no real happy pills and no one-stop shops for happiness. There were so many components that pulled me out of the darkness and moved me past the subsequent complacency that I launched an entire online course to help others navigate it, as well.
There were, however, four things that I found to have the most notable changes in the shortest amount of time.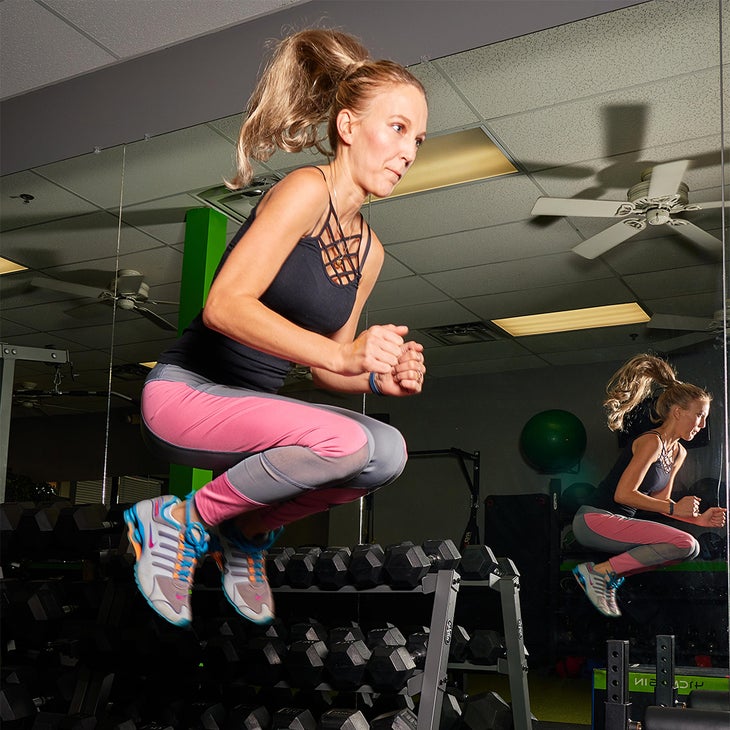 Fuel Your Brain With Nutrition and Fitness
People seem to forget that the brain is part of the body and thus reacts to the choices we make when it comes to nutrition and fitness. Do you need to live on organic salads and run 5 miles a day? Well, that is one option. Another is eating a plant-based diet that includes a variety of fruits, vegetables, seeds, beans and whole grains to make sure you're getting the nutrients that positively impact your mental health and staying active — whether that means jogging, biking, practicing yoga or strength training.
Practice Gratitude
Even if you feel like there's nothing to be grateful for, research shows that simply looking for things to be grateful for is enough. I keep an ongoing gratitude list, and even though I have my fair share of intense struggles, it is now more than eight pages. I also use an app called 365 Gratitude, in which I do a gratitude prompt first thing in the morning and list things that I was grateful for in my day right before I go to bed.
Cultivate Mindfulness
No, mindfulness doesn't have to mean sitting and meditating. It can simply be engaging each of your senses and enjoying the sensations without distraction. (Hello music and vegan dark chocolate!) Studies consistently show that a regular mindfulness practice reduces stress, anxiety and other symptoms of depression. Put down your phone, shut your laptop and spend a few moments reading a book, coloring a picture or simply breathing.
Learn to Let Go
Let go of toxic people, clutter in your environment, and habits that don't serve your growth and happiness. This can be very hard for some people, but taking inventory of your life and clearing things out accordingly is crucial for anyone who is looking to level up their happiness.
At the core of every human action is a desire for happiness or, at least, a desire to avoid suffering. Yet we aren't taught in school how to manage grief, anxiety, stress or depression. We don't learn how to take care of our bodies and minds. We aren't encouraged to just sit with ourselves in contemplation. We are conditioned to see high stress and unhealthy lifestyles as normal.
Fortunately, we live in a time where education is at our fingertips and it has never been easier to learn how to make positive choices that will bring us as high as possible on our own happiness spectrums, as different as each may look.
If you would like to learn more about Amanda Webster, her story and her offering, please visit her website.