Julie Kelly's 175-Pound Weight-Loss Transformation
Julie Kelly lost 175 pounds and finally realized her long-standing goals.
Heading out the door? Read this article on the new Outside+ app available now on iOS devices for members! Download the app.
In 2017, Julie Kelly stood in the shower trying to convince herself to accept her body, but as she stood there, decades of shame and anger resurfaced. She had spent a lifetime struggling with her weight, gaining 100 pounds her junior year of high school, yo-yoing up and down in her 20s and adding another 75 pounds during her pregnancy three years previous. She now weighed 350 pounds and was miserable and defeated.
"I no longer recognized the person I saw in the mirror, on the rare occasion I actually looked at myself in the mirror," Kelly recalls.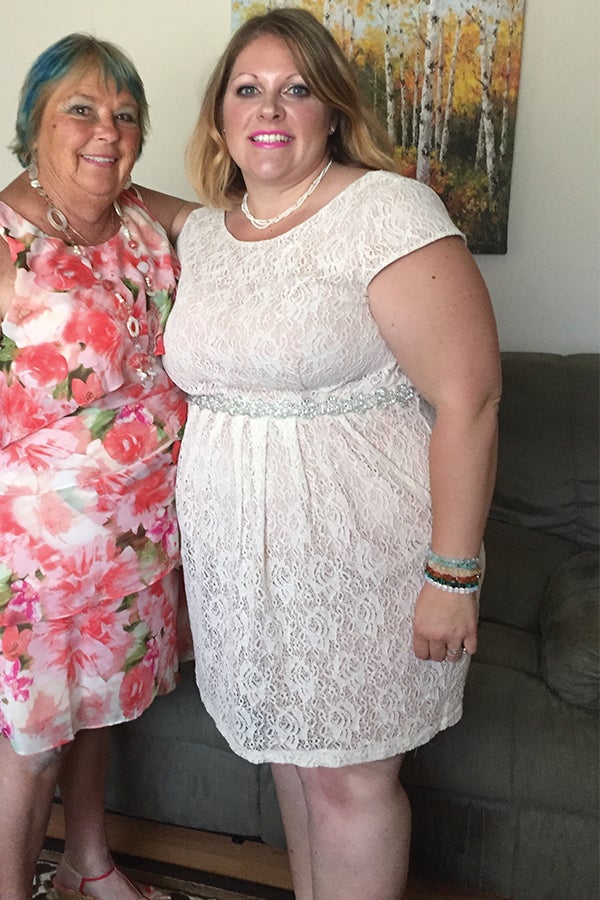 Sugar Addict
Rewind to 2014 and Julie Kelly had lost some weight in order to begin fertility treatments to get pregnant. Happily, the procedure was successful, and nine months later, she had a baby girl. However, Kelly gained back all her weight and then some. She also had an uncontrollable sugar addiction, and while she assumed her cravings were because of a lack of self-control, she discovered she had polycystic ovary syndrome (PCOS).
"PCOS causes sugar cravings because your cells don't function properly," Kelly explains. "So even though you may have sugar in your system, your body disagrees and triggers your brain to provide more." Diets high in processed foods and refined carbs are known to exacerbate PCOS symptoms, yet Kelly's daily menu consisted mainly of carb-loaded takeout food and sugary snacks.
Reality Checks and Balances
Three months postpartum, Julie Kelly decided to give weight loss one more try and hired a trainer. But over the course of three years, she had only lost 50 pounds. "I was still going to the fast-food drive-thru after my workouts," she admits.
Kelly regrouped and added a nutrition coach to her team. She scheduled regular check-ins to ensure accountability and journaled each day to express her emotions and monitor her progress. "The hardest part about changing my eating habits was accepting that it must become a lifestyle," she says.
Kelly also set a very specific goal: competing in a fitness model competition. She had read her first issue of Oxygen when she was 18 and had always wanted to be fit enough to be featured.
Happy New You
With her new plan in place, she got to work, and by the summer of 2019, Kelly had literally halved her bodyweight and went proudly onstage weighing 175 pounds. She won the Transformation Challenge and placed fifth in the Novice Fitness class.
As she looks back on her journey, Kelly realizes her results were as mental as they were physical. "Essentially, I had to learn an entirely new way of being, and at times, that was overwhelming," she says. "I now recognize that the weight I carried around was a physical representation of years of pain. As I addressed and worked through those issues, the physical results also came. I healed my way to health from the inside out."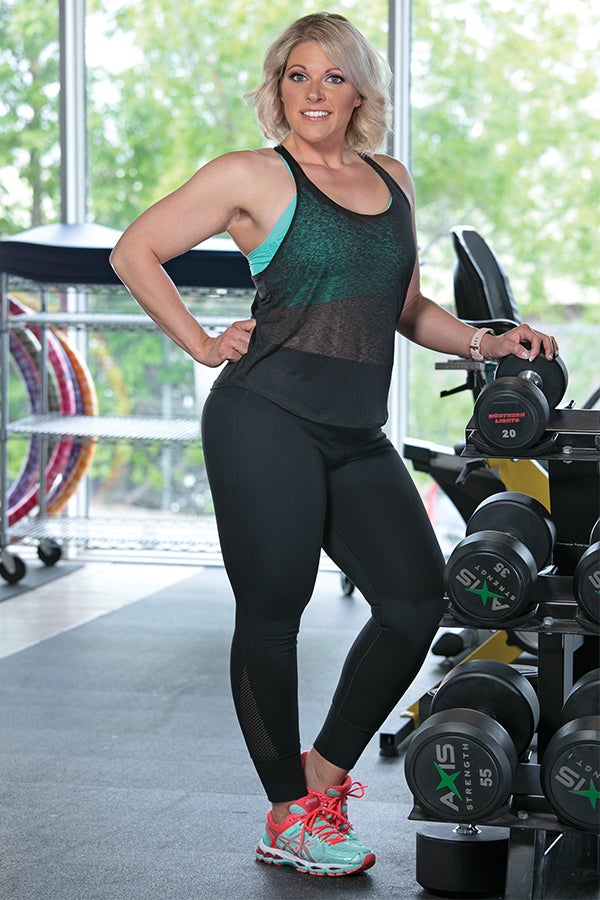 Stats
Location: Calgary, Alberta, Canada
Age: 36
Height: 5'7"
Size Before: 22/24
Size After: 8/10
Occupation: Stay-at-home mom, founder of Screw Perfection, motivational blogger
Julie Kelly's Favorites
Breakfast
Protein pancakes: ½ cup oats + ¾ cup egg whites + 1 tbsp chia seeds + dash cinnamon. Top with 1 tbsp sugar-free syrup + ½ cup berries.
Advice
Don't be afraid to dive deep to heal the hurt and trauma. Unless you heal what caused the weight gain, you likely won't achieve the results you desire.
Move
Handstand holds against a wall — it's something I never thought I would be able to do!
Did you lose a ton of weight? Overcome insurmountable obstacles and come out the other side fit and healthy? Then we want to hear from you! The Oxygen Transform section is dedicated to giving women a chance to share their journeys with others who may also be struggling with weight loss, and give them the hope and motivation to continue forward and succeed as well. Apply here.