The Ultimate Guide to Whey Protein
Which whey protein is right for you and your goals? Read on to find out.
Heading out the door? Read this article on the new Outside+ app available now on iOS devices for members! Download the app.
If you've been around the training game a while, you're familiar with protein powders. But with all the options out there these days, even the most seasoned vet can get confused. Once you cut through the hype, whey protein is still the winner when it comes to building a strong, lean physique: A study published in Nutrition Reviews found that whey supplementation improved body composition in women who weight-trained, even when they did not cut calories.
But even choosing a whey product can be confounding because within that category alone, there are several options from which to choose. Here is a little cheat sheet to help decode the options and help you find what's best for your fitness goals.
What is Whey Protein Concentrate?
A product that is between 29 and 89 percent protein by weight can be called whey protein concentrate. For example, if a product is 80 percent protein by weight, the remaining 20 percent of weight is a combination of carbs, fat and moisture. This is not a bad thing, however: These carbs and fats make a whey protein concentrate one of the creamiest and tastiest powders around — with only 30 added calories on average per serving. A concentrate is typically more affordable than other kinds of whey and is great if you are on a budget and/or are in a maintenance phase of your training.
Undenatured Whey (aka Native)
"Undenatured" simply means that a protein has not been exposed to heat or chemicals and is allegedly more nutrient-dense and purer than other whey products. An undenatured whey contains more leucine than other formulations, and since leucine is absorbed more rapidly than other proteins, it makes for a great preworkout or postworkout shake. Undenatured whey is also great for those on a ketogenic diet because leucine breaks down directly into acetyl-CoA, which is used to make ketone bodies.
Hydrolyzed Whey
When whey is hydrolyzed, the peptide bonds of its protein molecules have been broken, resulting in a compound that is absorbed and assimilated very quickly. Some research indicates that consuming hydrolyzed whey leads to increased body-fat loss over other types of whey, and other studies found that athletes recovered more quickly when consuming hydrolyzed whey as compared to a standard whey protein concentrate.
Because of its quick assimilation, a hydrolyzed product is great postworkout to ignite protein synthesis and for anyone who's looking for a slight fat-burning edge. It's also ideal for those with milk allergies or endurance athletes who train multiple times a day.
Whey Protein Isolate
A whey protein isolate is 90-plus percent protein by weight and contains almost zero sugars and fats, and in fact, there is so little milk sugar left that some people with lactose intolerance can consume it without issue. Since bitterness increases with protein concentration, isolate products are often combined with fruit-flavored agents like citric acid to counter those bitter notes. This protein is perfect for anyone wanting to get lean or someone who is on a very low-carb or ketogenic diet.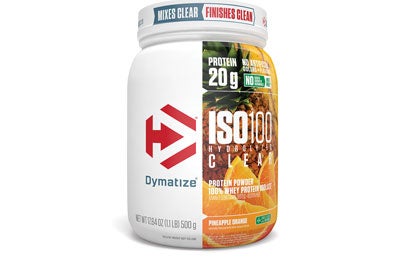 Fruit Flavor Meets Function
Tired of the same old chocolate and vanilla milky shake creations? Reach for Dymatize ISO100 Hydrolyzed Clear, a refreshingly light way to achieve your fitness goals. The fruit-inspired flavors such as pineapple orange, mango and cherry watermelon contain no artificial colors or flavors, are sweetened with stevia, and are gluten- and hormone-free. But don't let the crisp new taste fool you: Each serving contains 20 grams of whey protein and 4 grams of branched-chain amino acids — including 2.1 grams of leucine for optimal protein synthesis. Bonus: It also contains no fat, no sugar, less than 1 gram of carbs and just 90 calories.