Row, Row, Row Yourself to Health
This low-impact rowing workout will help you engage nearly twice as many muscles as running or biking.
Heading out the door? Read this article on the new Outside+ app available now on iOS devices for members! Download the app.
Before you hop on the treadmill or elliptical machine for another tedious cardio session, scan the gym for a rowing machine and hop on — after 20 or 30 minutes, you'll be left wondering why you have neglected this incredible piece of equipment for so long.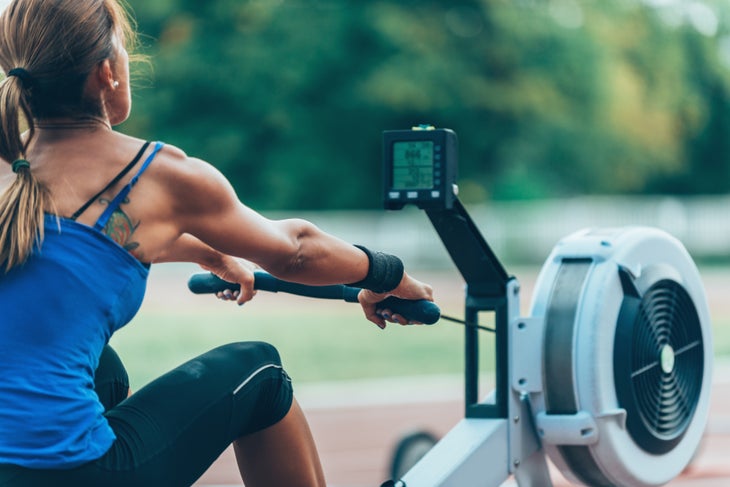 Rowing: The Calorie Crusher "The health benefits from rowing include a unique combination of cardiovascular endurance and muscular toning and strengthening," says Nick Karwoski, a nationally ranked triathlete, rowing enthusiast and trainer for Hydrow, the live outdoor reality rower that brings the on-river experience of rowing straight to the home. "Rowing engages 86 percent of your body's muscles, compared to 44 percent with biking or running, as well as your heart and your lungs. It targets major muscle groups — including your glutes, hamstrings, hips, back and abdominals — while other muscle groups — such as your calves, quads, lats and arms — help support them to reproduce power with every stroke."
As such, Karwoski says it's possible to burn up to 400 calories in a 20-minute period of rowing, depending on the intensity.
When to Row Looking for the best way to get your heart rate up, use most of your body's muscles and improve posture? Add a rowing session in before your straight training or lifting. Rowing — a low-impact sport — is also a great cross-training activity, since it doesn't put as much stress on your joints and can help strengthen certain areas.
"Since there is an order of physical operation — legs, body, arms; arms, body, legs — during the forward and backward part of every stroke, it is easy to identify limitations, as well," Karwoski says. "Rowing for 20 to 30 minutes straight through is challenging, but there are many metrics to test your ability and progress. Even 10 minutes of rowing has so many benefits."
Try This Workout One of Karwoski's favorite indoor rower workouts is the 6×500 meters. "Since most rowing race distances are 2,000 meters, a lot of rowers train for a time trial of that distance," he explains. "The theory is that rowing 500 meters with one-minute recovery six times through will give you an average split for what your 2,000-meter test would look like. Depending on your warm-up, it can take between 20 and 30 minutes and will leave you utterly and completely exhausted."
1,000-meter warm-up (five to eight minutes, easy rowing with 4 x 10 hard power-building strokes)
6×500 meters max effort
one-minute recovery in between each 500 meters
Doing 4 x 10 hard power-building strokes means four sets of 10 strokes during which the goal is to get the split (per 500-meter number) as low/fast as possible and the stroke rate (how many strokes per minute) as high as possible from stroke one to stroke 10. In other words, take 10 powerful strokes to get the heart rate going during the warm-up, which simulates goal pace. (It's equivalent to strides before a running race.)
Do this workout two or three times in a three-week period (once every five days or so because of the intensity), and then try the 2,000-meter test with the average split as your goal.
We independently source all of the products that we feature on oxygenmag.com. If you buy from the links on our site, we may receive an affiliate commission, which in turn supports our work.