A Positive Outlook Changes Everything
Ditching her scale allowed Angeles Burke to measure success in unexpected ways.
Heading out the door? Read this article on the new Outside+ app available now on iOS devices for members! Download the app.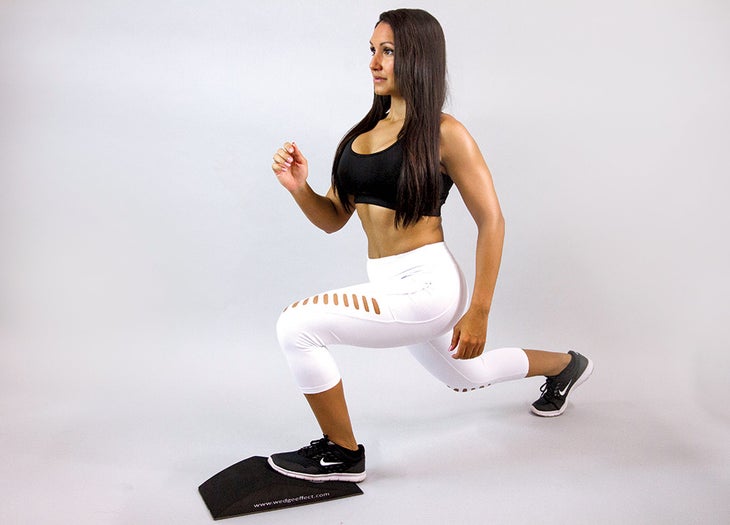 If there's one thing IFBB Bikini pro and certified personal trainer Angeles Burke has learned over the years, it's that a positive outlook changes everything. "I spent a lot of my life feeling insecure and letting negative self-talk take over," she says. "Rather than giving myself a pity party, I decided that surrounding myself with supportive, active and like-minded people was the best 'therapy' for me."
Burke knows firsthand that training is a beneficial and productive way to channel any personal issues or self-doubt. She traded in late-night partying when she decided to start competing and has never looked back. Over the years, her priorities shifted from winning competitions to staying healthy and fit for life.
"It is no longer about being a certain weight or a certain size but about how much stronger I am, how much energy I have and how fast I have become," she explains. "These are all non-scale victories, and I was once a slave to the scale — so much so, that my weight could affect my mood for the day."
Looking Deep Within
Burke believes that we are all blessed with unique gifts and talents and that in order to share our gifts, we first need to focus on our health. She has noticed that it's far too common to take health for granted, not realizing its value until it's lost. Here are some of her philosophies:
Treat your body as a temple. The way we take care of our bodies bleeds over into other aspects of our lives. We have one beautiful body — let's love it.
Don't try to keep up with the Joneses. With social media and photo filters, it's easy to fall into the comparison game. Focus on yourself and your strengths, and know that most of the women who you admire have insecurities and imperfections, too, from stretch marks to cellulite.
Focus inward. Don't be too hard on yourself; you have so much more to offer than your outer appearance.
Let it go. Holding grudges and having ugly thoughts can pollute your mind with negativity.
Be in awe of yourself. Training and healthy eating should not be a punishment but rather a celebration of all the amazing things the human body can do.
Mind over matter. Mental toughness is my favorite aspect of training. Control the mind, control the body.
Angeles' Sweat Sessions
"I do a high-intensity threshold training boot-camp class twice a week, strength training three times a week and three 30-minute cardio sessions a week. On my high-intensity days, I do light weight with tons of reps — anywhere from 20 to 50 — to feel the burn. On my strength-training days, I do anywhere from eight to 12 repetitions using heavier weight."
Monday: Heavy legs
Tuesday: Boot camp: high Intensity/volume, shoulders/core
Wednesday: Rest
Thursday: Boot camp: glute focus with bands
Friday: Biceps/triceps/chest
Saturday: Rest
Sunday: Cardio — sprints, metabolic threshold workout
Angeles' Dymatize Dream Bar
"Coconut cream Dymatize Elite bars are my favorite, since I am always on the go. Each bar contains 25 grams of protein and 4.5 grams of BCAAs to aid in muscle recovery and satiety."