Kim Lyons' Favorite Fitness Apps
Motivation comes and goes, but apps are here to stay! Kim Lyons shares her favorite fitness apps that keep her training even when motivation is low.
Heading out the door? Read this article on the new Outside+ app available now on iOS devices for members! Download the app.
There's an app for everything nowadays, which is great for those of us looking for support in achieving our goals. The key to success is finding an app that works best for you and what you want to accomplish. I like apps that are simple with good visuals. That's how I learn. If I have to do a ton of reading or "getting used to it," that's a deal breaker.
I'm excited to share my favorite apps with you, not only because they motivate me during each workout, but they also bring more enjoyment to each phase of my training.
For Music: Fit Radio
To be honest, when it comes to playlists, I'm like a deer in headlights! I rely on my favorite app Fit Radio. I love this app because you can choose your desired playlist by DJ, beats per minute, activity, genre or even by year. DJ Steady130 and DJ Rolemodel are two of my favorites.
Another great feature of the Fit Radio app is the ability to set workout intervals. The app allows you to set rounds, number of sets and work/rest times, all while listening to awesome music. I personally like to set up intervals based on how much time I have. For example, if I have 10 minutes, I'll do two rounds of five exercises with 40 seconds of work and 20 seconds of rest. This formula is perfect for fitting workouts into any schedule.
For Timed Workouts: Seconds
Seconds is my go-to app when I teach group classes or film workouts because it has great visual cues without music. It's simple: You input your exercises, interval times and work/rest ratio and assign a color to each exercise. I set all my rest times in red and a different color for each exercise. The app shows the name of the next exercise along with the timer so you're prepared for what's next. In fact, I had Seconds set up on my iPad when I filmed Core Construction!
This app also allows you to easily organize workouts. I have different folders for different classes I teach, programs I build and areas I focus on such as cardio, legs, core, etc. It's basic — nothing crazy or complicated. I love that it requires no learning curve and is super easy to use.
For Motivation: Podcasts
I can't believe I've only been listing to podcasts for about a year now. It feels like much longer. Podcasts have been a serious game changer for me when it comes to motivation, education and entertainment. I listen to them when I go for walks, sit in traffic, get my nails done or just need to shift my thoughts in a positive direction. Just like working out and eating clean, taking care of your mind and mood is great for your health.
I'm a sponge that loves to soak up podcasts that feature information about functional medicine and inspiration from experts.
Here are my favorite podcasts at the moment:
On Purpose with Jay Shetty
The Mindvalley Podcast with Vishen Lakhiani
The Doctor's Farmacy with Mark Hyman, M.D.
School of Greatness with Lewis Howes
Feel Better, Live More with Dr. Rangan Chatterjee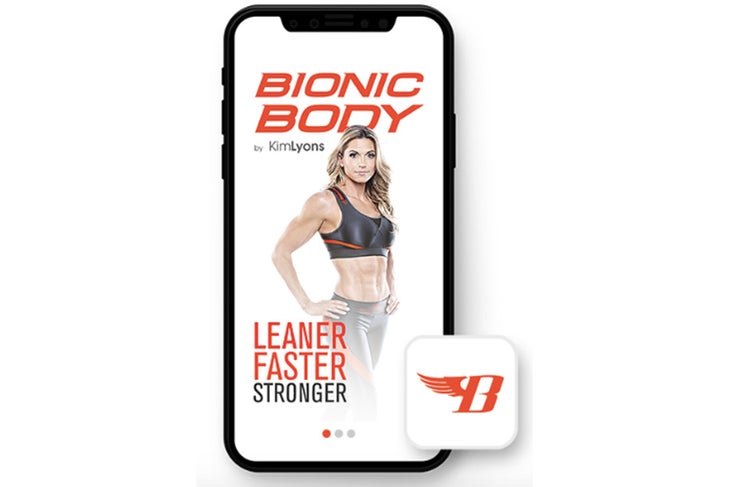 For Workouts and Recipes: Bionic Body Fitness
I may be biased, but this is my favorite app because I created it! A little back story: I was looking for a way to share exercises (with my Bionic Body line of home fitness equipment) and recipes in one place. Simple and easy.
As I mentioned, I'm a visual learner, so the exercises and recipes in the app are very visual and easy to follow. My favorite recipes are broken down by category, and my 10-minute workout routines are broken down by type of equipment or bodyweight. There are more than 500 exercises with descriptions, so you never have to run out of ideas.
Workouts in my Core Construction program are in the exact format I use in my free Bionic Body Fitness app. Be sure to check it out. It's my passion project. I'd love to know what you think!
Spring is here, summer is near and results are on their way! Let's face it, the midsection is a stubborn area for many women. With Kim Lyons' Core Construction series, gain access to unbeatable core exercises and training advice from a master trainer. Learn how to drop bad habits and create a lifestyle that will bring forth a rock-hard midsection.
The 30-day program can be done in the comfort of your own home with minimal equipment and time, no matter what your fitness level, and it's a great complement to other workouts. No more two-a-days at the gym. No strict dieting. Just results.
Now is the time, and today is the day to accomplish something you've wanted for years: a tight and strong core. Register for Core Construction today!