Koya Webb's Wellness Warrior Workout
Meet Koya Webb — former track athlete, longtime yogi and your next Oxygen coach! Learn about the twists, turns, injuries and breakthroughs that have shaped her career — and her life.
Heading out the door? Read this article on the new Outside+ app available now on iOS devices for members! Download the app.
Koya Webb decided at a very young age that athleticism was her ticket to a better life. "I just had a really intense work ethic," says the Tennessee native. "I'm all in, passionate and consistent. I love to work hard, and I believe that anything that I put my heart and soul into will birth success."
Webb joined her high-school basketball team and spent an entire year warming the bench before she was finally allowed to play. Once she was turned loose, there was no stopping her, and by her senior year, she had secured the team's MVP title. Webb also ran track and field and earned several scholarships, which allowed her to attend the college of her choice.
However, her freshman year did not go as planned — but not because of her talent. "Money was tight when I was little, so we lived off powdered milk and never really had an abundance of food," Webb explains. "Now I was at a school with a buffet and had access to all the food I could eat — so I ate all of it!" Webb quickly gained 25 pounds, and that extra ballast put a damper on her athletic ability. She was no longer able to excel at her events, which included the high jump, long jump, shot put and javelin. Even worse, she became the victim of bullying. "I've been bullied my whole life — for being tall, for being skinny, for wearing hand-me-down clothes," she says. "A couple of sorority ladies bullied and hazed me because they found out I was a legacy and wanted to join. It turned me off completely from pledging."
A transfer to Wichita State her sophomore year provided Webb with a new beginning. She made better nutrition decisions, and soon her track career was back on the upswing. But one day while walking home from class her junior year, she experienced an intense pain in her lower back. "I thought I'd gotten shot," Webb recalls. "I fell to the ground in excruciating, sharp pain." The diagnosis was a stress fracture of her L4 vertebra, due in large part to lack of recovery and poor sleep. She was out for the season.
An Awkward Intro
Webb was devastated and fell into a depression. She decided to seek counseling, and after a few sessions, her counselor suggested yoga as a way to cope. But Webb was dubious.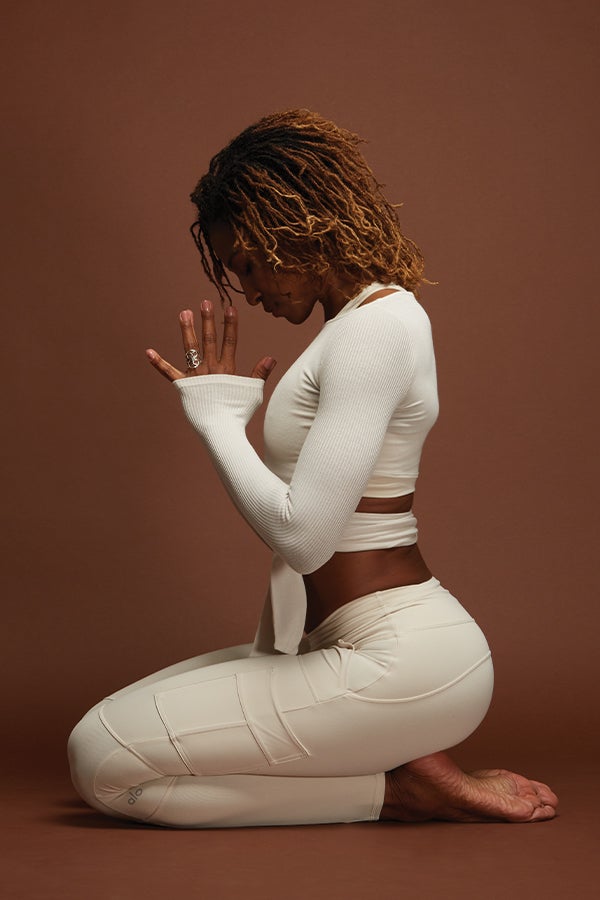 "I'm a Southern Baptist girl and was worried I'd have to worship some weird deities," Webb says, chuckling. But her counselor assured her that yoga was nothing more than stretching. "So I went to this yoga class and couldn't even touch my toes. I remember trying to do a headstand and feeling like my brain was going to ooze out of my skull! I did not fit in. I was so intimidated. And I was like, This is not for me. I'm an athlete, not a yogi. These people are saying this is blissful. And it's not, it's painful."
The instructor recognized her frustration and suggested that Webb focus on breathwork. Together, they took a deep inhale and performed a long, slow exhale. "I felt these chills flow down my body," Webb says. "I didn't realize that, up until then, I hadn't really taken a deep breath since [the injury] happened. I realized that even if I couldn't do the poses, I could just breathe — just sit there and connect with my breath. And that's what really changed my life."
Dashed Olympic Dreams
Soon, Webb had healed enough to start swimming and biking, and a year later, she was able to return to the track. She began to win conference titles in the heptathlon and the high jump and led her team to its first women's track and field championship.
After college, Webb decided she wanted to make a difference and inspire people to live a healthy lifestyle, so she moved to California to chase her Olympic dreams. No one at the Olympic Training Center had ever heard of her, but she managed to secure a coach by promising to "get better every single day." And she did — initially.
"Soon, I was right back in the same position as I was before the injury — worn down and working my butt off," she says. "I was personal training from 5 to 10 a.m. to pay my bills. Then I was on the track from 12 to 3 p.m., and at night, I worked from 5 to 10 to make ends meet. My yoga fell by the wayside." Lo and behold, she pulled a hamstring.
She quickly readopted her practice and healed her injury, but rather than resuming her Olympic training, she had a new goal in mind: being on the cover of Oxygen magazine.
Model Student
To help realize her goal, Webb started doing some fitness modeling, then on a whim, she decided to enter a bikini competition. "I spent every last dime I had on an outfit and a ticket, flew all the way to Florida and slept in a car because I couldn't afford a hotel," she says. She went onstage and had a blast competing in her division, but little did she know she wasn't done yet. "The organizer mentioned that they didn't have enough entrants in the figure competition and suggested I give it a try," Webb says. "Right then and there, he showed me how to flex, turn and pose — and up I went again!"
Much to her surprise, Webb took first place in both competitions. "They gave me flowers and medals and I was just beaming," she says. "People were congratulating me and asking where my family was. I had to explain that I was here alone, that I felt like my family would have tried to talk me out of it or laugh at me for trying." The show organizer was so moved that he paid for her to have a hotel room and she was finally able to enjoy her victory properly.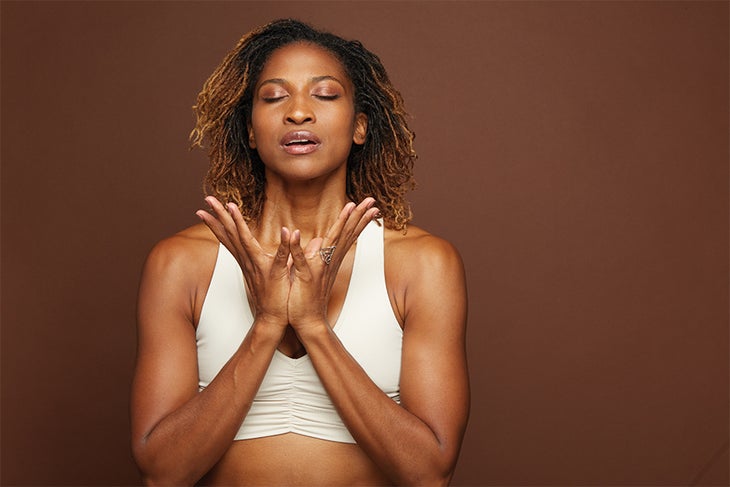 Get Loved Up
Ultimately, Webb decided that physique competitions were not her jam. "Being onstage and comparing myself to other women wasn't actually fun for me," she says. "It was the practice, dedication and [training] consistency that made my heart happy."
Eager to share the transformative power yoga had on her life with others, Webb set out to earn her yoga teacher training certification. "I wanted to go deeper spiritually and share the gift of yoga with the world." Certification in hand, Webb started her own multidisciplinary health and yoga school in 2017 called Get Loved Up.
"I feel like most yoga training leaves the spirituality out and only focuses on the asana, but there is so much more to yoga than poses, so I wanted to blend everything together," she says. "I also wanted to see more black women in front of classes as teachers to bring more diversity to yoga."
Now Webb is giving Oxygen readers the chance to get loved up themselves with her new six-week course the Wellness Warrior Workout, which blends all the disciplines Webb knows and loves. "I include my favorite yoga poses and all my favorite things that I do to stay in shape mentally, spiritually and physically — including mindfulness tips," she adds. "The workouts range from 10 to 60 minutes, require no equipment and are great for people at all levels. Plus, I provide delicious plant-based recipes for the nutrition component of the plan. I hope you'll sign up and begin or continue on your journey toward achieving optimal health and wellness."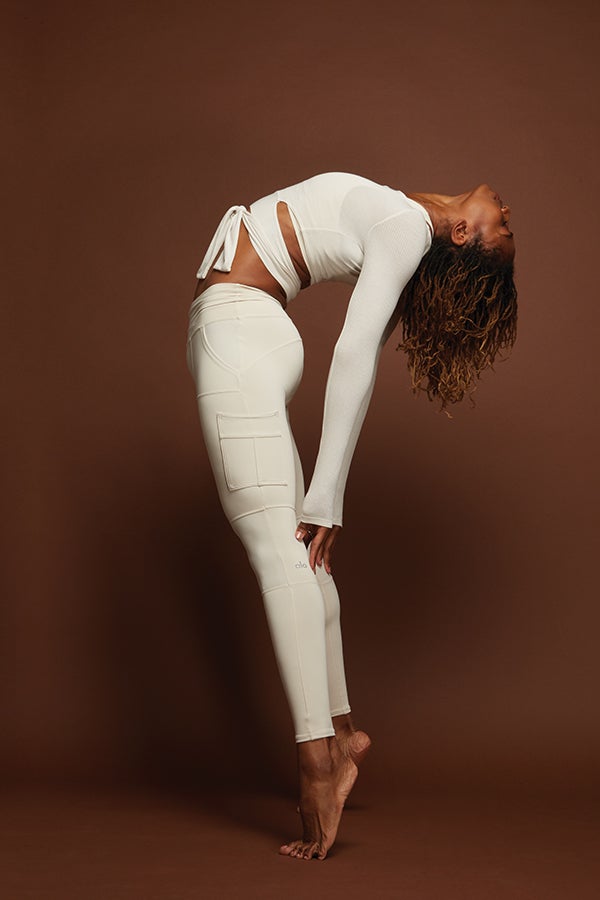 Birth date: July 30, 1981
Current residence: Marina del Rey, California
Height: 5'10"
Weight: 155
Certifications: NASM, E-RYT 500
Website: koyawebb.com
Instagram: @koyawebb
YouTube: KoyaWebb
Q&A With Koya Webb
Q: What is your nutrition like these days?
A: I have been vegan for 15 years, and I follow pretty much the same eating plan each day: A superfood smoothie for breakfast, a huge salad for lunch and a "beauty bowl" for dinner. This includes more complex carbohydrates, veggies and a delicious sauce.
Q: What's your secret food vice?
A: Pizza! I love California Pizza Kitchen's cauliflower crust pizza, but I also love making my own. I load it with all sorts of vegetables — except onions, I can't stand onions.
Q: Are you a daredevil?
A: Oh yeah! I've been skydiving and loved it. But I have also been bungee jumping and would not do that again! I tried to go shark cage diving but didn't even get off the boat — not because of the sharks but because I was so disgusted by the bloody, cut-up fish they put in the water to attract them. I curled up in a blanket until the whole thing was over.
Q: What's your favorite vacation spot?
A: Egypt. I floated in the Red Sea and rode quad bikes through the desert, and my spiritual experiences visiting the temples changed my life forever.
Q: Is there a yoga move you still haven't mastered?
A: Frog Pose. I have tight hips from track and all those sprints, so I have a long way to go.
Q: What's the craziest thing in your purse right now?
A: My "happy gun" — you know, one of those hand-held therapeutic massagers. It's so great.
Q: What's one message you want to impart to the people of Earth at this very moment?
A: You are enough just as you are. You are loved.
Could your strength and stamina use a boost? Are you looking for ways to better connect your mind and body? Let Koya Webb — an internationally recognized yoga teacher, holistic health coach, author, speaker and vegan activist — be your guide. She's partnered with Oxygen to create Wellness Warrior Workout, an exclusive six-week program that includes progressive workouts, weekly guided yoga flows, guided meditations, breathwork and mindfulness prompts. Plus, she's sharing more than a dozen of her favorite plant-based recipes. Sign up today!