Score a Three-Minute Core
Add a stability ball to your plank training and work your core and more!
Heading out the door? Read this article on the new Outside+ app available now on iOS devices for members! Download the app.
As if planks weren't hard enough, here are three new moves to amp up your core training using a stability ball. The ball forces you to engage more muscles in order to balance on an unstable surface, which — when added to a plank move — means 360 degrees of muscular recruitment around your midsection. As a bonus, you also work your shoulders, chest, traps, glutes and hamstrings.
Your Stronger-Core Plan
Do these three moves all in a row to kill your core in less than five minutes, or infuse one of these moves into your ab training up to four days a week. Shoot for one to two reps of each if you're a newbie and two to four reps of each if you're more advanced.
Feet On Top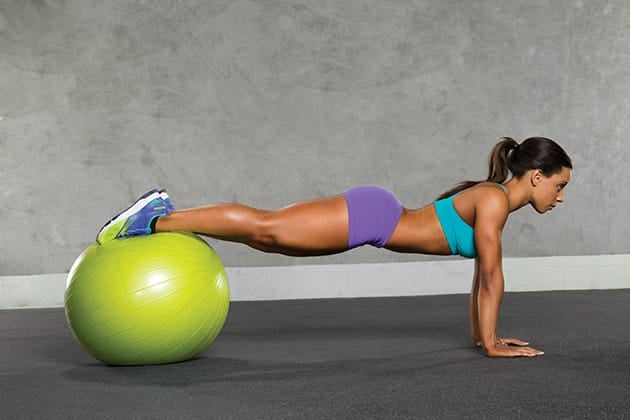 Place your hands on the floor shoulder-width apart and extend your legs behind you so your feet and ankles are on top of a stability ball. Find your balance, then lift your hips in line with your head and heels and hold for one minute.
Related: The Do's and Don'ts of Planks
Make it Harder: Lift one foot off the ball for 30 seconds, then the other for 30 seconds, or do shoulder touches, alternating hands slowly for one minute. Always keep your hips level when lifting an arm or leg!
Side-Ball Plank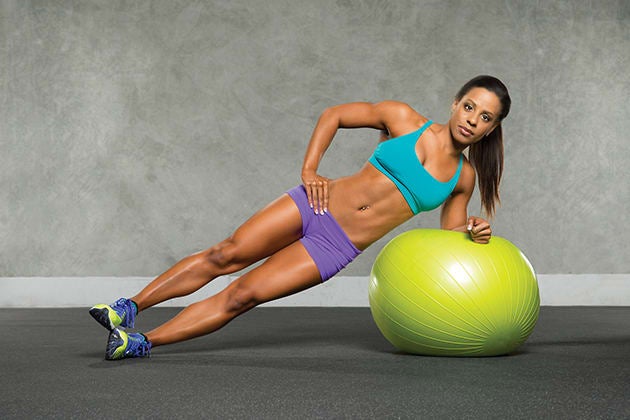 Place one elbow on the ball underneath your shoulder and extend your legs away from you. Lift your hips in line with your head and heels and hold for 30 seconds each side.
Make it Harder: Reach your opposite arm and top leg into the air like a star, or flip yourself around so your feet are on the ball and your elbow or hand is on the floor.
Elbows Up Top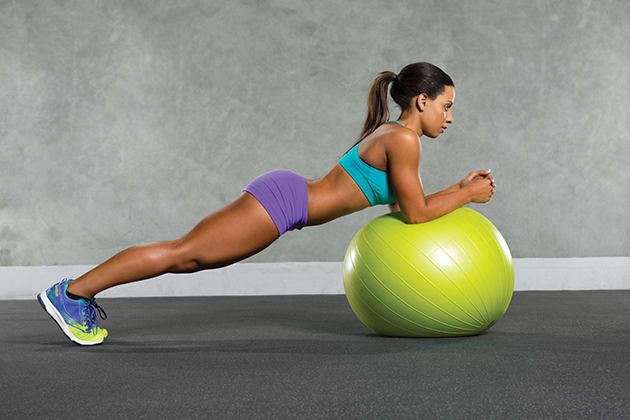 Place your elbows on a stability ball directly underneath your shoulders and clasp your hands together. Press your elbows down into the ball and spread your shoulder blades apart (i.e., don't sink between your shoulders). Extend your legs behind you and lift your hips so your head, hips and heels are in line. Hold and breathe for one minute.
Related: Swiss Ball Plank Touchdown
Make it Harder: Roll the ball in small circles to the right for 10 reps, then to the left for 10 reps, alternating between the two for one minute.