Carb Cycling Meal Plan for Fat Loss
Break through your diet plateau and kick your metabolism into overdrive with this four-week meal plan.
Heading out the door? Read this article on the new Outside+ app available now on iOS devices for members! Download the app.
Other than tasting amazing, carbs are good for pretty much one thing: providing energy. And let's face it, going too long without them can take your workouts from awesome to crummy and leave you feeling like a certified couch potato. On the flip side, cutting carbs, even by just a small amount, can help you get (and keep) the physique you've always wanted. This love/hate relationship with our favorite macronutrient has got to go! The fix? A carb-cycling diet plan may just be the happy medium you're looking for.
What Are the Benefits of a Carb-Cycling Meal Plan?
Carb cycling is a simple dietary approach in which you alternate the amount of carbs you consume on a daily, weekly or even monthly basis. How does it work? There aren't many scientific studies surrounding the protocol, but we can take some insight from how macronutrients are used in the body and what we want to get out of our training and nutrition habits:
Fueling a tough workout. While carbs provide the energy we need to perform at an optimal level, we don't need carbs all the time. That's why it makes sense to use them only when needed the most: during intense physical training. On the days we're not training to our fullest — maybe it's an off day or a light training day — cutting back on carbs can help improve metabolic flexibility and help the body learn to use fat as fuel. And because the body uses stored glycogen (sugar from carbs) during training, strategic high-carb days can help replenish your supply and increase strength during workouts.
Warding off diabetes. Targeting your carb intake around training days can help improve insulin sensitivity. If you're insulin sensitive, the body only needs to release a small amount of insulin to use and store glucose (blood sugar). This factor alone can keep you from putting on too much body fat and prevent you from getting Type 2 diabetes.
Banishing bloat. Feeling a bit fluffy? Blame carbs. "Carbs have glycogen, and glycogen is sugar," explains Autumn Calabrese, Beachbody super trainer and creator of the Ultimate Portion Fix. "Sugar contains water. So when you cut the carbs, you cut out some of the excess water your body is retaining." To get even better weight-loss results, pair carb cycling with a caloric deficit. (Reduce calorie intake and/or burn more calories.)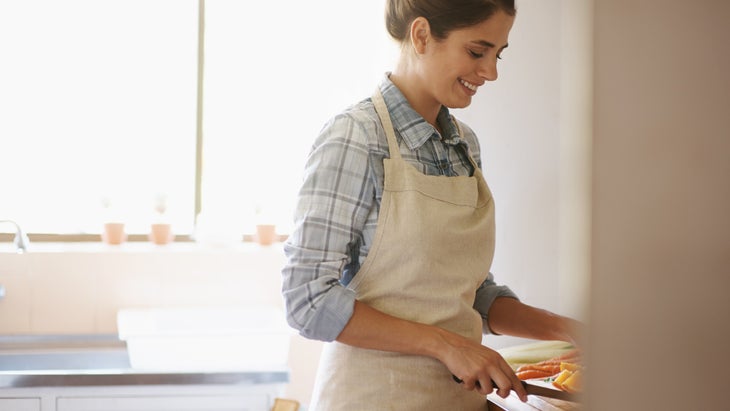 When Is a Carb-Cycling Diet Plan Appropriate?
Most everything in life is best in moderation, and the same is true for carb cycling — think of it as another tool in your arsenal for looking and feeling your best. As such, it's a tactic often reserved for very specific time periods or special events. Why?
"Like anything, the more you do it, the more your body gets used to it," Calabrese says. "So if you are keeping it as an ace up your sleeve to drop excess water weight before a given event, then you don't want to stay on it for too long." That's why fitness competitors will often follow a carb-cycling meal plan about three weeks out from taking the stage — it helps them drop excess water weight.
Another reason Calabrese doesn't recommend indefinite carb cycling? "Our bodies get a lot more than just carbohydrates from the foods we eat that have carbs in them," Calabrese says. "Things like fruit, sweet potato, quinoa and rice have vitamins, minerals and nutrients that we need. So constantly taking them away from your body can have a negative effect over time and cause someone to go in the exact opposite direction with their nutrition."
Finally, you must listen to your body because carb cycling isn't for everyone. When done properly, carb cycling encourages you to eat extremely clean, which has great health benefits. But, Calabrese warns, you are also eating a lot more animal protein on depletion days — and this style of eating doesn't work for everyone. If you find that you are extremely lethargic, irritable, having headaches or can't focus, then you should stop carb cycling immediately and return to a regular amount of carbohydrates.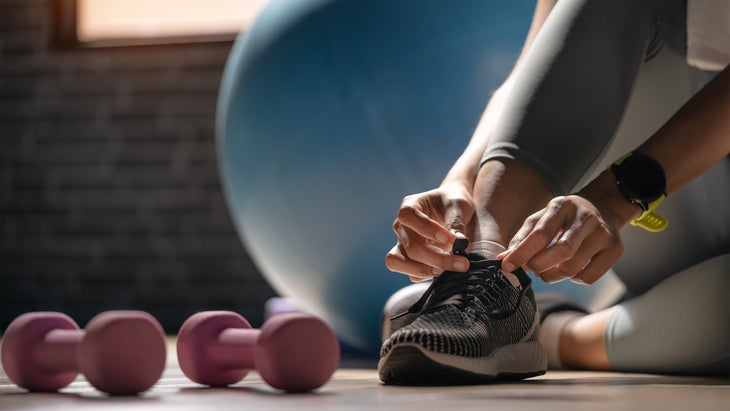 Easy-to-Follow Carb-Cycling Meal Plan Based Around Your Training
When thoughtfully scheduled, carb cycling can be used in conjunction with many different training styles.
"I deplete on cardio days where I am not lifting or not lifting as heavy, and I eat a regular amount of carbs the day of a heavy lift, like a leg day," Calabrese says. "Depending on how my training schedule is going and where I am at in the cycling process, I might make it so my carb-heavy day is the day before a heavy lift, like a leg day depending on how my energy is." The key, she says, is to pay attention to how you are feeling and how your body is responding to the nutrition and your training as well as how you are functioning in day-to-day life.
What does this mean for you? When you click on the four-week carb-cycling diet plan below, you'll notice it coordinates your workouts and meal plan as follows:
For endurance/cardio or intense training days: high-carb and moderate-to-low-fat and protein menus.
On off days and weight-training days: high-protein, high-fat and low-carb menus.
Since we're changing the amount of carbs we're eating based on training, we're going to do the same with protein and fats. You'll notice that on high-carb days, protein and fat are reduced, while on low-carb days, you'll be eating more protein and fat throughout the day to maintain satiety and keep calories similar throughout the week.
Though protein has been lowered on high-carb days, it's still considered "high" in the mainstream nutrition world. This is because no matter what day it is — training, endurance or off day — protein is always important. It helps boost metabolism, burn fat, improve recovery and build/maintain muscle. Plus, it helps keep us full and satisfied long after eating.
How to Tweak the Carb-Cycling Meal Plan to Your Routine
We know nutrition and exercise aren't a one-size-fits-all approach, so it's important to find a plan that fits your needs. This may take a little trial and error.
The four-week meal plan below is laid out as follows:
Monday/Wednesday/Friday = weight-training day = low carb
Sunday = off day = low carb
Tuesday/Thursday/Saturday = endurance/cardio day = high carb
The weekly calendar follows an every-other-day approach to training and cardio days, but here's how to manipulate it:
If you don't do any cardio or do cardio and weights on the same day, use the high-carb days on weight-training days and follow the low-carb days on off days.
If your workout schedule follows a two-on and one-off approach, simply use the endurance meal-plan days for on days and the training/off menus for your off/rest days.
If you work out three days with two days of rest in between, update your meal plan accordingly.
If you're not seeing the results you're looking for or have hit a plateau, try reducing your carb intake to about 30 grams total for the entire day on off days only (aka, days of complete rest).
If you're not seeing results, another option is to reduce calorie intake by 100 to 200 on weight-training and off days — this is the equivalent to cutting out one snack — while your high-carb days will remain the same.
If you don't want to follow the recipes in the four-week carb-cycling meal plan, you can simply prep foods in your comfort zone and keep a close eye on the macros. "On a regular carb day, I go with a 40/30/30 split, so 40 percent healthy carbohydrates, 30 percent healthy fats and 30 percent lean protein," Calabrese says. "On a depletion day, the percentages change to 50 percent protein, 30 percent healthy fat and 20 percent carbohydrates."
Feeling inspired and want to give carb cycling a whirl? It all starts with some delicious dishes, like the carb-cycling menu items below.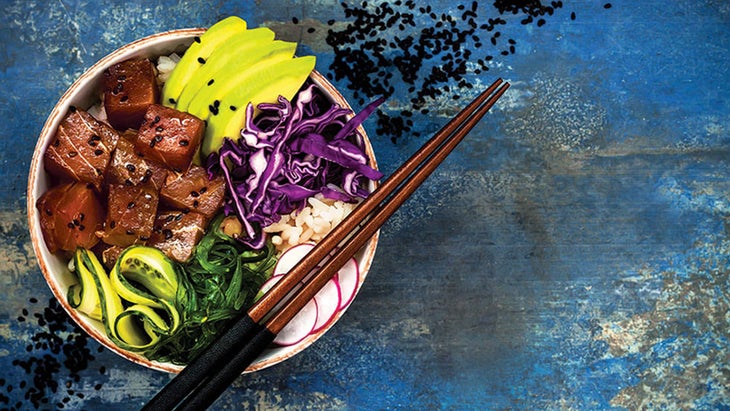 Salmon Poke Bowl
Note: Poke bowls are generally made with raw fish or tofu. However, this dish is still fabulous if you choose to cook the salmon or use a smoked variety. To cook the salmon, marinade it in the sauce recipe provided, and either cook on a hot grill or bake in the oven at 400 degrees for 12 to 15 minutes, or until cooked through.
Makes 1 serving
Ingredients:
3 oz fresh sashimi-grade salmon cubed into ¾- to 1-inch pieces
¼ cup shredded purple cabbage
¼ cup sliced cucumber
¼ cup sliced carrot
1 tbsp chives, chopped
1 tbsp toasted sesame seeds
Rice
For the sauce:

2 tbsp sesame oil
1 tbsp low-sodium soy sauce or liquid aminos
1 tsp rice vinegar
¼ tsp ground ginger
¼ tsp toasted sesame seeds
½ to 1 tsp Sriracha hot sauce, or to taste (optional)
Directions:
In medium bowl, whisk together ingredients for sauce. Add salmon and toss well. Set aside.
To assemble your poke bowl, add rice first. Then top with the rest of the ingredients and seasoned salmon.
Garnish with fresh chopped chives and toasted sesame seeds. Top off with remaining sauce.
Nutrition Facts (per serving): calories 549, total fat 39 g, saturated fat 6 g, trans fat 0 g, protein 21 g, sodium 369 mg, carbs 32 g, fiber 5 g, sugar 3 g
Pizza Mac n' Cheese Casserole
Makes 6 servings
Ingredients:
2 cups whole-wheat elbow noodles or gluten-free elbow noodles
½ cup nonfat milk
¼ tsp salt
¼ tsp onion powder
¼ tsp garlic powder
½ tsp dried oregano
¼ cup nonfat milk
1 tbsp cornstarch
2 tbsp grated Parmesan cheese
1 cup + ¼ cup part-skim shredded mozzarella cheese
1 tbsp butter
½ cup tomato sauce
12 turkey pepperonis
Directions:
Cook noodles as directed on package until al dente. Drain and set aside.
In small saucepan, add ½ cup nonfat milk, ¼ teaspoon salt, ¼ teaspoon oregano, ¼ teaspoon garlic powder and ¼ teaspoon onion powder, and bring to a simmer.
In separate small bowl, mix cornstarch with ¼ cup nonfat milk and add to saucepan. Mix well and continue to stir over heat for a few minutes until sauce starts to slightly thicken, about three to four minutes.
Shut off heat and mix in 1 cup mozzarella cheese. Stir until melted throughout. Mix in 1 tablespoon butter.
Combine cooked noodles with cheese sauce until well-combined. Add cheesy noodle mixture to casserole dish. Pour tomato sauce over the top. Sprinkle with remaining mozzarella cheese and top with turkey pepperonis.
Bake in oven at 375 degrees for 20 to 25 minutes, or until the top is slightly brown and gooey.
Nutrition Facts (per serving): calories 358, total fat 7 g, saturated fat 3 g, trans fat 0 g, protein 21 g, sodium 379 mg, carbs 58 g, fiber 8 g, sugar 1 g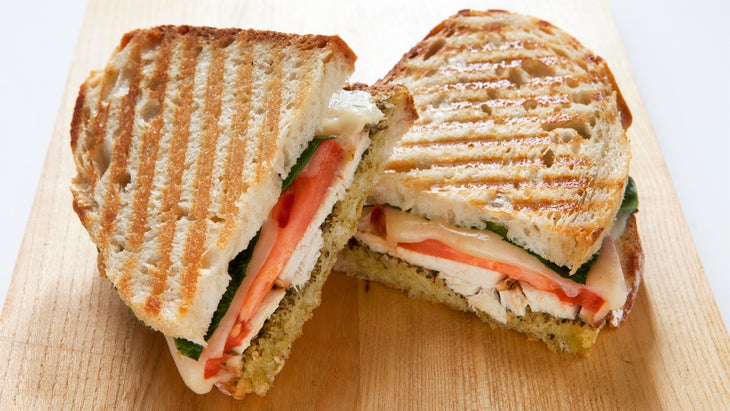 Pesto Chicken Sandwich
Makes 1 serving
Ingredients:
2 slices light whole-wheat bread
3 oz grilled chicken breast
1 tbsp pesto sauce
1 slice mozzarella cheese
2 slices fresh tomato
1-2 tbsp olive oil mayonnaise
Directions:
Heat skillet over medium heat or preheat a countertop panini press or indoor grill.
Slather olive oil mayo on one side of each slice of bread. Then spread pesto onto the opposite side of each slice of bread.
Assemble sandwich starting with chicken, then tomato and finish with slice of mozzarella cheese. Top sandwich with second piece of bread and place onto heated skillet or grill.
Cook about two minutes per side (on the skillet), or until bread is toasted and cheese is melted (when using the grill).
Nutrition Facts (per serving): calories 419, total fat 24 g, saturated fat 5 g, trans fat 0 g, protein 30 g, sodium 575 mg, carbs 24 g, fiber 5 g, sugar 5 g
French Toast With Caramelized Bananas
Makes 1 serving
Ingredients:
1 large egg
1 large egg white
dash ground cinnamon
dash ground nutmeg
1 tsp vanilla extract
2 slices light whole-wheat bread
2 tsp butter
½ medium banana, sliced into ¼-inch rounds
½ tsp cinnamon
1 tsp maple syrup
¼ tsp vanilla extract
Whipped cream
Directions:
In small bowl, whip egg, egg white, cinnamon, nutmeg and vanilla.
Dunk and coat bread slices in egg mixture, and cook on grill or skillet until they are golden brown, about one minute per side.
Add butter to skillet and place over medium heat. Once butter has melted, add sliced banana, cinnamon, vanilla extract and maple syrup. Stir to combine and saute until they are just cooked and soft, about three minutes.
Pour cooked bananas on top of French toast. Top with a dollop of whipped cream and dash of cinnamon.
Nutrition Facts (per serving): calories 324, total fat 13 g, saturated fat 6 g, trans fat 0 g, protein 16 g, sodium 369 mg, carbs 40 g, fiber 6 g, sugar 15 g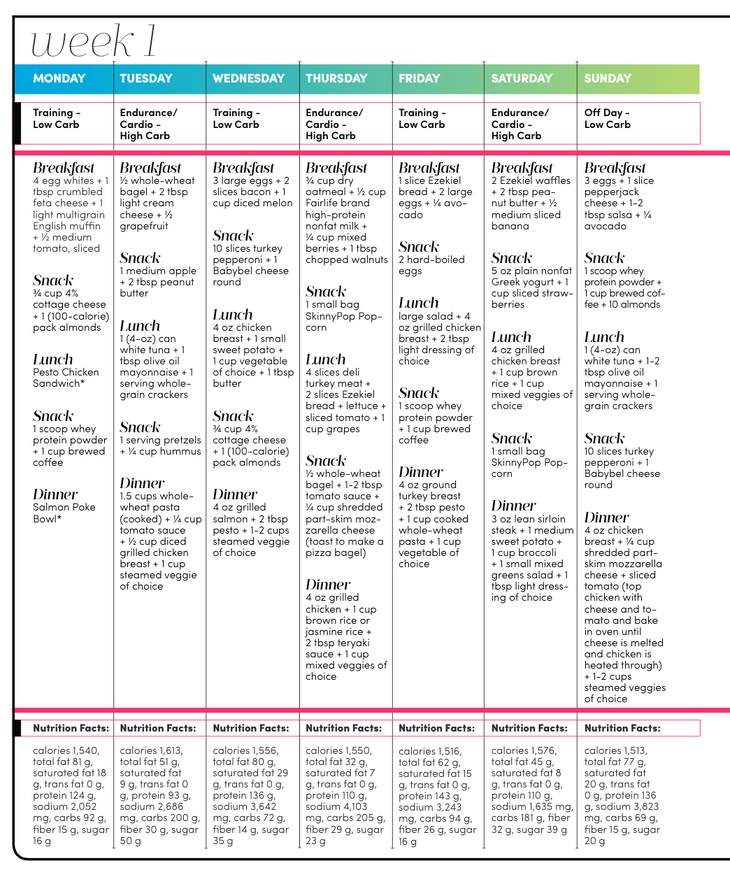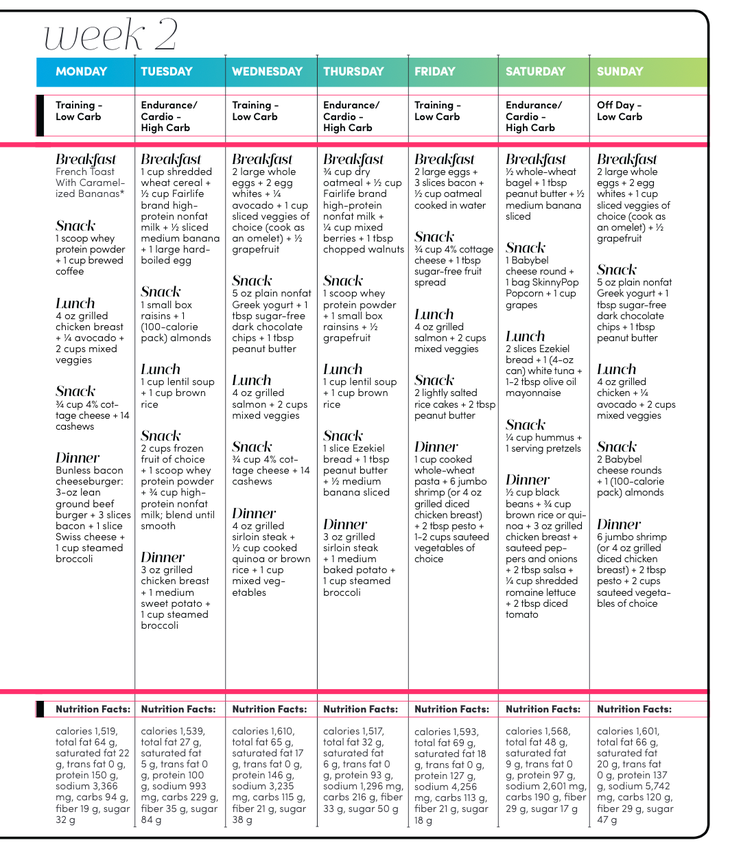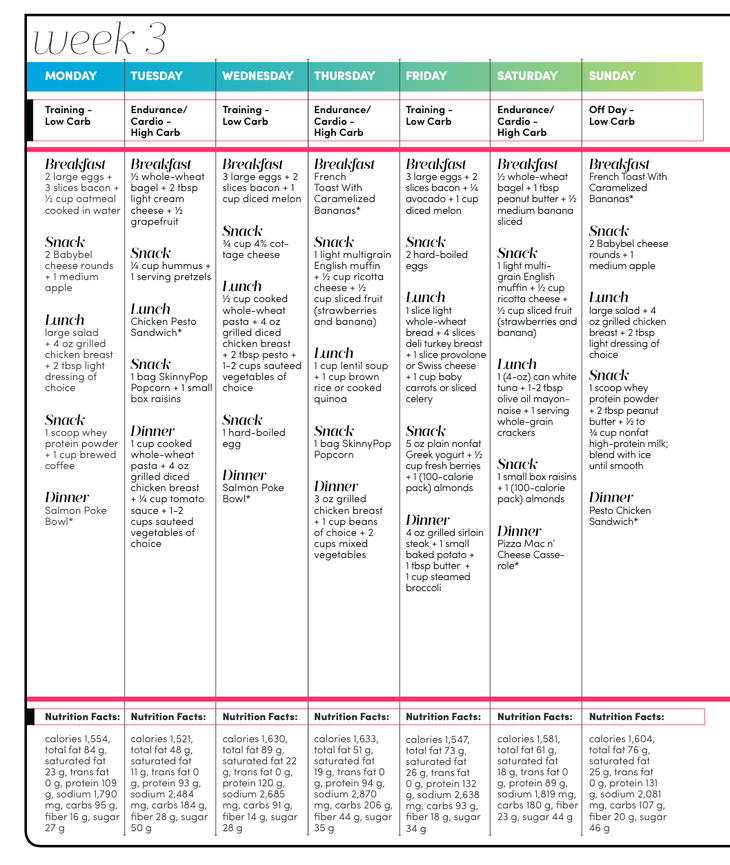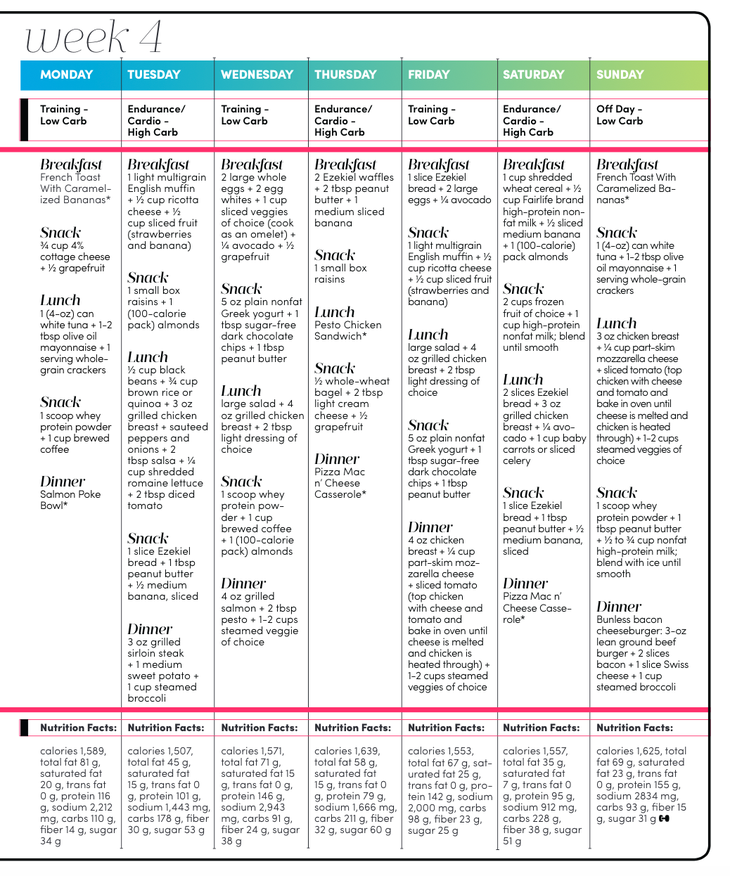 We independently source all of the products that we feature on oxygenmag.com. If you buy from the links on our site, we may receive an affiliate commission, which in turn supports our work.