Be Lifted With The Oxygen Challenge 5
Choose Your Coach, Change Your Life
Heading out the door? Read this article on the new Outside+ app available now on iOS devices for members! Download the app.
If ever there was a year to follow two coaches, this is the one. Camille LeBlanc-Bazinet and Amber Dodzweit Riposta are two of the most incredible, humble and adept athletes on the planet, and each has a body-positive message that rings true on multiple levels.
What's more, they are real people with real faults and unruly hair and pimples and "boogies." They both have an incredible sense of humor, and during filming, they had us laughing until we cried and taught us how to dance-pose and perfect our Blue Steel in between squat and deadlift tutorials. They are fun and frank, and although you'll probably work harder than you even have with a workout program, you'll enjoy every minute of it.
Read on to see what each coach has in store for you this year, and see whether you can actually choose just one amazing woman to lead you through the next 90 days.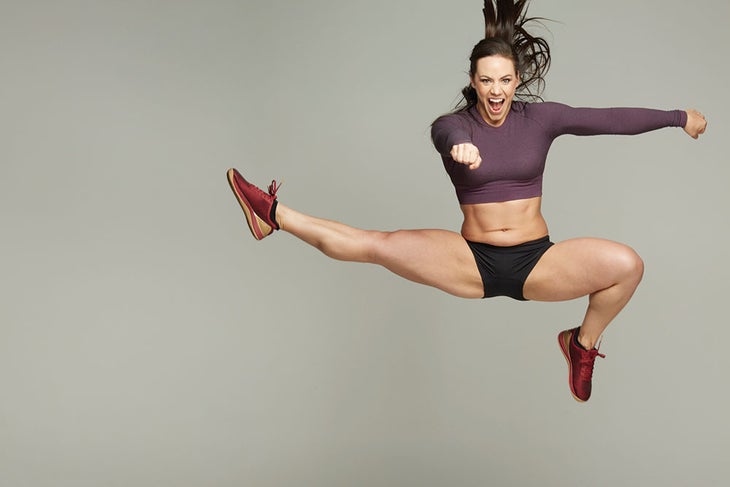 Coach Camille
Camille Leblanc-Bazinet competed in gymnastics from age 3 to 15 when an injury arrested her trajectory. Afterward, the French-Canadian dabbled in all manner of sports — soccer, volleyball, flag football, skiing — and even played rugby one summer, which is when she discovered CrossFit. "We used it for conditioning, and I loved it right away," she says. "It was hard and different, and it was a challenge."
Within months, LeBlanc-Bazinet was all in with the new sport, and in 2014, she won the CrossFit Games and earned the title of the "Fittest Woman on Earth." All totaled (so far), she has finished top 10 in four out of her seven Games appearances and has won five out of her seven regional competitions. And she shows no signs of stopping any time soon.
"Failing in front of people makes you grow as a person faster than anything else," she says when asked what she has learned from her competitive experience. "I am so grateful that I have discovered who I am and what I value through competition."
Well-Rounded Workouts
"Functional fitness meets aesthetics" is how Leblanc-Bazinet describes the workout program she designed for OC5. "It's a blend of the best of all I have learned over the last 15 years, and you'll become more athletic and will change your body faster than you even thought possible," she says. "Shoot for quality over volume and remember that consistency is key to everything: Good or bad, just keep showing up."
Each of her workouts uses minimal equipment, takes less than 60 minutes a day and is composed of two parts: the main workout component and a finisher. The main workout format changes from day to day, and LeBlanc-Bazinet uses programming such as AMRAP (as many reps/rounds as possible), EMOM (every minute on the minute), for-time workouts and circuits. The exercises she uses are compound, highly metabolic movements such as pull-ups, burpees and snatches to get you the most bang for your buck.
"Each workout ends with a daily finisher that targets a specific area to develop muscle tone and shape," she adds. "Overall, these workouts will create change in both your body and your mind, and they will make you look amazing!"
Food for Life
In terms of nutrition, LeBlanc-Bazinet promotes sustainability. "Nutrition looks different for everyone, but eating real food and measuring your portions is the fastest path toward health," she says. "Personally, I didn't know how to eat until I began to compete and perform, and that is when I developed a good relationship with food. But nutrition is the base for everything, and you cannot out-train a bad diet."
LeBlanc-Bazinet loves to cook and designed all the recipes in her program. "They are very straightforward, with a ratio of 40 percent carbs, 30 percent protein and 30 percent fat," she says. "This allows you to balance your hormonal response so you can truly use food as fuel without starving or storing it as fat."
Sample Workout
Here is a sample workout from Phase 1 of coach Camille LeBlanc-Bazinet's program that uses a regularly appearing EMOM format.
12-Minute EMOM
Every minute on the minute, complete the indicated exercise for 45 seconds. Rest 15 seconds and then begin the next exercise at the top of the next minute. Keep track of your reps and try to match or beat them in subsequent rounds. Complete three rounds.
Minute 1 Burpee
Minute 2 Air Squat
Minute 3 Jumping Pull-Up
Minute 4 Rest
Sculpting Finisher
Do three sets of the below exercise. Rest as needed.
10 Dumbbell Triceps Extensions
Q & A: With Coach Camille
You have a degree in chemical engineering — do you use it?
Not in the way that most people would — like with a job! — but engineering taught me a lot about problem-solving, which is helpful now with my business and with competing.
Are you a daredevil?
Yes, yes, yes! We only have one life, and I want to experience all of it.
Do you have a mantra?
They change depending on where I am in my life, but right now, I use these two a lot: "Shine bright" and "do the small things first."
Are you really training to compete at the Olympics?
Yes, I am training alongside my sister to compete in weightlifting, and I am hoping to qualify for Tokyo in 2020. My best lifts so far are a 91-kilogram (200.6-pound) snatch and a 116-kilogram (255.7-pound) clean-and-jerk.
Who do you admire most in the fitness world right now?
Anyone who is brave enough to decide that where they are is no longer good enough and to push forward that extra mile. That kind of drive inspires me.
Who do you follow on social media that might surprise people?
Ariana Grande — haha! But also The Rock, Drew Barrymore, Justin Timberlake and a lot of Red Bull athletes.
Who is a better cook, you or your husband Dave?
Me! I literally had to teach my husband how to hard-boil eggs.
Do you have any pets?
Yes, I have two dogs — El and Max. I am a crazy fur mom!
Camille LeBlanc-Bazinet
Birth date: October 10, 1988
Birthplace: Richelieu, Quebec, Canada
Current Residence: Boulder, Colorado
Height: 5'2¾"
Weight: 130 Social Media: @Camillelbaz Website: clbfitness.myshopify.com
Sponsors
Rogue | Xendurance
My Power Dot | Reebok
PerformaSleep
Stay Classy Meats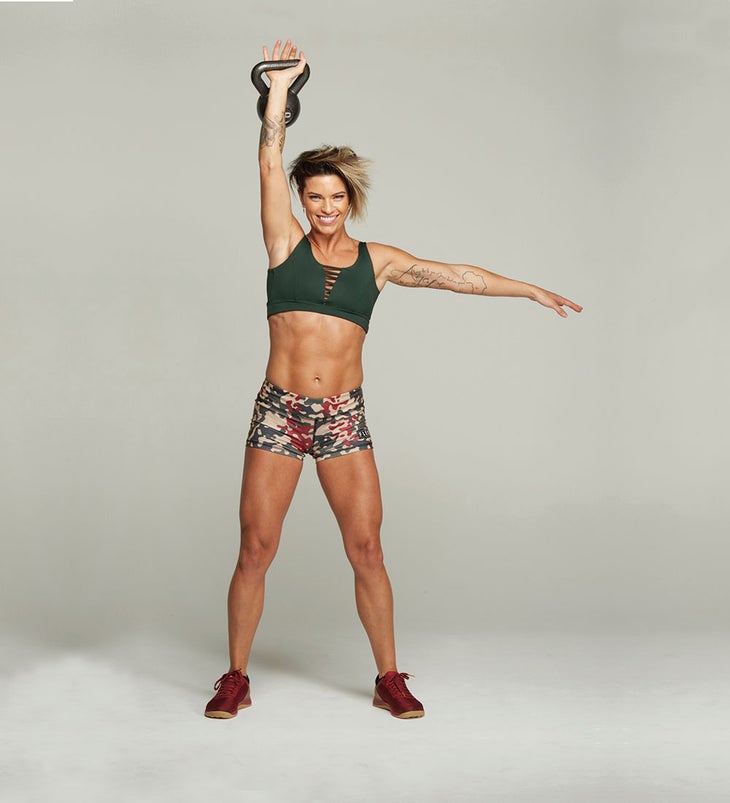 Coach Amber
Amber Dodzweit Riposta was a complete unknown when she first appeared on the cover of Oxygen in 2008. "I knew nothing about shooting prep or how to eat as a fitness model," she says, laughing. "Since I was a nobody in the fitness industry, that cover really stirred the pot. People were like, Wait, she doesn't compete [in fitness]. Why is she getting a cover?"
Though not a fitness competitor, Riposta was a lifelong athlete — playing tackle football and basketball, and running middle and long distance in track. Her athletic physique and girl-next-door looks made her the perfect foil for the often-unattainable physiques of some women of the time. "Working toward athletic goals always spoke more to me than aesthetic goals," she says.
The driving force for Riposta to create a training program was her sister. "She was overweight with five kids, no gym membership and a conservative food budget," Riposta says. "She came to me for help, and years later, she is down almost 100 pounds."
Her sister's transformation inspired Riposta to create her current business Built for Her. "I coach my athletes as whole people, not just bodies with measurements and reflections," she says. "Six-pack or not, you have way more facets to you and are worth way more than a number on a scale."
All Results, No Fashion Show
Riposta describes her OC5 program as efficient and sustainable. "As women, we have so much on our plates, and two-hour workouts should not be the reason you miss amazing life moments," she says. "With my program, you can get home for date night and can be the one who hands your kids their lunch with a kiss on the way to the bus."
Don't be fooled by the rah-rah good feels, however — Riposta's program is no joke. "My workouts are the unicorn of training," she says, laughing. "You will build muscle and burn fat at the same time without fancy equipment using high-octane workouts you can do in your living room. My goal is to make you the most badass, self-confident woman you've ever been. I'll train you like an athlete so you will not only look the part, you'll be the part. And not just for a minute — for the rest of your life."
Three-Step Nutrition
Riposta's nutrition protocol parallels the phase breakdown of her program. You'll kick off Phase 1 with a detox to optimize digestion and eliminate cravings. In Phase 2, you'll learn about intermittent fasting (which is optional) to help balance hormones and accelerate fat loss. And in Phase 3, you'll use carb cycling to get that extra push so you can achieve that lean physique you've always wanted.
"My program encourages you to find what works for you," she says. "A single approach rarely fits all your needs, which are as unique as a fingerprint. My main message is that memories are more important than macros. We are here on this planet to live, and food is a big part of our culture. Life should not stop because you have goals. But best of all, my recipes take less time than shaving your legs!"
Sample Workout
Here is a staple you will find in coach Amber Dodzweit Riposta's OC5 program — a Power HIIT workout pulled from Phase 1.
Intervals
Using the cardio of your choice, repeat the below interval protocol eight to 10 times through at max effort.
Interval 20 seconds
Rest 60 seconds
Finisher Do this circuit for four rounds. Rest one minute between rounds.
10 Dips
10 Two-Arm Bent-Over Dumbbell Underhand Rows
10 Alternating Step-Back Lunges
Q&A With Coach Amber
Do you have any pets?
We have three dogs — two Chihuahua mixes named Doug and Randi, and a blue-nose pit bull named Rambo.
What is on your fitness bucket list?
A freaking pistol squat! I can't do those worth a darn. Also creating powerful female-based fitness events. Women need a dose of truth nowadays, and I want to be a part of combatting the deterioration of self-worth based on filtered content.
Do you have a mantra?
The tag line I use for my business is "perseverance must finish its work." This comes from a Bible verse, and it reminds me that struggle is a process and that persevering through the hard stuff brings you to a place of being more whole.
What is your guilty TV pleasure?
I am enthralled with Vikings on the History channel right now. It makes me want to braid my hair and go kick some ass!
Who do you follow on social media and why?
I am very careful about who I follow because it can subconsciously influence the message I send to my own followers and can also affect how I see myself and my accomplishments. I only follow a few fitness personalities and some body-positive influencers I highly respect who are brave beyond belief. The rest are motivational quotes or animal and ridiculous meme pages for a laugh.
What is one thing that might surprise people about you?
I am just a down-to-earth weirdo. I used to think I have to be a perfect, put-together woman to be worthy of a platform, but I have learned that the biggest influence comes through with the most honesty. I am just here trying to live a purpose-filled life like everyone else, sharing my struggles and victories along the way.
Amber Dodzweit Riposta
Birth date: July 8, 1983
Birthplace: Canandaigua, New York
Current Residence: Fort Lauderdale, Florida
Height: 5'6"
Weight: 130 Social Media:
IG: @amberdodzweit
FB: builtforher Website: builtforher.com
Sponsors
Essentia Water
Lifelong Fitness — and an Oxygen cover! — Can Be Yours!
Inspired to join the tribe? Sign up today! Use coupon code OC5MAG and get $15 off!
Opt in to the Cover Contest and you could be front and center on our Winter 2020 cover!
If being on the cover is not your jam, no worries: This year, we are introducing a slew of new ways to have fun and compete with your fellow Oxy Sisters, such as Fittest Mom, Best Transformation and Best Masters Athlete.
See challenge.oxygenmag.com for more details!